Giving an impactful speech is surely an unforgettable experience. However, to give it, you need to plan and write it beforehand. To do so, it is essential to know who you will be addressing and pick a topic that appeals to them. School and university students are often asked to find English speech topics and speak on one for a certain amount of time. It helps them turn into good public speakers and learn to express themselves in front of others. So, it's wise to consider a range of topics and find what interests you as well as your audience. You must choose a subject which allows you to fully express your views on it. In this article, you'll find a long list of topics pertaining to different themes.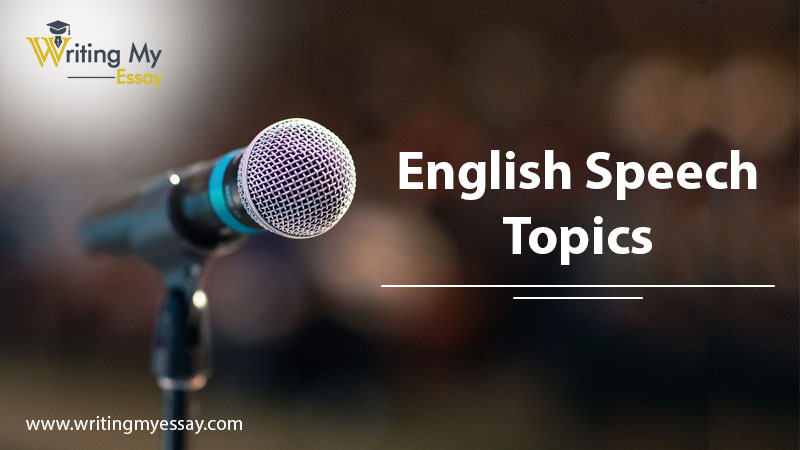 Exciting English Speech Topics for Students
Whether you're a middle school kid or high school, you will certainly find the ideas outlined below quite valuable. So don't wait anymore and start exploring them.
School speech topics
At school, you will find debates on themes such as peer pressure, bullying, class sizes, and studying. So, here are some good ideas for creating a persuasive speech.
Schools shouldn't emphasize selling junk food.
Why peer pressure can aid in student growth.
Schools should involve themselves in making overweight students manage their weight.
Prevention of mass shootings in schools.
Why failing is not an indication for students to quit.
Fashion shouldn't be a very crucial part of student life.
Ineffective methods to deal with bullies in school.
Reasons to extend recess time.
Why textbooks shouldn't be fully substituted by technology in school.
The importance of making birth control available in schools.
Dividing students by their capability is only advantageous for intelligent students.
Different activities that students can pursue during their free time.
Ways to organize a fun weekend for your entire family.
A day internship at any department.
Things that I am good at.
My first visit to the doctor.
A vacation trip I enjoyed the most.
Short speech topics
Short speech topics are not more than one or two minutes long. These speech topics for students are suitable for those in elementary school.
Advantages and disadvantages of online classes.
Three great advantages of doing yoga every day.
Your secret superpower.
Ways to conserve the environment.
What are the most effective practices to quit a bad habit?
A hobby that you often engage in during your free time.
Why is it important to inculcate a habit of reading?
Why should books be given more importance than movies?
Which is more important? Hard work or smart work?
What is the significance of extra-curricular activities in a school curriculum?
What are some of the most innovative inventions to date?
What is the best way to make learning enjoyable and fun?
Should sign languages be a part of the school curriculum?
What lessons did the COVID-imposed lockdown teach you?
Ways in which technology impacts our health?
A fictional character that I most relate to?
If I could be someone else, I would be…
How are extroverts different from introverts?
Is giving homework a good practice in schools?
English speech topics about the environment
Many things happen in the environment where you live in. A lot of them are memorable, which you share with your friends and sometimes even teachers. While writing a speech for school on any one of these topics, ensure that it is familiar to those listening to it. Here are some speech ideas about the environment that will help you.
Human activity is the major cause of climate change.
How can you minimize the wastage of food?
Is it necessary to tax gasoline substantially?
The most effective means for conserving water.
What is more harmful? Plastic bags or paper bags?
Can light bulbs and appliances with lesser efficacy be banned?
Can people have the complete right to prevent the creation of a wind farm in proximity to their homes?
Is it necessary for homes to recycle?
Is it a wise move for buildings to fulfill specific energy efficiency parameters?
School speech topics about animals
There are many interesting speech topics that you can use to give an informative speech about animals and their different aspects. Some worth exploring is as follows:
What are the essential differences between the dog family and the cat family?
What are some animals that serve as great pets?
The smartest thing a dog can be trained to do.
A list of animals that will become extinct in the next ten years.
How do ants live?
Can you keep a snake as a pet?
Why did dinosaurs become extinct?
Exploring the career of an ornithologist.
What function do fur or feathers serve for animals?
How do animals in the ocean lead their lives?
The connection of pets with their owners.
English speech topics about technology
There are many areas in technology in which you can deliver a persuasive speech. This domain is ever-evolving. So you don't have any shortage of ideas to brainstorm.
Is it possible for virtual currency to completely substitute the central banking system?
How does technology aid in better learning and education?
Are smartphones sources of addiction to technology?
Can you blame technology for poor mental health?
Is there any benefit to playing video games?
What details should people reveal about themselves online?
How can you differentiate between actual and fake news?
Should children use electronic devices for lesser time compared to the present?
Is automation going to replace people's jobs?
Ways in which the internet makes people cruel and unkind?
English speech topics about health and community
This domain contains various exciting topics on which you'll love to prepare a speech. These consist of the following ideas.
Do people living in cities tend to die sooner than those who live in rural areas?
The need to spread awareness about getting adequate sleep.
The responsibility of restaurants to offer healthier options.
Can genetically modified food cause health issues?
Should a tax be imposed on junk food?
Are college students under a greater amount of stress?
The importance of giving sex education in school.
Why should you consider being a blood donor?
Are homeopathic treatments effective?
Lesser-known dangers of inhaling second-hand smoke.
Healthy food should be made cheaper.
Argumentative English speech topics
If you are looking for a topic for speech in school, and it is an argumentative speech that you need to prepare, you can explore plenty of topics. Ideas about a vegetarian diet, birth control, drug addiction, mental health, and sports are quite exciting to explore. Here are some good topics on which you can create an argumentative speech.
Both vegetarian and non-vegetarian diets are healthy.
The need for giving medications for attention deficit disorder or ADD.
People should have complete and free access to healthcare services.
Drug addiction is not a choice. It's an illness.
If teenagers access condoms, can they prevent the rise of teen pregnancy?
How a paleo diet ultimately harms health.
Low carbohydrate diets are more effective compared to low-fat diets.
The healthcare domain hides many cures, due to which they earn millions of dollars.
The hazards of using herbal remedies.
Why farmers should choose to go organic.
The advantages of marijuana for your health.
English speech topics about economy and politics
Topics related to current events and the economy draw considerable attention from people. Some thought-provoking speech ideas of this sphere are as follows:
Does social security benefit a country?
Should healthcare be made free for everyone?
Which president's tenure stands out in the past 20 years?
Can illegal immigrants be given the same privileges as citizens?
Should the government of a country utilize taxes to raise money?
Is it the responsibility of the government to cover operations such as gastric bypasses?
Do the children of illegal immigrants receive citizenship status?
Is it fair to abolish the electoral college?
Should public properties such as parks be closed after dark?
Can students earn free college?
There are many social issues that trigger debates and discussions all over the world. So, you will have no problems writing effective speeches on social issues topics. You can easily frame your views and back them with evidence. Given below are some good topics on prevalent social problems.
The problems that capitalism brings.
What is the status of communism today?
The need to educate the girl child.
The problem of unemployment and ways to tackle it.
A discussion about feminism in any specific place.
The hazards of child labor.
The difficulties that immigrants encounter.
A discussion about the consequences of globalization on the world.
How important is adult education?
The increase in the cases of corruption.
A discussion on the importance of equality.
Why women need to be empowered.
A debate about child trafficking.
Why is it essential to maintain hygiene?
A discussion about the importance of organ donation.
How to Prepare Your English Speech
Now that you know about a vast range of topics, you can start exploring where your interests lie. After you choose a topic, it's best to start preparing for the speech as soon as possible. Here are the most effective tips that will aid you in this process.
Know the people you will address
The more you are familiar with your target audience, the better your speech will be. It's because now you know whatever appeals to them, so you can frame your speech as per their preferences to better engage them. But it may be possible that you don't get to choose your topic as it's already assigned to you. In such a case, you need to look for ways in which you can present this topic so that your audience finds it interesting.
Narrow down the information
For all school speech topics, you can give lots of information to your audience. But it's precisely here that you need to exercise restraint. Choose only those parts you are sure will strike a chord with your audience. Anyone can give lots of information. What's more important is keeping your audience engaged. If you try to cover too much, you will only overwhelm people. It will become difficult for them to absorb so much new data. In contrast, if you center your speech on a few interesting points, almost everyone will remember it.
Explore your idea comprehensively
While preparing for a speech for school, you must not lag behind on research. If you want to give an impressive speech, it's crucial to cover a topic comprehensively. Today, you can get loads of information on the internet. Use it to make your speech more effective and stronger.
Write the speech
After choosing a topic and researching well on it, you must be ready to pen down your piece. Although different kinds of speeches require you to follow different formats, here are some writing tips you should follow.
Start with an outline – To write a successful speech, you must create an outline. This outline consists of the points you will cover throughout your writing.
Maintain a conversational tone – When you address people, you don't need to be extremely formal. You can talk how you usually do. So, ensure that your writing has a conversational tone.
Put reminders for yourself – Reminders imply speaker notes. Your audience cannot see these notes. They help incredibly well to remind you about certain points while you are speaking.
Support your points – You must be specific and give useful examples and data to back your arguments. Never speak vaguely about any topic.
Set a time to rehearse your speech
Rehearsing your speech beforehand will make you feel less nervous. So always set aside one to two hours daily to rehearse your speech. Ignoring rehearsal will not only make you nervous, but you will find yourself stuttering in front of your audience. You certainly don't want to feel this way. So, give yourself ample time to practice speaking your speech.
Summing up
These English speech topics are all you need to write successful speeches, no matter your education level. They will help you to brainstorm a great topic for yourself. Explore as many topics as possible and select the one you feel the most confident about. If you want some more support or guidance, feel free to connect with a write my essay expert.
Related Post