People often find it tricky to decide upon a topic for debate. After all, a debate consists of opposite views that have to be presented in a well-structured way. While looking for debate topics, you must understand that it has to be simple, yet some complexities must be there. This is what makes a topic interesting enough to have prolonged discussions.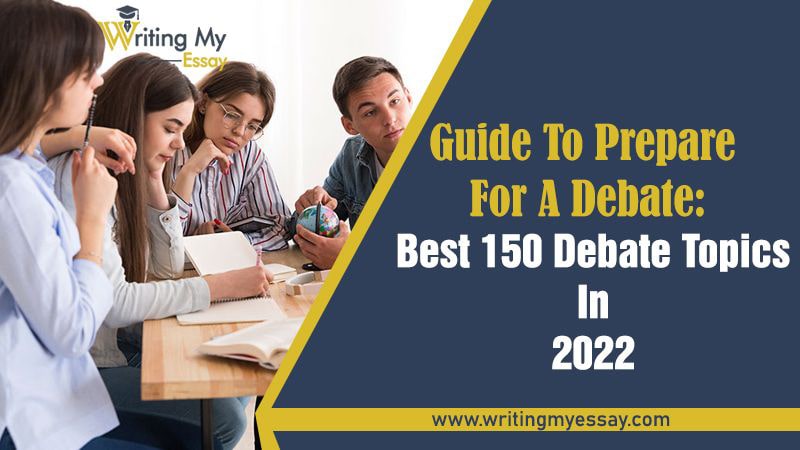 What Is A Debate?
The debate can be best defined as an organized formal discussion on a topic in which two sides get to present contrasting viewpoints. Debating is considered a healthy discussion as it enhances speaking skills. A debate should always be backed up with solid proof, which provides weightage to your argument.
In study institutions, debating competitions are often organized as a part of extra-curricular activities for students. As a debater, you may keep the mood light by choosing funny debate topics. This is a great way to share knowledge with your audience without involving in a serious discussion.
There are a few elements that you can consider while selecting a debate topic.
Is the topic strong enough to keep the discussion going?
Do you find the topic interesting, and exciting for a debate?
Are there plenty of resources to research on the topic?
Even if you are searching for debate topics for high school, these factors can make the entire process of topic selection a bit easier, in fact, these tips are also beneficial while you are writing about a narrative essay.
Searching For Good Debate Topics In 2022? Here Are Some Tips!
If you are an amateur debater, then going for a topic that interests you would be helpful. A debate does not have to be an intimidating task. All you need to remember is, a debate topic is considered fair when the audience gets to understand both sides of the issue. Another important point is to create an engaging discussion equating to a learning experience, which can further help people to make well-informed decisions in life.
These tips will help you if you are in the process of choosing debate topics for high school.
Interest: The first and foremost point to consider is keeping your areas of interest in consideration. You are the one who will be having a one-on-one discussion with your audience. If you are interested in the chosen topic then your delivery will be much better, with a positive outcome.
Target Audience: While making a list of good debate topics do not forget who your target audience is. After all, those are the people in front of whom you will be representing your thoughts. Make sure that your selected topic is as per the intellectualism of your audience.
Research: Your topic for debate should have plenty of research resources. It is essential to have a clear understanding of the topic before jumping in for a debate. Availability of supporting data is also important to claim your contradictory views with credible sources. Thus, popular or trending topics make for a good choice.
Argument Potential: The topic that you select must have a strong argument potential. A topic with only one side right cannot be considered a good debate topic. A debate topic with good argumentative scope will allow you to craft an impressive debate copy.
A Brief Guide For Debate Preparation
So, your debate topics selection is done, and now you are on to the next step, which is, preparing for the debate. Let us introduce you to the necessary tips that will make the preparation process easier for you.
Go Through the Evidence
You should first read all the evidence available for your topic. Doing this will provide you with the necessary information that you may have missed. It also boosts your confidence to discuss the topic. This step will, later on, help you in presenting a solid debate with proper knowledge of both sides.
Foreseeing The Contrasting End of The Argument
 Whether you are preparing for debate topics for high school or at the professional level, anticipating the other end of the debate is a skill you require. This prepares you for an impactful debate session as you can already come up with a strong reply supporting your side of the argument.
Every Second is Crucial
In a debate session, each participant is allowed to speak for only a limited time. Thus, it is important to structure your debate in a way that you get to make the most effective use of every second. Try to have an evidence-based debate, and frame your sentences intelligently.
A Confidence Boost
You must build up the confidence to present your thoughts and formal discussion. It is quite common to have stage fear. Make sure to practice your topic before the final delivery.
Here are some of the add-on tricks that will help you achieve better results:
Allow yourself plenty of time to think about different debate topics that you can use. Make a list of all the ideas.
Now it is time to organize your ideas in such a way that you can pick out various arguments, both supporting and opposing them.
Create a well-structured format for your debate topic. If you are going for political debate topics, then add an impressive introductory part, create a list of points you will be covering, and also include an argumentative approach.
Next, prepare your speeches in such a way that they must include the following elements:
A solid reason.
Evidence to support your argument.
In-depth analysis of the topic from both sides.
A linking of thoughts within the debate keeps the audience engaged.
Also, read about how to write a speech in 15 minutes
Best Debate Topics For Students In 2022
Here is a list of debate topics for students.
Political Debate Topics
Free speech is a personal right.
Abortion is the right of every woman.
Adoption should not be allowed to gay couples.
Smoking should be banned globally.
Mobile banking is an unsafe procedure.
Is democracy the best form of government?
The president in America should be replaced with a king.
The voting age should be lowered.
Social security should be privatized.
The Electoral College system should be abolished.
Funny Debate Topics
Cats make for better pets than dogs.
Best Star Wars character.
Is everything really fair in love and war?
Should school uniforms be mandatory?
Smartphones are making people dumb.
Every home should have a pet.
Should a young child maintain a journal?
Do parents have the right to spy on their kids?
Marvel v/s DC: which is better?
Should age be a concern in relationships?
Controversial Debate Topics
Should animal testing be banned?
Is turning vegan the only way to save the world?
Zoos should be banned.
There should be a free housing scheme by the government for homeless people.
There should be a ban on public prayers in schools.
Parents should be allowed to choose their baby's gender.
Is human gene editing a good or bad thing?
Is Wikileaks a boon or a curse?
Are cryptocurrencies reliable like bitcoins?
There should be privatization of education.
Environmental Debate Topics
There should be more national parks in the US.
Is climate change caused by the human race?
Should fish farming be banned?
Should there be a ban on animals in circuses?
Should there be a ban on smoking in public?
Everyone should convert into a vegetarian.
Recycling should be mandatory.
Organic farming is the future of agriculture.
Should fur sales be banned?
Tourism is beneficial for the environment.
Educational Debate Topics
Should there be a ban on fast food in schools?
Is homework helpful in learning?
Should schools impose a ban on mobile phone usage in schools?
Is homeschooling a better option than traditional schooling?
Should nationalism be promoted in schools?
Year-round education is a better option for students.
Schools should ban the internet.
Single-gender schools are a better choice for education.
Private schools v/s public schools: which is better?
Football should be banned in schools.
Social Debate Topics
Should euthanasia be legalized?
Should sex work be legalized?
Should the government ban plastic bag usage?
There should be an abolishment of the death penalty.
Should violent video games be banned?
Museums should be free to public access.
Should zoos be abolished?
Should healthcare be universal?
Privacy is important.
Should human cloning be legalized?
Technology Debate Topics
Is Artificial Intelligence dangerous for humanity?
Are we becoming too dependent on technology?
Is social media a threat to our personal lives?
Can online education replace the traditional education system?
All cars should be converted into electric cars.
Can alternative energy replace fossil fuels?
Cell phone radiations are harmful and should be limited.
Androids are a better choice than iPhones.
Computers should replace teachers.
There should be a personal robot in every home.
Health Debate Topics
Obesity should be declared a disease.
Human organs sale should be legalized.
There should be a ban on vaping.
Is the legalization of recreational marijuana good or bad?
Should euthanasia be banned?
Birth control should be made available for over-the-counter sales.
Healthcare insurance should cover cosmetic procedures.
Is the cost of healthcare in the US justified?
Doctors should be allowed to promote specific medical products.
There exists a link between poverty and poor health.
Economy Debate Topics
The government should wipe out all student loans.
Capitalism is better than socialism.
Money begging should be made illegal.
Unpaid internships should be banned.
States should invest more capital in healthcare than in education.
The federation should adopt an inflation-targeting monetary policy.
Is consumption taxation better than income taxation?
The growth of a country's economy without international trade.
Cultural diversity is good for the economy.
The cutting of the corporate tax rate may create jobs.
Leisure Debate Topics
Leisure time has been replaced by social media usage.
The advancement in technology has changed the work-life balance scenario.
Is playing video games during leisure time good or bad?
Is it possible to substitute the daily leisure time for yearly vacation?
Do women spend their leisure time in a different way than men?
Summer vacation v/s winter vacation: Which is better?
Should teenagers be encouraged to read books during their leisure time?
Do we view vacations differently with globalization and increased mobility?
Technology has changed the way youngsters spend their leisure time.
Does leisure time at the workplace lead to effective results?
Policy And Law Debate Topics
Voting should be made mandatory
Prisoners should also be allowed to vote.
Should all drugs be legalized?
Should income tax be replaced with sales tax?
Smoking should be illegal.
Hate speech should be censored.
The sale of genetically modified should be banned.
Flag burning should be illegal.
Can accidents be prevented with strict traffic laws?
Should killing in self-defense be justifiable?
General Debate Topics
Abortion is murder.
Social media is a major contributor to teenage suicide.
Modern-day social media has made people less socially active.
Is college education essential?
Teenage pregnancies and modern-day society.
Should homework be banned in schools?
Should students be allowed to create their own curriculum?
Does higher education define a person's individual financial success in the future?
Cell phones usage should be banned in schools: Agree or disagree?
Should teenagers be allowed to play violent video games?
Parenting Debate Topics
Should teenage girls be given access to birth control pills in the absence of parental supervision?
Parents should define their children's career paths.
Should parents be permitted to pick their children's gender?
Does the future success of children depend on parental support?
Children should be allowed to use mobile phones without parental supervision.
Natural birth v/s C-section: which is better?
Sexual harassment should be addressed among young children.
Should parents teach teenagers the habit of healthy social media usage?
Should parents monitor their kid's social media activity?
Should gay couples be allowed to adopt children?
Debate Topics For Middle School
Schools should include foreign language learning in the middle school curriculum.
Should it be necessary for all students to learn sewing?
Students should be encouraged to volunteer in community programs.
Is history an important subject in schools?
Do televisions turn people lazy and violent?
Is torture justified when it comes to dealing with terrorism?
Should mercy killing be allowed in all states of the United States?
Should solar energy replace traditional forms of energy?
Is peer pressure good or bad?
Should Physical Education be made mandatory in middle and high schools?
Debate Topics For College
Should college education be made free?
Should nuclear weapons be banned?
Is technology getting in the way of studies?
Student ID cards should come with tracking devices.
Is a gluten-free diet beneficial?
Is the internet a reason for stress among the youth?
Influence of violent video games on the student's mind.
Are student loans a reason for exploitation among young adults?
Is college education too expensive?
What should be the legal age to get a job?
Conclusion
The entire process of selecting debate topics and further preparing a persuasive speech to make the delivery presentable has been made simple with our detailed guide.
If you are looking for help with your academic writing projects, then head to Writing My Essay. They have a team of professionally skilled writers with years of experience in extensive research. They are known for delivering commendable results for essay writing services.
"Writing My Essay" has proficient writers for each type of academic writing. You can count on them even for last-minute project deliveries. Just explain your requirements, and your work will be assigned to a writer with appropriate skill-sets. We make sure to provide grammatically correct, plagiarism-free copies within the given deadline. Our customer support team leaves no stone unturned in providing a smooth experience.