Pecha Kucha is the Japanese term for "chit chat". Pecha Kucha topics mean you must talk less and present more. In such topics, you don't have to follow rules and guidelines. They can be informal or formal and relaxed in terms of vocabulary. Make sure the topics are intriguing and simple to understand so that the audience stays with you till the end.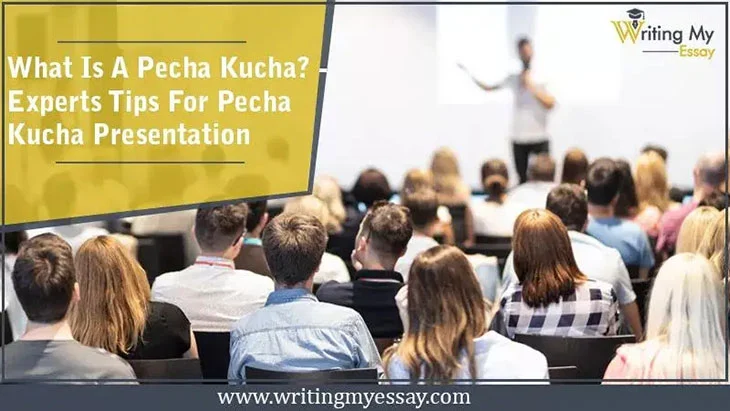 What Is A Pecha Kucha?
Pecha Kucha is a 20×20 presentation format that demonstrates your 20 selected images, each for 20 seconds. In simple words, you have got exact 400 seconds or 6 minutes and 40 seconds to tell your whole story, with appealing visuals shepherding the way. Pecha Kucha means chit-chat or has a conversation in Japanese. This imaginative outlet started as nighttime get-togethers in Tokyo, the capital city of Japan, in the year 2003 by two renowned architects Astrid Klein and Mark Dytham.
Furthermore, Pecha Kucha is a most effective and powerful form of PowerPoint that has revolutionized the view and environment of presentations completely. and it is very different to write my paper or writing an essay while a Pecha Kucha presentation develops imagery and effective use of the vocalized word to create a butter-smooth, unforgettable, significant, and succinct presentation. Moreover, it is an outstanding way of teaching students how to make their best presentations for class assignments or projects.
10 Experts Tips For Pecha Kucha
Do not write too much or unnecessary text
Try to evade reading directly from the presentation slides
You can use a consistent slide design instead of using PowerPoint templates. Also, plain backgrounds and simple to read sans serif fonts are the finest.
Try to avert text-image relations that could take over 20 seconds to understand
Always think about the influence of text on your audience – Is there any solo word or a succinct phrase that encapsulates the essence of what you are trying to say in that 20 second time limit?
Contemplate your pictures very meticulously. In a Pecha Kucha, pictures are often the only information on the whole slide. Always try to evade pictures that don't improve your subject or add significant visual information which is also an important part of an analytical essay. Attempt to get pictures that are illustrations or metaphors of your main points and/or use word-as-picture.
Sidestep sounds or short video clips. There simply isn't time, and these elements are merely confusing in a Pecha Kucha. Your strong voice is your sound instrument in this unique way of presentation. Moreover, successful Pecha Kucha directs presenters to make use of the best practice in making visually killer and enticing presentations.
If you wish to go into intensity on one specific slide and 20 seconds merely won't be enough, replicate the slide and include text or graphics to build your points, because your presentation must be looked like an <strong ">informative speech. Your material will then be on screen for about 40 seconds, with tiny changes showing midway through. This is an incredibly elegant approach to stay within the format but still go into intensity.
Contemplate your 20 presentation slides as 20 panels in a graphic storyline. So, how do your 20 panels pour collectively to make a unified statement or a steady through-line?
A rule of thumb is practice, practice, and practice again. Most folks do not tend to remember their presentations. But specifically for a Pecha Kucha presentation, though, remembering your main points for each slide is typically the outstanding tactic. It's recommended that you write down the 2 major points you wish to make for each presentation slide and attempt to stick to them. Then practice presenting your presentation until it flows effortlessly. Practice actually makes a big difference. There are two pieces of a whole, and a winning Pecha Kucha is both beautifully designed as well as nicely spoken.
How To Create A Pecha Kucha Presentation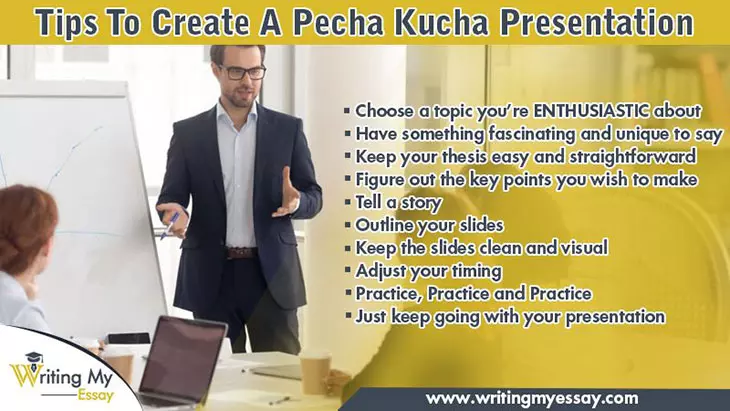 Choose a topic you're ENTHUSIASTIC about
You are more expected to be competent to talk at length and off the top of your head if you select a topic that you consider a lot and on which you have the know-how.
Have something fascinating and unique to say
Strive to select an angle that no one is discussing. Think about what will amaze individuals. Take a different or novel approach to a conventional topic.
Keep your thesis straightforward
Pecha Kucha chats are extremely short. You don't have much time to cover numerous topics. So always select a topic that is narrow enough, that you can effortlessly address it in just six minutes and forty seconds, but wide enough that you can really turn into it.
Figure out the key points you wish to make
Once you settle on the subject, consider the key points you really wish to make about it. These will possibly guide what your slides will be. Contemplate doing a 3×3 presentation. Three major points, each with three instances and/or sub-points.
Veteran presenters will tell you that telling a fascinating story is a wonderful method to draw in your audience. You might wish to begin with a personal narration or smartly incorporate it into your Pecha Kucha presentation. Accomplishing this will make your presentation more special.
Create 20 slides and sketch your presentation visually. Don't bother about pictures yet, simply go in and insert some text so you could see how your slides roll. You might find out that some slides are certainly two points in one. Consider what you want to blend and what could stand on its own.
Keep the slides clean and visual
Don't have a bundle of complicated visuals in your slides. Having one picture fill the screen is better than having manifold pictures that make your slides hectic. Your audience could simple procedure so much in just 20 seconds and the focus must be mainly on you. The other advantage of using picture-only slides is that no one will really know if your timing is bad.
After, or even during your presentation slide design procedure, attempt practicing your conversation. You might observe that you have 30 seconds worth of chatting on one slide and just 10 seconds worth of speaking on another. Simply read your slides appropriately. Split up a slide or integrate it into another as suitable.
Practice – Practice – Practice
Pecha Kucha needs perfect timing. To get your timing just perfect, you require to do a lot of practice in real-time. So, try to do practicing repeatedly. You wish to be able to talk with comfort and get used to the timing.
Once a Pecha Kucha presentation head start, it doesn't stop. It's like a roller coaster. Get geared up for the ride, put your both hands in the air, and just go. If you pratfall your words, keep going. Don't stop.
There are a great number of Pecha Kucha topics that are unchallenging and can be easily presented in no time. Check our detailed list below to get some intriguing ideas:
Top 10 Unchallenging Pecha Kucha Topics For Students
we have curated a list of Pecha Kucha topics that will be more helpful for you to prepare your presentation.
Pick a Food Category
If there's something folks love more than travel, then it is definitely got to be mouth-watering food. Why? That is because instead of traveling across the globe, delicious food can make the world travel to your round table. If you enjoy cooking, you can share your favorites, and by favorites, these may be simply names of your favorite foods with wonderful pictures.
You can talk about country-specific food like Thai food, Mexican food, or category of foods like Vegetarian food, Seafood, Vegan food. You can also talk about food you had with popular chefs or bake items that are specific to a certain city or country.
For instance:
5 Mexican cuisines that a spicy food connoisseur must try

10 Thai curries that excel in flavor & taste

Use of herbs and spices.
Tips for safe and sound pressure baking at home.
Different cultures, different desserts.
The importance of breakfast.
Conventional regional soups.
Fruits and vegetables: eat your favorite colors.
Camping cooking ideas for outdoor activities.
Caesar salad: the salads of salads – how it is prepared.
Describe a Travel Experience
If you like traveling a lot, if you were on your unforgettable road trip or if you had been on a globe trip, then this could be a very fascinating and simple topic to be selected for the Pecha Kucha presentation. You can demonstrate fascinating pictures of your experience in traveling and describe them in succinct about them. You can describe your worries whereas traveling and how did you defeat them?
If you have traveled to some popular or rather unknown destination, then it can be pretty intriguing for your readers. Describe how was your experience, what transport you took, which places you visited, etc.
For instance:
Things I learned during my trip to Indonesia

Cultures & practices that I saw on my trip to India

Travel brings fresh and innovative experiences.
Travel makes you more comprehensive.
Secure traveling and digital passport.
How a person completely changes after travel: impact on life as well as personality.
Traveling by train: the consequences of railway travel for vacation purposes.
Flying first class is a once-in-a-lifetime wonderful experience.
Solo travel lets the finest route to self-exploration.
Some places I choose to travel to myself and some I would love to go with someone else.
Talk About Emotions & Their Effect
Our precious life teaches so many lessons in each or every moment we live. If anyone has something to reveal about their life and their feelings or emotions during that particular situation or how one learned to have control over such feelings in that situation can make excellent use of Pecha Kucha's presentation for that.
Every incident in life helps us experience different emotions. You can share how you felt in a situation or how your emotions made you better. Emotions can be very personal hence it can be a motivating experience if you share your story of how you managed a situation even in the worst of situations.
For instance:
How I earned my independence back when the recession left me broke?

How a car accident changed my life and made me a successful stockbroker?

Life is not merely about friends. It is also about family and a bright future too.
Good looks are appreciated, but a Good Heart and a Good Head are more significant.
Our parents are our custodians, not our ATMs.
It's our precious life. Let's do our greatest to grow ourselves and be successful.
Your school journey since childhood.
A most unforgettable day in college.
How your parents played an amazing role in your life.
Last day at school or college.
Pick a Satire
This is a bit a tricky and challenging topic to be selected because this is not everybody's cup of tea. But if satire is your forte and very close to your heart, it could be a fantastic topic for a Pecha Kucha presentation. Always ensure you recognize that you are utilizing satire right at the starting so that your audience can digest your content in the correct spirit.
A satire is when you use humor for irony. A satire can be on any topic or subject. Be it politics, film industry, fashion, or even someone's work. Many popular comedians, actors, and individual artists work on satires. You can either write on some popular work done in the past or pick your topic.
For instance:
How to avoid your homework and get away with it

Why should we have faith in our politicians?

The neglected sibling: the life tale of the middle child.
Review of a viral or trending YouTuber.
Satirize the utilization of social media for personal branding.
Partner with one more student to roast one another.
Satirize a journey to a famous tourist trap.
Roast a popular movie or book character.
Roast a well-known historical figure.
Explain how comfortable life is for stay-at-home mommies.
Future Topics Are Always Intriguing
This is an enjoyable topic, and you can allow your creativity to soar. One can talk about their vision of the future. It might be related to automobiles fields, electronic fields, home appliances fields, business fields, and many more. It is a securer topic to present since ideas are restricted only by your ingenuity.
Talk about the future. It could be future gadgets, upcoming technology, some electronics, etc. People are always curious to know what the future beholds.
For instance:
Artificial Intelligence-based technologies that will change the world of fashion

10 smart IoT devices for your home

What is school education going to be like in the coming future?
How will air travel work 50 years from now?
What is the actual future of the automotive industry?
How will kitchen gadgets revolution in the next 100 years?
What major challenges will healthcare of the coming future have to deal with?
What influence will AI (artificial intelligence) have on humanity?
Climate change: myth or reality.
How will variations in electricity, smartphones, make-up, books, or even security transform society in the following 30 years?
Describe Events In Numbers
One can easily decide on a topic such as top 10 favorite songs, 15 best restaurants in your area or 30 good websites, and many more. For a Pecha Kucha presentation, this will be an extremely easy-going topic to talk about.
The event in numbers is when you describe a list. A list of movies, games to download on your phone, the best education apps for your kid, etc. When you are sharing a list people get to read a descriptive and long article with many options to look forward to.
For Instance:
7 reasonable smartwatches in the market 

9 educational apps that you must download today

Top 7 coolest places you're not allowed to visit.
Top 8 trending technologies in 2021.
Best books to read before you die.
15 best movie of all time.
The world's 50 best restaurants.
The top 9 most popular foods from around the world.
10 places you must visit before you die.
Top 20 most popular online games in 2021.
Mentions About Pets or Your Pets
In today's world, most will be having pets at their home. They will be the most doting and cutest thing in your life. So, one can talk about their pets and their daily routine life in the Pecha Kucha presentation. This will be a wonderful topic for the audience for sure.
If you own a pet then you have a story to tell. It can be a great topic where you share how the pet keeps you engaged, how have you changed your home setting to pet a cat or dog, or how your pet is a great companion. In case you are not a pet owner you can simply talk about pets like which animals are great pets or why having a pet is a good idea.
For instance:
How owning a pet can make you responsible?

5 things you will learn emotionally when raising a pet.

Why all kids must-have pets.
Why parrots are good pets.
Has your pet been sterilized or neutered?
Why you must own a horse.
Why must you own a dog?
Wild animals must stay wild.
Why save rare animals.
Why you must own a cat.
Your Take on Hobbies
Do you accumulate stamps or fruit boxes? Do you like embroidery or video gaming? Is astrology something you be in love with, or it could be shopping is something you outshine at? You can give a Pecha Kucha presentation on your hobbies since you enjoy doing them and have a lot of knowledge to share.
Everyone has a hobby they love. It can be gardening, collecting coins, cooking, etc. Some hobbies can be emotional or creative while others can just stress buster. Talk about some out-of-the-box hobbies that are not common. There are hobbies that demand commitment and your readers would be surprised to know how even hobbies can bring small joys to life.
For instance:
Why you must think of bird watching as a hobby?

5 new hobbies to try this summer

Practice yoga or pilates.
Gardening tips for beginners.
Benefits of learning to play the guitar greatly.
Health benefits of painting.
Important reasons why you must pick cooking as a hobby.
How playing a sport can enhance your mental health.
10 significant tips for starting a YouTube channel in 2021.
Proven methods to better your public speaking skills.
Explain Your Work to Kids or Elders
Expounding the content of your work to friends or partners is always a piece of cake for you and it will be in an incredibly commercial manner. This will be of more entertaining and colorful Pecha Kucha presentation.
It can be sometimes very hard to explain your job to people who have no idea of your field. It could be your colleague, friends or sometimes even your kids. Think of it as a topic where you are using pictures & examples to explain your work to your grandmother or your 5-year-old son. What makes it interesting is your approach.
For instance:
5 colorful ways to explain your job to kids

How an office tour can help your grandparents understand your job?

Explaining to your kids how the COVID-19 pandemic impacted jobs.
Describing your kids about racism at work.
Ten different ways to describe your company culture.
Explaining to kids why parents work.
Elaborating work-life balance to kids.
4 important ways to explain your grandparents a strong work ethic.
Teach kids or grandparents about work.
Explain to your grandparents how office culture is changing day by day.
Things to Avoid
So here is your opportunity to hand out prudence to naive people. Show your most gifted facial expression and share knowledge. One can even give Pecha Kucha a presentation on the unforgettable experience got by you had and specific topics about what gaffes you did in your life or issues like what not to do in a certain situation.
There are always things that must be avoided at all costs it could be a habit, a schedule, or things that are addictive. Many categories can fall under this subject.
For instance:
5 things you must avoid while traveling to a different country

9 situations at the workplace that you must avoid at all costs.

You should not indulge in these 15 things while traveling.
20 noxious people, you must avoid at all costs.
10 toxic food combinations you should avoid.
Avoid taking a shower during a thunderstorm.
Avoid exercise after getting a tattoo.
Six foods and beverages to escape during pregnancy.
Top nine things you must escape in a job interview.
11 most common mistakes in relationships that you must avoid.
Conclusion
These are some of the most common Pecha Kucha topics to start with. If you are looking to write or give a presentation, you can find a lot of content on these. Else you can come up with a topic of your own too.
Read More: