The biggest trouble students face when asked to write a persuasive essay is, coming up with a "perfect" topic. So, today we have decided to bring to you a complete list of impressive persuasive essay topics. A persuasive essay is a common form of essay writing often assigned to school and college students. But, before jumping right into the list, let us first know a bit about persuasive essays.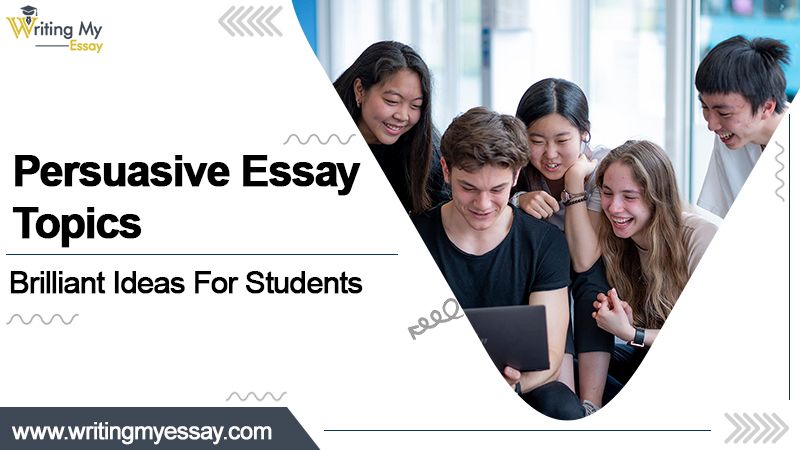 What Is A Persuasive Essay?
In academic writing, a persuasive essay is a blend of argumentative essay and persuasive speech that are aimed at convincing the readers into accepting a certain idea or point laid out by the author. The author's opinions are usually supported by data and facts.
Major Components Of A Persuasive Essay
A persuasive essay comprises of three major components:
Introductory body: In the introduction add something attention-grabbing to hook the readers. This is where your thesis comes from.
Main body: The main body structure includes three to five paragraphs, each having a core theme or something that supports the thesis.
Conclusion: End your essay by summing up everything and restating your thesis. The conclusion should give your readers a sense of closure, or something to takeaway.
List Of Best Persuasive Essay Topics In 2022
Our experts have compiled an elaborated list of the most exciting topics for a persuasive essay assignment, divided into different categories.
Primarily, the topic should catch your interest, since only then you would be able to develop a meaningful and strong argument. It's time we share our exclusive and fresh list of persuasive essay topics with you!
Good Persuasive Essay Topics
Women in managerial posts are better performers than their male counterparts.
Being an optimist leads to good health.
Parenting lessons should be provided to pregnant couples.
Schools need better sex education.
All students should be taught a foreign language.
Climate change is a real issue.
Peer pressure affects the decision-making of an individual.
Benefits of developing the habit of reading.
Students should be taught different skills in schools.
The number of classes should be reduced to improve education quality.
Educational Persuasive Essay Topics For Students
The government should make education free.
Virtual learning is better than traditional classrooms.
The most successful ways to tackle bullies in colleges.
The best way to deal with cheating issues in schools.
Education and learning should be independent of technology.
The education system should abolish class rank in schools.
The importance of homework in the learning process.
Every school should prioritize art classes.
Students should not be permitted to use mobile phones in schools.
Are academic tests a representation of one's intelligence?
The role of teaching etiquettes in schools.
Persuasive Essay Topics For Kids
Dogs make better pets than cats.
Mental strength is as important as physical strength.
Every person must have a hobby.
Break time in schools should be longer.
Every kid should have a TV in the bedroom.
Students should not be given homework.
The government should charge fines from people who litter.
Children should know how to cook.
Children should be permitted to go to bed when they want.
Exercising every day should be necessary for everyone.
Persuasive Essay Topics For Middle School
All public places should have free Wi-Fi.
What are the pros and cons of e-education?
Bullies should be punished strictly.
Disadvantages of being a middle child in the family
Are human beings responsible for global warming?
Every school should have its own school newspaper.
The internet controls our lives.
Which historical figure inspires you the most?
Parents should take hold of the total amount of screen time their children are exposed to.
Your dream destination for winter vacations.
High School Persuasive Essay Topics
Can a person really overcome their deepest fears?
Does a person's dressing contribute to their personality?
What is the importance of studying abroad?
Teen girls are influenced by celebrities.
Everyone should live their lives with proper planning.
Why is it dangerous to use cell phones while driving?
High schools should offer a special degree in arts.
Music boosts efficiency while doing homework.
Students should assess their teachers.
The importance of being a team player in jobs.
College Persuasive Essay Topics For Students
Reduction in paper consumption is highly beneficial for nature.
Polygamy should be made legal.
Global warming is not real.
The older generation can learn many things from the present-day generation.
The government should legalize mercy killing.
The authorities should amend laws that promote discrimination.
Is wrestling a dehumanizing sport?
How is racial discrimination impacting America?
Parents should be a part of a children's educational journey.
The government should reduce the cost of higher education.
Funny Persuasive Essay Topics
What would happen if a dog's soul gets exchanged with a cat?
What is the worst social media platform?
The art of looking busy while doing nothing at work.
Do boys really gossip more than girls?
People enjoy receiving spam emails more than actual emails.
Lying can be helpful.
Virtual reality games are a better choice than 3D games.
Which was the worst movie you have watched?
Have you thought ever what would happen if cats took over the world?
Can good video game skills get you a job?
Sports Persuasive Essay Topics
The cases of gender discrimination in different sports.
The risks of bodybuilding on a female body.
How significant are sports in the development of a society?
Chess is a sport.
The practical and most successful ways to release sports nervousness.
Is it important to have leadership skills in sports?
What are the side effects of energy drink consumption on an athlete's health?
The best ways to encourage sportsmen's spirit.
We should exercise daily.
Student-athletes should be paid.
Easy Persuasive Essay Topics
There should be a three-day weekend.
People should not wear earphones while driving.
Gym classes should work on the grading system.
Children also need personal space just like adults.
There should be a household trash limit.
Cheerleaders should be eliminated from all professional sports.
Children should be allowed a mandatory one-year leave after high school.
The government should make stricter rules on content regulation on the internet.
Drug dealers who trade drugs to kids should be punished with the death penalty.
Every school should introduce religious lessons.
Interesting Persuasive Essay Topics 2022
The jury system should be eradicated.
Technology has negative effects on privacy.
Students should be provided textbooks free of cost.
Museums should be made free to access.
It must be mandatory for the tutors to get their certificates regularly.
Fashion has become a significant part of society.
COVID-19 has adversely affected the global economy.
Free trade is bad for workers.
The advantages and disadvantages of all-year-round schooling.
Hunting harms biodiversity.
How To Choose A Good Persuasive Essay Topic?
If you have been assigned a persuasive essay by your professor, then selecting the right topic might seem like a nerve-wracking task. After all, you will be required to write a full-fledged essay on the chosen subject. But, we have some secret tips that will make it easier for you to choose topics for a persuasive essay.
Here are some wonderful tips to make your persuasive essay topic selection process easier!
Start With What You Already Know
This one may seem obvious, but it is crucial to understand. It is always recommended to pick a topic that you are familiar with. Thus, get involved in brainstorming to find out which subjects interest you the most.
Identify your passion as it makes it easier for you to compose a quality write-up on the given topic. In short, any topic that draws your interest is somewhat close to being the perfect topic for you.
Perform Your Research Work
Now, it is crucial to understand that having ideas and opinions on a subject does not mean it is the "one". Therefore, you need to do some background work by conducting in-depth research on the given subject.
Even if you feel you have opted for easy persuasive essay topics, you must look into credible sources. Doing this will ensure you are headed in the right direction. Besides, you need claims, facts, and figures to support your claim and opinions.
While preparing any type of content, you must first identify who your audience is. Similar is the case with crafting a persuasive essay. Thus, you need to ascertain the audience you're catering to while picking a suitable topic.
Does your chosen topic interest them? Is there something that they already know about the topic? What can you do differently to make the content valuable for the target audience? How can you persuade them into understanding your viewpoint?
Once you can answer all these questions, it will be easier for you to find the best topic for your persuasive essay.
Bring Out The Originality
Nothing can beat originality! Therefore, it is always recommended to stay original with your topic selection. As you begin to choose from various persuasive essay topics, go for something controversial.
However, there is risk involved. But, that will also make your essay distinctive from the rest of the class. Who knows, your essay might spark a debate on an issue that desperately needed to be addressed.
In that case, you must invest a good amount of time into ideation, research, and even discussions with your friends and family.
If you have decided to write on a controversial, argumentative, or sensitive topic then you must ensure there is room for debate. Otherwise, you will restrict your chances of expressing yourself. Hence, you need to be careful about this part while opting for a subject to write on.
Take Inspiration From Your Surroundings
Inspiration can come to you anytime from anywhere. Thus, always stay conscious of your surroundings. Observing is great for stimulating your analytical abilities. Further, it sparks creativity within a person. It serves as an excellent way to boost critical writing capacity.
Add-On Tips For Successful Selection Of Persuasive Essay Topics
As we have already explained, a persuasive essay requires you to present the situation clearly. Here are a few things that you need to be careful about while choosing topics for a persuasive essay.
Pick a side and stand for it.
Gather evidence, data, and facts from credible sources.
Enlist all your ideas.
Always write down the objective of your essay.
Go for an accessible topic.
Select a topic that persuades the reader.
Wrapping Up
It might be challenging to come up with good persuasive essay topics. So, we have brought an entire selection of the best persuasive topics for you to choose from. Always remember to pick something where your interest lies. Also, make sure there is enough evidence to support the claim. We hope you found this blog insightful! but still, you are facing difficulties, no worries about your writing assignments as we are here for you. You just need to connect with us and hire our one of services to write my assignment for me as we have highly qualified and experienced writers in writing assignments.