Persuasive essay writing has become an integral part of academic courses. It is a great way to judge a student's writing and convincing abilities. A persuasive essay could be intended to influence the audience's opinions. Whatever be the reason, this form of writing requires strong evidential support, which makes it powerful and credible.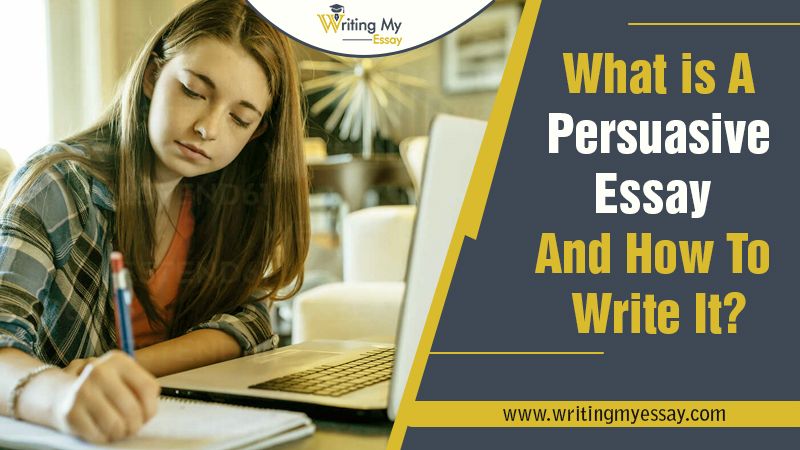 What Is A Persuasive Essay?
A form of essay writing that involves logic to persuade a group of people into accepting a viewpoint is known as persuasive essay writing. If you are wondering "how to write a persuasive essay?", we'd recommend doing your research. It is an academic paper writing type that requires compelling language, and evidence from reliable sources. You could also insert other people's opinions to make your essay more insightful.
But, Why Is Persuasive Writing Important?
Persuasive writing aims to convince the audience to agree with a specific issue. A powerful piece of persuasive writing should push people to take an action by stating reasonable arguments. Information that is gathered from trusted websites, newspapers, magazines, books, or any other source has to be added effectively. Persuasive writing should prompt the readers to change their opinions, beliefs, and ideas. Advertisement copies are an excellent example of a persuasive writing technique.
How Is Persuasive Speech Different From Persuasive Essay?
Whether it is a persuasive essay, or persuasive speech, the goal behind is to facilitate the audience's thoughts towards believing in your concept. The purpose is the same, though the persuasive writing techniques differ in terms of:
Audience
Tone
Format
Presentation
This is because delivering an essay, and a speech varies completely from an experience perspective. Hence, it is entirely up to the author and the medium of delivery that sets the mood of the written content.
Argumentative Essay V/S Persuasive Essay: What's The Difference?
People often get confused between argumentative essays and persuasive essays. Let's see how they differ from each other.
Argumentative essays: An argumentative essay includes both, supporting as well as opposing opinions about the topic. It is written in an unbiased way and does not emphasize certain traits or benefits of our subject. It is up to the readers to decide which way to go.
Persuasive essays: There are arguments involved, but those are focused on compelling the readers to agree with your opinions. It is insightful and written in persuasive language, reinforced with evidence.
Excited to learn how to start a persuasive essay and ways to improve your persuasive writing skills? Then, keep reading further.
How To Write A Persuasive Essay?
A persuasive essay has to be power-packed with logical arguments, and important evidence that resonates with the idea you are trying to state. If you understand what is a persuasive essay, following an organized structure to prove your point is all you need for an impressive persuasive essay copy.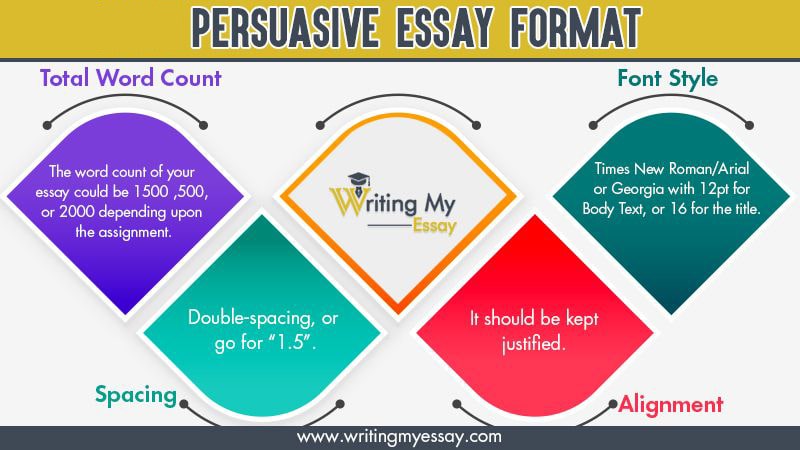 Persuasive Essay Format
If the details for persuasive essay format has not been pre-assigned to you, here are the general rules that you need to follow:
Total Word Count: The word count of your essay could be 500, 1500, or 2000 depending upon the assignment.
Font Style: Keep it in Times New Roman. The general body font size should be 12, or 16 for the title. You may also go for Arial or Georgia fonts.
Spacing: Choose double-spacing, or go for "1.5".
Alignment: It should be kept justified.
Persuasive Essay Outline
You must include these points as a part of your persuasive writing strategy to ensure favorable outcomes.
Introduction
Write something catchy to "hook" the readers into noticing it.
Provide an overview, to aware the readers of where your essay would be heading.
The end has to include thesis revelation which throws light on the subject of the entire argument.
Body
Make sure that each paragraph should reflect upon and revolve around a single piece of evidence.
Every paragraph has to be informative enough to support the idea with authentic details.
Paragraph With Contrasting Views
You must include a paragraph where you introduce an opposing idea, and then explain it further with some major points.
The Conclusion
Here, you need to state the details of your thesis and give it a push with relevant evidence.
How To Start A Persuasive Essay?
As we have already discussed how to write a persuasive essay with a proper outline, you must have noticed that it starts with an introduction.
This is the part that introduces the readers to the intentions behind the essay. Thus, the introduction should have the potential to grab the reader's attention. You have to write it in such a way that it gives people a clear picture of the concerned topic. There has to be a "hook", and a powerful one, accompanied by the argument you are trying to state.
Here, you have to explain the "what", and "how" of your argument strategically. You should address the following points:
What is the idea that I want to compel my readers to believe?
How should I persuade the readers to accept that my argument is powerful?
Before starting with your persuasive writing assignment, assess the topic deeply and synthesize the appropriate explanation for these questions.
Persuasive Essays & The Usage Of Arguments
The major goal we want to achieve with persuasive writing is to compel others to agree without a viewpoint. Thus, you need to keep your arguments authentic, and rational. Another point is to write the essay from an emotive perspective, and include logic. When you combine these aspects together, the results would be an excellent persuasive essay copy.
Here are Aristotle's principles of persuasive writing, also known as elements of rhetoric.
Ethos:
This element appeals to the writer's credibility. You can include ethos in your writing with the help of opinions from credible personalities, or authorities.
Example: "I am a dietician, and I recommend proper calcium intake for bone strengthening."
Pathos
Pathos appeals to emotions, which is essential to influence your reader's beliefs, values, and morals.
Example: "Yellowing teeth can steal away your personality's charm! Impress your friends with a bright and confident smile! A toothpaste can give you all that!"
Logos
This part is about reasoning. It backs up your persuasive writing paper with genuine evidence, and logical statements.
Example: "Numerous studies conclude that stray dogs make for an excellent pet, and have a strong immunity."
Support Your Argument With Ease
Topic Of Your Choice: Choose a topic of your interest as it will make it easier for you to persuade the readers with your opinions.
Understand The Audience: It is crucial to know your target audience. This will help you write better, in a way that you get a hold of what is required to convince them to accept your beliefs.
Grab The Attention: The opinions have to be presented in a way that reveals your intentions and persuades the readers logically to accept your point. There have to be enough facts and evidence from credible resources.
Present Both Sides: While learning how to write a persuasive essay, do not forget that you must state the contrasting side, too. This will help you compel the readers to accept your point in a well-informed way.
Empathy Is Important: Remember to empathize with your readers. This will inflict a sense of emotion within them, and there would be higher chances of accepting your point. A logical statement would be of great help while targeting the audience's sensitive side.
Rhetoric Questions: This method forces the readers to answer some unanswered questions by themselves.
Emphasize: You must include a sense of urgency in your statements. This will add effectiveness to your essay, and serve as a powerful persuasion technique.
Be Repetitive: Increase the impact of your writing by repeating the idea. This will reinforce a sense of exclusivity in the reader's mind. You can do it with the help of metaphors, stories, rephrasing, etc.
Persuasive Essay Topics
Persuasive Essay Topics For Elementary School
Should schools cancel uniforms?
Should there be a TV in every classroom?
Cellphones should be allowed to students in school.
Homework should not be compulsory.
Schools should have longer breaks. 
Persuasive Essay Topics For High School
Is a college education necessary?
The voting age should be lowered.
What are the advantages of free condoms available to the students in schools?
Is cyberbullying a serious concern in high schools?
Should the government lower the drinking age?
Persuasive Essay Topics For Science
Are emerging technologies safe for human health?
Is genetically modified good or bad?
Is cloning a morally correct technique?
Do colleges need to invest more in scientific research programs?
Do new scientific findings influence our daily lives?
For more topics, read here the best Persuasive Essay Topics.
Expert Tips & Tricks For Persuasive Writing
If you are all set to prepare your essays or persuasive speech topics for college, or school then these tips will come in handy.
Do your research from both sides.
Know your audience's perspective
Use rhetoric language to frame your sentences.
Use logic, combined with emotions.
Do not beat about the bush or be manipulative.
Leave something to the reader's imagination.
You can head to us to get well-researched, professionally written academic papers from the experts at competitive prices. We also offer revisions and great customer support for essay writing services. All your projects will be grammatically correct, plagiarism-free, and specific to your requirements.