What is an Expository Essay?
Expository a derivative of the word "exposition" means to uncover or lay it straight out. An expository essay is a kind of essay that clarifies and explains an idea in a way that readers can understand. The job of the writer is to investigate an idea, evaluate it from every angle, and present the arguments you most believe in.
There are different kinds of the expository essay such as descriptive essay (describes a place, person, or thing by evoking a sensory response in readers), process essay (explaining the step of something), comparison essay (comparison of two things), cause & effect essay (find the cause of something and its effect), and problem/solution (addressing problem & stating solution) essay.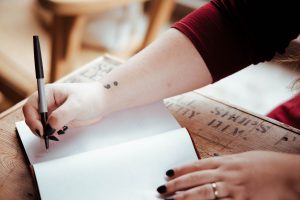 Expository Essay Examples

 
Example #1: Harry and Draco: Not As Different as They Seem
"I really don't think they should let the other sort in, do you? They're just not the same, they've never been brought up to know our ways. Some of them have never even heard of Hogwarts until they get the letter, imagine. I think they should keep it in the old wizarding families." (Rowling 61) 
(Ref: https://examples.yourdictionary.com/)
Example #2: Learning to Read (by Malcolm X)
"It was because of the letters that I happened to stumble upon starting to acquire some kind of a homemade education.
I became increasingly frustrated at not being able to express what I wanted to convey in letters that I wrote, especially those to Mr Elijah Muhammad. In the street, I had been the most articulate hustler out there. I had commanded attention when I said something. But now, trying to write simple English, I not only wasn't articulate, but I also wasn't even functional. How would I sound writing in slang, the way I would say it, something such as, 'Look, daddy, let me pull your coat about a cat, Elijah Muhammad — '
Many who today hear me somewhere in person, or on television, or those who read something I've said, will think I went to school far beyond the eighth grade. This impression is due entirely to my prison studies."
(Ref: https://literarydevices.net/expository-essay/ )
Expository Essay Topics

 
Here are some expository essay topics that you can choose for your next essay assignment:
Explain which public figure you admire and why?

Describe the likely consequences of cheating in exams

Explain why some parents follow the discipline and are strict in nature?

If you had to be a superhero, which one will you be, and why?

Explain why you like the company of a particular friend?

Describe the likely consequences of doing drugs in teenage

Explain why 

a 

tee

n moving to a different country or city

 is a bad idea?

Explain why a teenager getting a driver's license is a big deal?

Describe how you help your mother at home

Explain how the Internet affects the life of a teenage

r?
Expository Essay Outline
Here is the expository essay outline 
The introduction includes three parts:
Hook

 

(It will capture a reader's attention)

Thesis Statement

 

(Stating out your opinion and topic loud & clear)

Detail

 

(Few lines to show how you will cover your main topic)
Body includes:
Paragraph 1: It should include one subtopic under the main topic along with a supporting explanation & example. In the last line summarize or justify the point you were making
Paragraph 2: Write in one sentence sub-topic relevant to the main topic. Repeat the same process as in paragraph one.
Paragraph 3: Cover the last sub-topic here in one sentence and follow the same process as in paragraph one.
The conclusion includes the following
Mentioning the thesis again and justifying it

Summarizing sub-points and 

connect

 it with the main points.
Expository Essay Format

 
Like any other essay type, the expository essay has a 5-paragraph format.
Introduction
The first paragraph is dedicated to the Introduction. This is where you include the hook to engage the readers slowly switching to a strong thesis statement. You must share in the introduction what you will cover in your topic or what your argument will be.
Body
Paragraph 2-4 will be the body where you are supposed to mention your strong points and support them with evidence or reference. It should directly link to the main topic or argument. You can also place quotes in between to make it more interesting.
Conclusion
Paragraph 5 is for concluding the essay. This place is to tell readers how you have successfully proved or justified your arguments. It is to summarize your main points and avoid any new information here.
Expository Essay Writing Process
The whole process of writing an expository essay needs the following steps:
Pre-writing stage
This stage is reserved for brainstorming ideas that you know well and choosing one on which you can write a complete essay. This is where you also define the main topic to find the best arguments and decide on your thesis.
Drafting 
This is the first draft where you put together a 5-paragraph pattern. You write an introduction with the hook and come up with an argument. You write body paragraphs to support your arguments and conclude everything in the conclusion paragraph. The first draft should have all the information you wish to include along with complete references and citations.
Revising the first draft 
In revision you check your essay for the following points:
Are your topic and arguments logically correct and relevantly linked?

 

Is

all the

 information true and has been explained clearly for the audience?

Does your essay contain any unnecessary details, which can take the reader off-topic?

Are sentences structured in simple vocabulary and uses a scientific approach?

Does your conclusion justify the main topic?
Editing
Editing has everything to do with proofreading and plagiarism check. Check for grammar, tenses, and make sure your essay is concise. As far as plagiarism is concerned make sure there a no traces of copied content in your work. There are a lot of tools available online for grammar and plagiarism check. 
Conclusion
An expository essay is all about explaining a topic in detail by clarifying or exposing a thing, person, or place. The whole idea is to pass on complete information to the readers in a fun and interesting way. If you need Essay Writing Service then you can order at Writing My Essay.