A descriptive essay aims to express something, such as an event, a place, a person, an object, etc. Students are indulged in these essay writing projects early on in their academic life which is a fantastic way to develop self-expression within them. As they compose clearly stated descriptions, it helps them build an understanding and also refines their analytical capabilities.
Today, we are going to discuss every aspect of a descriptive essay, such as descriptive essay topics, examples, and the complete process of writing an effective essay that counts.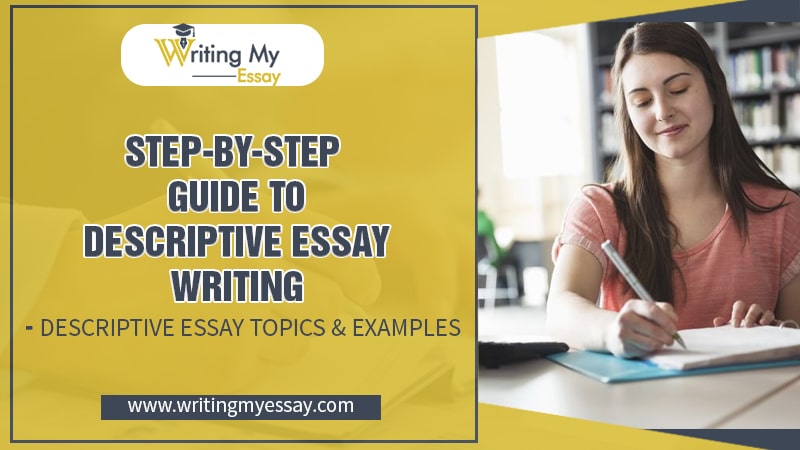 What Is A Descriptive Essay? – A Brief Introduction
A descriptive essay can be best defined as a paper that is focused on describing a vivid picture of a subject. It could be anything like a person, an object, a process, an event, an emotion, etc. Instead of sharing a metaphorical description, we have to focus on painting a picture of our subject.
Are you still wondering "what is a descriptive essay?".  Have a look at a travelogue or a personal memoir.
It is important to note that while writing a descriptive paper you should be focusing on appealing to the five senses: touch, taste, smell, hearing, and sight. This is the key to writing an impactful descriptive paper, effective enough to leave its imprints on the reader's heart and mind.
A descriptive essay is like a comprehensive picture painted by the writer. As it appeals to the five senses, there is higher scope for building a deeper connection as it allows the reader to dive in and experience the event itself. This is an excellent approach to share the crucial details on a subject, which helps the readers understand it quite easily.
What is The Purpose of Writing A Descriptive Essay
A descriptive essay is one of the best ways to provide a clear understanding of a subject. It is written in figurative language which eliminates the chances of ambiguity. This way, the readers get to know the concrete information about the topic, which otherwise could have gone unnoticed.
This is one of the best ways for educating the readers on a subject in an engaging way. Descriptive essays could be written on any subject, be it historical, geographical, artistic, etc. You can easily describe a personal experience or favorite things such as food, a TV show, cultural ethics, and values. It touches people from within due to the involvement of factors that appeal five senses of the audience. Thus, arousing emotional feelings. It just enhances the entire sharing as well as the learning experience altogether.
What are the Key Elements of Descriptive Essay
While writing a descriptive essay paper you need to be mindful of these five major elements and include them in your writing.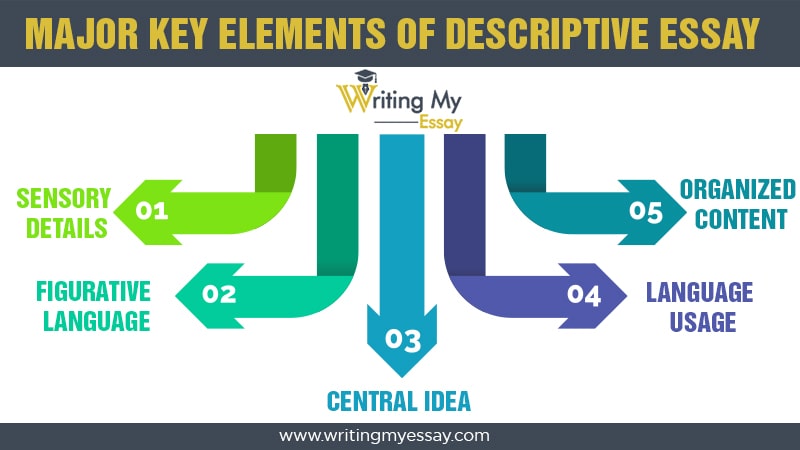 Sensory Details
It is essential for touching the readers' emotional side, which is a feasible way to develop a deep connection. By painting a beautiful description, you can evoke the readers' senses, which successfully creates engagement.
Figurative Language
If you look at some of the descriptive essay examples you will notice that using figurative language is the essence of these writing assignments. Including adjectives, metaphors, similes, adverbs help in painting a picture of the subject, enabling the readers to understand it better by visualizing it.
Central Idea
You need to clearly define the central theme of the essay and be direct with it. There should be no room for confusion. This ensures the essay is well put together.
Language Usage
The type of language you use plays a huge role in affecting the quality of your descriptive essay paper. If you are clueless about the writing strategy of a descriptive essay, what type of language to use, the answer is simple: keep it precise, be clear with your sentences, and emphasize the main theme.
Keep It Organized
Your descriptive essay has to be properly organized. Make sure to include your ideas in a structured and chronological order which makes the entire write-up meaningful.
Descriptive Essay Writing: Create A Strong Outline
Your descriptive essay outline should comprise at least 5 paragraphs. This is a proper way to write a well-structured descriptive essay in asa format. There has to be an introductory paragraph, followed by the body and then the conclusion. This is the best way to ensure a successful and acceptable descriptive essay format. It should be like this:
Introduction
Body paragraph 1
Body paragraph 2
Body paragraph 3
Conclusion
All these sections have to be there in your descriptive essay:
Introduction: Here you need to introduce the subject, and keep the paragraph worthy enough to hook the readers' attention. This is where you need to write a thesis statement, while also keeping the body informative.
Body: In the body, separate your different thoughts into individual paragraphs to maintain clarity. Look at a few examples to understand how to start a descriptive essay. It should begin with a topic sentence, and the end should link it with the idea in the next paragraph. Also, do include supporting evidence to back up the claims.
Conclusion: Conclude the entire write-up by paraphrasing the thesis statement, and reinforcing the major points of your essay. You need to keep the conclusion concise, yet direct and clear. The end should make the reader feel that they really learned something from your essay.
Descriptive Essay Topics for 2021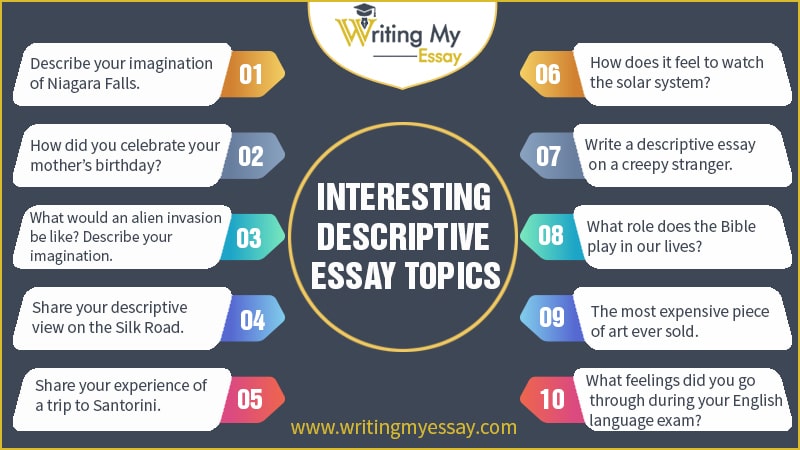 Here are some exciting descriptive essay topics for you!
Describe your imagination of Niagara Falls.
How did you celebrate your mother's birthday?
What would an alien invasion be like? Describe your imagination.
Share your descriptive view on the Silk Road.
Share your experience of a trip to Santorini.
How does it feel to watch the solar system?
Write a descriptive essay on a creepy stranger.
What role does the Bible play in our lives?
The most expensive piece of art ever sold.
What feelings did you go through during your English language exam?
A relative's wedding that you attended recently.
List all the things that you love doing with your parents.
Which place would you select for the summer festival? Why?
Share a descriptive explanation of the 7 wonders of the World.
Which is the most beautiful place in your native country?
Why is your mother the best mother in the World?
Describe your favorite comic character.
What is your most favorite movie?
Describe an event in life that inspired you.
Share your experience of the Jungle Safari you went to with your family.
Also, read about the Reflection Paper which will give a deep analysis of essay writing.
How To Write A Descriptive Essay That Counts?
Let us share with you how to write a descriptive essay paper. You have to touch all the essential factors, from selecting the topic to organizing and laying down the ideas. The process is simple and has shown success with proven results.
Select A Topic: This is the most crucial part of your descriptive essay writing process. Your topic has to be catchy that sparks the readers' curiosity to read further.
Craft An Outline: Whether it is a descriptive paper or any other writing assignment, having an outline is foremost. You need to draft a format for a descriptive essay outline. This will help you organize the entire piece, keep it together and cover all the essential elements. You will also be mindful of including the sensory details.
Introduction: This is where you have to present the main subject and a firm opinion that will set the tone for the entire essay copy. It is basically a brief overview of your essay.
Thesis Statement: The thesis statement represents the purpose of the descriptive essay. Therefore, you need to keep it accurate and to the point. It also gives a clear idea of the scope of the essay. Do not shy away from going all creative with the thesis. Also, adding a mystery factor is an excellent approach to keep the readers hooked.
Body: The body of a descriptive write-up should define the purpose in a much-elaborated way. This is when you also give a detailed view of the thesis statement. Moreover, using topic sentences as the first sentence in each paragraph is the right approach. Do share evidence to support your information.
Linking the paragraphs with a transition binds the whole piece meaningfully. Make it a point to keep your thoughts organized throughout.
Concluding Paragraph: As you reach the end grab this chance to leave the readers impressed by summarizing everything. You can try reinstating the thesis statement to emphasize their thoughts. Those who are clueless about how to write a descriptive essay conclusion for research topics can add the information related to their findings in the conclusion. The idea is to present the final thoughts and the primary goal of writing the essay.
Descriptive Essay Examples
Here are some impressive and inspirational descriptive essay examples by renowned personalities. We have also included a general example to help you understand the concept better.
Example #1: The Taj Mahal – By Salman Rushdie (An Excerpt)
"And this, finally, is why the Taj Mahal must be seen: to remind us that the world is real, that the sound is truer than the echo, the original more forceful than its image in a mirror. The beauty of beautiful things is still able, in these image-saturated times, to transcend imitations. And the Taj Mahal is, beyond the power of words to say it, a lovely thing, perhaps the loveliest of things."
Example #2: What does it feel like to play Rugby?
"An untrained player would view Rugby barely as a game where some individuals are just fighting one another, chasing an oval ball. They are struggling to move the ball slowly, in a mud field, taking it towards a goal boundary of the opponents. Even if a player gets injured, there is no provision of time outs and the players do not even put on pads. Despite all this, Rugby is considered a gentleman's sport, it is an entirely different experience for those who understand the game. Although Rugby appears rough, yet the participants are respected and it is maintained throughout by both the team members, as well as the opponents."
Example #3: The Sprig Of Broom – By Barbara Willard (An Excerpt)
"It was mid-October, the harvest well stored. The sun was as hot as if it shone in the first week of September, but a tumbling sky threw great clouds before the wind, and when the sun was obscured then all the promise of winter was in the air. But it was magic weather, a gift to sweeten the sadness of the ending year. There were still blackberries, thick and dripping with juice, but these would remain on the bushes, for by now, as it was said, the Devil had spat on them and they should not be eaten. So birds gorged themselves, and the ground and the leaves of the brambles were strewn with purple droppings. The water, half shadow, and half glitter threw back the colors of beech and bracken tossing them over the boulders like gold and copper coins."
Conclusion
A descriptive essay is all about paying attention to the elements that touch the sensory feelings in humans. It has to be precisely put, and well organized to ensure better delivery. You need to follow proper outline guidelines to make sure you do not miss out on anything.
If you find descriptive papers too difficult to write or don't have any idea about Writing an essay, the experts from WritingMyEssay can do it for you! We have a talented pool of writers highly experienced in extensive research work, and well-versed in different assignment writing formats. All their writing projects are plagiarism-free essays and grammatically correct. This is the sure-shot way to grab A+ scores in your projects!
Our services are affordably priced and our specialists are known for swift deliveries. For more details, you can check out the official website and get in touch with the team as their customer service professionals are highly responsive.