Hooks are important when it comes to reading essays. What do you do to hook the audience to read your essay? Do you have some ideas, or are you looking for one? Do you have an idea about looking for essays? If not, don't worry. Read on, and you will get the idea soon.
You can rest assured of your audience as you have already grabbed their attention. Are you ready to learn what is an easy hook and how to master this art?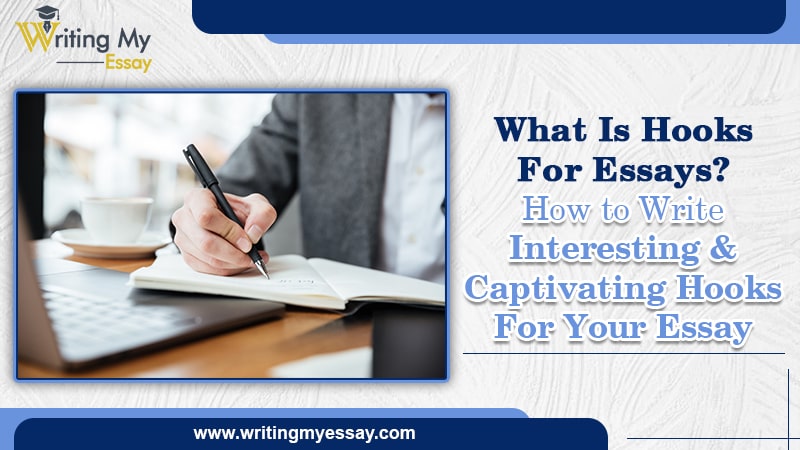 What Is An Essay Hook?
Hooks for essays is a piece of writing at the beginning of your essay. Its purpose is to engage readers and give them an overview of your essay. 
It can be one or two sentences or a paragraph of 4-5 lines. Like a fisherman, you have to hook a piece of bread that lures your readers to stay on the page and read your post.
What Is The Need For A Good Essay Hook? 
You need a few good hooks for essays, and the primary reason is to grab your audience's attention. Earlier, there were few options, but now users can shift and scroll down to choose from several options. Therefore, you need to create a good, interactive, and impressive intro.
Further, there are several other benefits of using an essay hook. It is not only used in college papers or but is significant for copy bloggers, speechwriters, screenwriters, fiction writers, songwriters, and others.
A good essay hook catches the attention of your reader.
It garners their interest and compels them to read on.
In literature, hooks create a visual image of a story.
If you are writing a research paper or essay, a hook is also the way to grab your professor's attention.
It will have an affirmative impact on your grades and make them memorable.
All in all, creating an impulsive and effective essay hook is the art you should master to enjoy its benefits.
In the coming section, we will discuss the types of hooks you can use in essays or anywhere else you want.
How To Write Hooks For Essays? 
You might have some questions about this concept; hence, we will first get into the context and understand the thought process required to create good hooks for essays.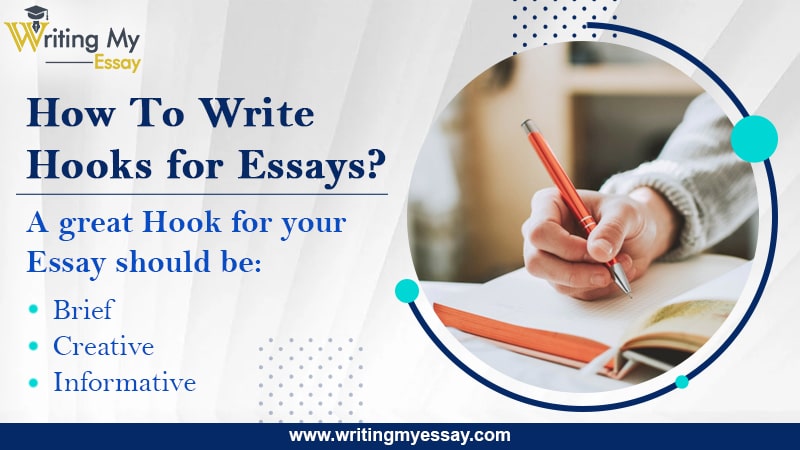 How to write a hook sentence?
A hook sentence is based on the purpose of your essay. While writing the hook for an essay, you should keep the idea in mind and underline its purpose in one sentence.
How do you write an introduction?
The introduction is not an additional part as considered by many. Instead, it sets the mood of the reader just like party lights.
When you write your introduction, split it into two sections: one is an essay hook, and the other is a thesis statement.
An essay hook evokes the reader's emotions, whereas a thesis statement informs the reader about the topic and its purpose. All this is done in a few lines.
List Of 15 Interesting And Impressive Hooks for Essays
Now that you have understood the concepts, you are ready to learn more about the types of hooks.
Here are 15 hooks for essays that can interest your audience:
1. Begin With Literary Hook
Literary hooks leave a great impression when reviewing a writer's work. It can be about books, literature, art, visual analysis, and authors. You can begin with a quote related to the book you are reviewing.
For example
The words of L. M. Montgomery said, "I'm so glad I live in a world where there are Octobers" to beautify the month.

"I knew when I met you an adventure was going to happen", once said A.A. Milne is a definition of deep friendship.
2. Start With A Famous Quote
Famous quotes are always in demand. Raiders like to read how their ideals or successful people relate to them. People admire what Martin Luther, Steeve Jobs, Stephen Hawkings, Bill Gates, and Elon Musk said. People like these are worth quoting as hooks in your essay.
However, ensure to cite these quotes from authentic sources. You can use them in academic writing or on your blog wherever it relates.
For example
Steve Jobs explains the business in the finest words, 

"Great things in business are never done by one person. A team of people does them."

"Do I not destroy my enemies when I make them my friends?" once said Abraham Lincoln proved to be a bold weapon for generations.
3. Find Intriguing Facts, Figures, Or Stats To Surprise
If your main focus of the essay is to provide readers with statistical data and facts, state the fact that surprises or astonishes the reader. It will provoke curiosity inside them.
Not only it will keep them attentive but also compel them to find answers to their questions.
The interesting facts can be taken from books, the Internet, magazines, interviews, academic journals, etc. Ensure the facts or stats must come from a credible source to position you as an authority.
For example:
According to a UNICEF press release, 3 in every 10 people globally could not wash their hands with soap and water at home during the pandemic Covid-19.

Forbes world's billionaire's list reveals that Jeff Bezos is the world's richest for the fourth time with $177 billion.
4. Start With An Argument Or A Personal Opinion
An argument or a Personal opinion can spark a lot of engagement if people support your opinion or are against it. Either way, they will be hooked and won't exit your essay.
Your job, as an essay writer, is to stay true to the facts. So don't present unrealistic opinions or impossible arguments. Whatever you write, ensure it comes from credible sources or makes sense.
For example:
Is it fair to allow kids to play with their phones while their guardians are watching TV?

They say, don't make decisions when you are angry, but I believe the opposite. This is the moment you can think of the right and make quick decision for yourself.
5. Put Reader In A Dilemma
You can present two situations that are not desirable but leave no choice. Such statements urge readers to find the answer. They would want to know if something like that comes up- how and why they should react in a particular way?
For example :
You have a friend who is a good person but is not loyal to their fiance. Would you let the other person know the truth or pretend to be foolish?

You got this opportunity where you may have to shift to another country leaving your aged parents. You can appoint a full-time attendant or take them with you.
6. Go Simple With Definition
When nothing seems to fit right, go straight with the definition. It works best in science, finance, and technical subjects where you start by defining a term and gain readers' interest.
For example:
Metonymy is an expression of calling one thing by the name of another closely related to the first.

Synthesis essays are a collection of ideas from different sources. This type of essay incorporates information from authentic sources, which can then create a thesis or questions.
7. Try Humorous Statements/ Jokes
Jokes may not work with every reader but are one of the options. An essay is usually a scientific work and therefore ensures you respect the boundary of the academic arena.
Jokes are useful to lighten the mood and refresh the reader's mind.
For example:
She is a writer who scored 99 on Grammarly.

If I don't return in ten minutes, just wait a little longer.
8. Begin By Asking The Right Questions
Most professional essay writers believe that asking the right questions at the beginning of the essay give readers an insight into what solution you will be presenting. It makes them feel what you will cover in your essay.
Now, readers like that clarity, so the only element you need to work on here is to ask questions that evoke a response. Choose questions having more than one answer or ask something that can bring out a reaction. You will not want to give a dull experience to readers while reading your essay.
For example:
Are you struggling to fix the hp printer not working error?

Does our action as a human benefit this planet?
9. Narrate An Incident
How would it be if you share an incident related to your work or life? The most effective way to engage your readers in your work is to show some personalization, but remember, it should be crisp since it's academic work and not blogging.
So support your essay with as many scientific facts as possible. An insight into your personal choice can move them. You can share some of your inspirations to show people– how well you know your industry?
For example:
Being a techno graduate, I understand how effective technology would be if humans stopped procrastinating their work.
10. Start Your Introduction With Persuasion
Are you good at persuading people around you? If yes, go for a persuasive approach to tell people why you strongly believe in your topic. Convince them with facts, figures, stats, or a personalized incident.
Here the approach matters because you will be choosing your words carefully to convince people. It would be better to present hard evidence before asking people to believe what you have to say.
For example
The rapid pace the world is following technology, the day is not far behind when you could meet people in space.

While nobody knows why dinosaurs became extinct, possible reasons include natural disasters.
11. Use Anecdotes
One of the effective methods is to tell readers a story and handcuff them with suspense. Readers enjoy stories and get carried away. However, ensure it is relevant to your essay; otherwise, you will disappoint them.
It can be your or someone else's story and can go a little longer.
For example,
Yesterday morning, when I woke up, I was a bit dizzy. Maybe the drink was strong or the sunlight. All I knew was that I was missing home.
12. Misconception Hooks
That sounds odd, isn't it! But, it is totally reasonable. You can always cite a commonly adopted misconception and lead your story. Ensure that the evidencproves the myth or misconception wrong is from an authentic source. Such hooks for essays are entertaining and captivating for readers.
For example:
While breakfast is considered an essential diet for everyone, PubMed Central research shows that it is not the same for adults.
13. Write A Metaphor/Simile Hook
The significant use of a metaphor urges readers to read about a topic they already know. They might want to know more and go on reading.
For example :
Digital marketing has made life as easy as butter.

An espresso insert writes the energy they get after a strong nap.
14. Setting A Scene
This type of hook aims to connect raiders with incidents through visuals. It brings a vivid picture of an incident from a real-life or a fictional story. Such hooks for essays are more engaging for readers.
For example :
All news reporters went to record the ring ceremony of Prince Harry a week before to book their spot.

If you have earned money yourself, you will understand the joy of the first salary Greta receives after a decade of her graduation.
15. Rhetorical Question
Rhetorical questions don't present a question but a point that readers can relate to. While writing this hook, ensure that the answer is not limited to a 'yes' or 'no'. Such hooks for essays will directly relate to your readers with their thoughts.
Start by hitting the readers' nerves and proceed to connect with them emotionally.
For example:
When was the last moment you realized being yourself and not worrying about anything?
Conclusion
 In case you feel that you need professionals on board, you can get essay writing help from us. We have a team of experienced writers who have delivered thousands of essays so far with zero complaints. So what are you waiting for? Visit our website and place your first order with us today
Read more information: