As a student, you may sometimes find essay writing a daunting task. And, as you move one step further there is another type of essay writing that requires you to synthesize the essay. Have you ever read an essay that utilizes an argumentative approach? That is called synthesis essay writing. It is an amalgamation of various components that come together to make a meaningful, and informative piece of writing. Are you excited to learn how to write a synthesis essay? Then, keep on reading!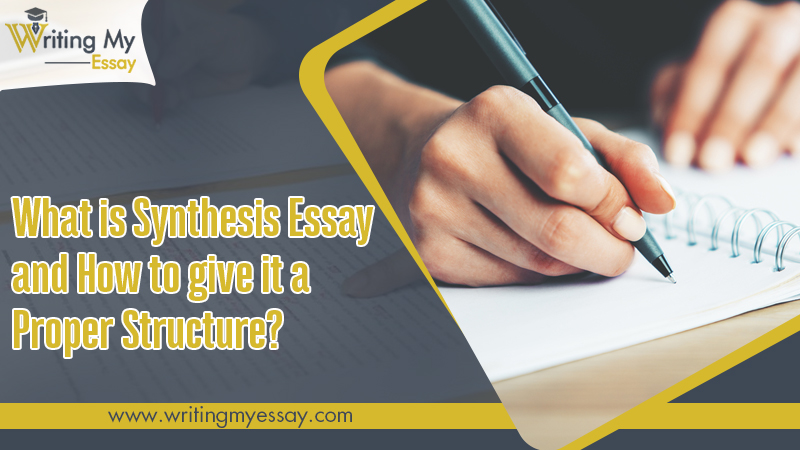 What Is A Synthesis Essay?
As the name suggests, it is a type of essay writing that involves a mix of different elements. You must follow a proper essay format to achieve positive results in your tasks. Synthesis essay writing requires extensive research, as you need to gather relevant data for claims, and evidence supporting your topic from different sources. You can use essays, lectures, research papers, articles, and observations as the resources to back up your claim.
Then, you have to combine the data with a common viewpoint to create an informative essay copy. A synthesis essay consists of a debate of ideas presented in the written format.
The core of any synthesis essay lies within the process of ideation and deriving conclusions as per the reviewed details.
Different Types Of Synthesis Essay
There are majorly two categories of synthesis essays.
This is more of an informative paper, which presents an explanation for a term or topic. The emphasis is on providing a clear picture of the topic to the students. An explanatory synthesis essay helps give a comprehensive exposition on any given topic. The information collected from different valuable sources is evaluated, analyzed, and then presented in a meaningful way.
Argumentative synthesis aims to support an argument with powerful information drawn from several sources. It is written in an argumentative manner that is more like a debate rather than a simple explanation. Needless to say, an argumentative essay has to be written with supported logic. It is also important to summarize your ideas in a way so that it looks meaningful, and the reader does not interpret it otherwise.
Also read about the top 150 debate topics to emphasize your essay topic easily
AP Lang Synthesis Essay: What Is It & How To Write It?
The AP Lang expanded as Advanced Placement Language, is a synthesis essay writing course at college level. It is conducted to assess the thinking, understanding, and writing potential of the students.
If you are someone who knows about writing skills, then it will be easy for you to score well in the AP Lang Synthesis Essay test. The students are given a bunch of sources to research on a specific topic. They have to evaluate these sources and write an essay, which is logical, and argumentative. Additionally, you have to state a correlation among the various sources supporting your claim of your synthesis essay topic.
Synthesis Essay: An Outline
Let us now dive a bit deeper to understand the components involved in synthesis essay writing. Practicing these tips would help you in getting better at your synthesis essay routine.
How To Write A Synthesis Essay?
As you begin with synthesis essay writing you must first collect the data from all the resources supporting your claim. Then, make a summary of your argument so that you do not miss out on any important information.
Then, as you start writing the essay make sure to use some catchy sentences to hold the reader's attention. Here, you can include stats, facts, or cite any evidential source.
Now comes the part where you highlight the significance of your topic. Doing this provides quality to your topic, and develops the reader's interest.
What is a synthesis essay? It is all about presenting a thesis on any given topic in place of giving a hypothesis. After you are done including all the aforementioned factors into your essay, make sure to include a logical link to the body as your introductory paragraph ends. This will pave your way to an informative, interesting, and well-written synthesis essay copy.
Synthesis Essay Structure
To be precise, the structure or body of your synthesis essay is mainly a summarized, and well-written copy of all the information you have collected from the supporting sources. You need to explain your topic to the readers and be clear in your sentences to avoid any chances of misinterpretation. You have to persuade the readers with the evidence required to reinforce your claims.
Your essay should include a proper structure:
Introduction
Body Paragraph 1
Body Paragraph 2
Conclusion
Do not forget to add sub-topics and citations within the essay structure.
Also, keep in mind that you do not have to jumble between different sources. Your focus should be on compelling readers with your ideas and write a powerful essay.
Then comes the conclusion of your synthesis essay which has to be effective enough to leave an impression on the reader's mind. Remember not to deviate from your topic. The conclusion should involve:
A rephrased statement from your thesis.
A summarized explanation of the body of your essay.
A concluding statement that presents a summed-up version of your essay.
Synthesis Essay Topic Ideas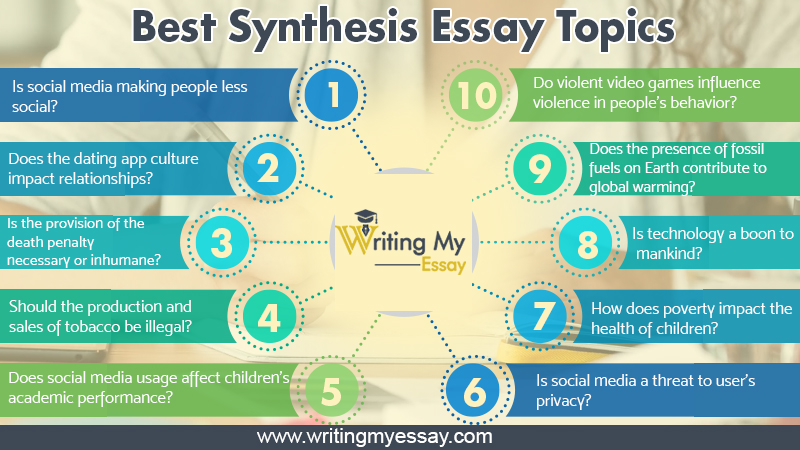 Here are some ideas for synthesis essay topics:
Is social media making people less social?
Does the dating app culture impact relationships?
Is the provision of the death penalty necessary or inhumane?
Should the production and sales of tobacco be illegal?
Does social media usage affect children's academic performance?
Is social media a threat to user's privacy?
How does poverty impact the health of children?
Is technology a boon to mankind?
Does the presence of fossil fuels on Earth contribute to global warming?
Do violent video games influence violence in people's behavior?
The effects of air pollution on global warming.
Does machine learn impact business productivity?
Are we becoming too dependent on technology?
Do false memories affect a child's development?
Is homeschooling a better option than traditional schooling culture?
Is euthanasia brutal or an act of mercy?
Can advertisements be misguiding?
Are drones a threat to personal privacy?
Is drug testing animal on animals ethical?
Is the introduction of modern technology in the classrooms beneficial?
Writing Tips For Synthesis Essay
If you are new to the concept of synthesis essay writing then we can help you in making the process easier. Here are some tips that will help you write your synthesis essay projects fast, and correctly.
Create an outline: Whenever you start writing it is important to have an outline first. This way your essays turn out to be precise, readable, and informative.
Utilize the writing tools: We are all aware of the common approach of proofreading your written papers to identify the mistakes before final delivery. Today, several writing tools in the market efficiently spot all the grammatical errors, plagiarism, and organize citations for your synthesis essay writing.
Elaborated introduction: A synthesis essay should always include an interesting introduction that is powerful enough to hold the reader's attention. An engaging, and logical intro can be fruitful for your essay.
Proofread the copy: While writing a synthesis essay it is easy to get lost in the process of establishing your point. Thus, you must proofread your copy to ensure that the essay is drafted appropriately. Catch your spelling errors, make necessary changes in the format to ensure that the final copy represents your best efforts.
Conclusion
Synthesis essay writing requires constant practice, as it involves substantial research on the assigned topic. Drafting the evaluated observation in a debatable format is yet another tricky part. It is essential to cite the sources that support your arguments.
You can even hire professional experts from "Writing My Essay" for your academic assignments. We have a team of prolific researchers and writers who can complete your synthesis essay projects within the assigned deadline. Writing My Essay is an online portal that offers premium writing services at competitive prices.
All you need to do is just reach out to their team, explain your requirements, and a project coordinator will be there to help you out. Even if you are running low on time, their talented writers are always there to save the day!