A powerful speech is one that instantly connects with the audience and motivates them to do something that you want them to. Speeches are good persuasion tools and are often useful incorporates, academics, or even politics. But today we will define our approach to academics only. Academic speech is pursued by students when they presenting their thoughts, concepts, or ideas in front of a jury, panel, or professors.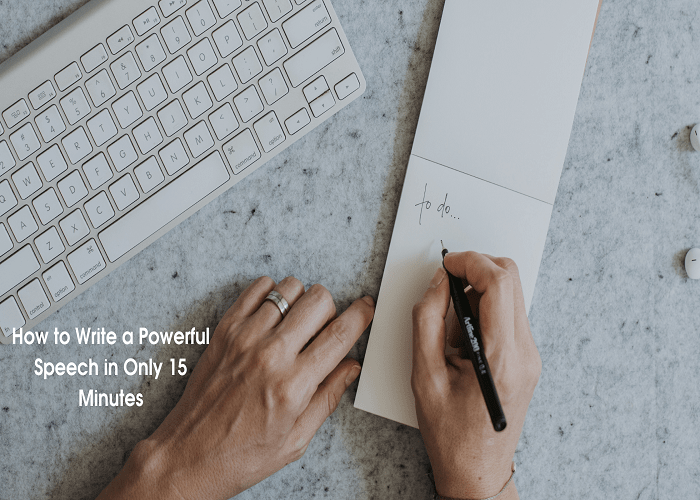 Sometimes students even give a presentation in front of their batch on a certain topic and therefore they need a good speech to start off the presentation. In such cases, quick speech writing skills can come handy. Students often lack time due to their other commitments such as attending classes, finishing their projects, making assignments, etc. If they learn how to execute a speech in 15 minutes it will help them stand out.
5 Tips To Write An Effective Speech
Here are our 5 top tips on how to write a speech that pleases the audience:
Imagine Your Audience:
You need to ask yourself a few questions before you design your speech such as:
Does your audience know you?

If yes, is there something about you that inspires them or appeal most?

Does your audience have any kind of expectation?

What you want to tell people through your speech?

Are there goals that you want to achieve at the end of the speech?

Do you want your audience to act on your theory, idea, or concept?
The clearer you are about these questions the better will be your speech.
Choose the Main Points:
List out all the points you want to talk about and see which ones are strong. You should keep only 5- 6 points in your entire speech and cover it nicely rather than talking about too many things at once. Your main points should focus on what you expect your audience to do as an end result. For instance, if your speech is to get more people to buy your book then cover what's in the book. Persuade your audience about the convincing plot and how the audience will enjoy it. Talk about the thing you wish to get attention on.
Connect All the Points:
Don't make discrete points and make sure everything is connected. All your points should come together and make an interesting speech. When you are about to finish your first point make sure you make an entrance for the next point to slide in smoothly. It will help your audience to follow and not feel disconnected or lose interest.
Keep it Conversational
Take note of this point because it's most valuable than others. Keep your speech as if you are talking to someone. Make it conversational. Your speech can include personalization or a feeling of intimacy. To make it more memorable include emotions and mention a few personal details about you. This will help save time from researching good content for your speech. All you have to do is pick a relevant incident from your life and adjust it smoothly with the rest of your content.
Make Sure Everything Makes Sense
All the points must speak logic. Make sure all your explanations have ground reality. The audience is smart nowadays so share incidents, stories, or facts which are real. Make sure you check out all the facts, stats, etc before mentioning it in front of your audience in your speech. The most valuable speeches are ones that talk about a subject and are connected to one of the relevant current trends. An added bonus can be to leave a space for improvisation in real-time. Like adding space for pauses to let your message sink in while you start again. You can leave spaces to insert questions or prompt your audience. The key is to plan out everything.
Conclusion
There you go! These are some of the most important tips to write a speech in minutes. Yes, all you have to do is implement these and see how well you end up writing. You just have a few minutes to impress your audience so make sure you give your best efforts in drafting it.
In case you don't know how to write a speech and it is not one of your strongest suits then you can always seek professional help from writingmyessay.com. We have a great team of academic writers who know the winning formula to nail a good speech. They have humungous experience and have delivered a great number of projects by now. 
You can check out their previous sample and analyze their work. We know speeches are all about making impressions and we don't want you missing out on it at all. Check out our website and place your order today.
Can Someone "Write my speech for me" opt the Writimgmyessay.com is a reliable name when it comes to speech writing.  
Read More: