A powerful speech is one that instantly connects with the audience and motivates them to do something that you want them to. Speeches are good persuasion tools and are often useful in corporate sectors, including academics, or even politics. But today we will define our approach to academics only. Academic speech is pursued by students when they presenting their thoughts, concepts, or ideas in front of a jury, panel, or professors.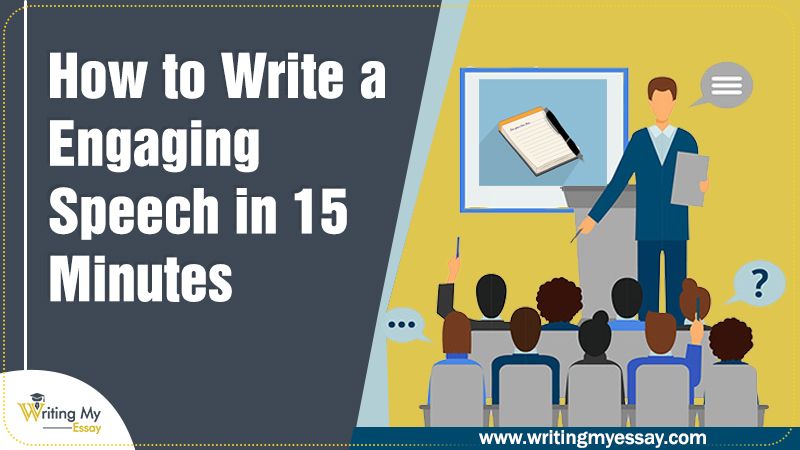 What is Speech?
Speech is a vocal communication between humans through an exchange of words. This verbal presentation involves a purpose. It is usually meant to persuade the audience to accept the idea you are trying to deliver.
A powerful speech has the power to change the world. You need to make sure that your speech is focused on a topic, and structured in a way that it effectively represents your ideas. Speeches are often a part of the academic curriculum, and constant practice can make you perfect in creating an impressive speech.
Sometimes students even give a presentation in front of their batch on certain topics and therefore they need a good speech to start the presentation. In such cases, quick speech writing skills can come handy. Students often lack time due to their other commitments such as attending classes, finishing their projects, making assignments, etc. If they learn how to execute a speech in 15 minutes it will help them stand out.
10 Tips To Write An Effective Speech in 2021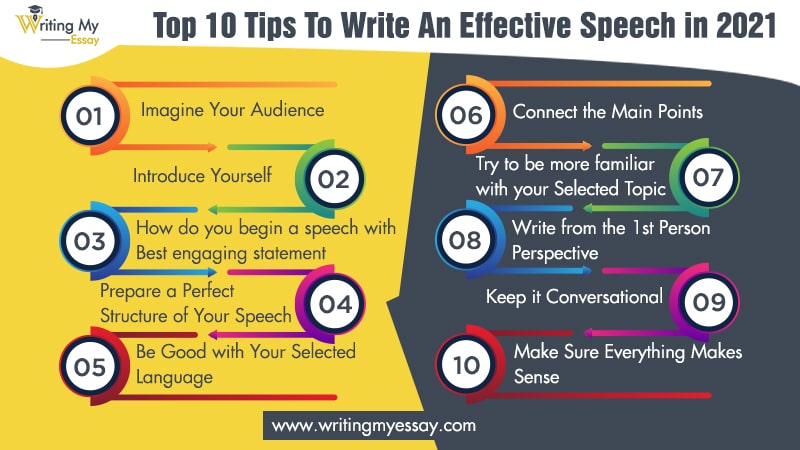 Here are our top 10 tips on how to write a speech that pleases the audience:
Imagine Your Audience
You need to ask yourself a few questions before you design your speech such as:
Does your audience know you?

If yes, is there something about you that inspires them or appeal most?

Does your audience have any kind of expectation?

What do you want to tell people through your speech?

Are there goals that you want to achieve at the end of the speech?

Do you want your audience to act on your theory, idea, or concept?
The clearer you are about these questions the better will be your speech. You have to also focus on your speech topic and for this purpose read here our best selected informative speech topics.
Introduce Yourself
Any speech should start with a self-introduction. Thus, while writing a speech the speaker must be mindful of the target audience. The introductory part allows you to show your creative side.
Here, you can make the most of some catchy phrases to attract your audience's attention. Also, this is the part where you have to talk about the subject clearly. Doing this will provide your audience an idea about where things will be heading.
Begin Your Speech With The Most Engaging Statement
As you have successfully made the audience familiar with yourself, move along as the things are going to be a bit serious. An interesting introduction should instantly grab the audience's attention. Your opening statement should be concise, yet impactful.
This is when language techniques come into use. You can pose:
A rhetorical question
An unexpected statement
A popular quote
Any of them will do a great job capturing the audience and engaging them with your speech.
Preparing A Well-Structured Speech
Your speech should follow a proper structure, as it will help you deliver your thoughts in a step-by-step format. Let us elucidate it further:
The initial part is the introduction where you give a brief about yourself to the audience. Here, you also share with them the topic of your speech. You have to make a powerful statement to captivate their focus.
Then comes the body of the speech. This part should include relevant arguments. It is a great way to keep the audience engaged. The body has to be sub-divided into two to three parts, which have to be parted into different paragraphs. Doing this will create a smooth transition of ideas, and help in explaining the topic in a better way.
At last, comes the conclusion of your speech. Here, you need to give a gist of what you have explained. The summary at the end plays an important part in your speech structure. Mention the important takeaways from the discussion, so that it becomes fruitful for the audience.
You Must Have A Hold Of Your Selected Language
You must be familiar, and well-versed with the language in which you will be delivering your speech. This will help you be more presentable and confident. You can make necessary changes in the prepared speech to make it more impressive, and engaging. But that will only be possible if you understand the language well.
However, you may be a good analyst of ideas but you lack an in-depth grasp of the language. Here are some tips that you can utilize to write a powerful speech beforehand.
Keep your sentences short: It is important that you have to avoid using lengthy sentences. This would make your speech bland, and hard to understand for the audience. Short and impactful sentences, straight to the point, and engaging should be your goal. The speech has to be well-structured, and there should be wide usage of punctuations.
Practice makes you perfect: One of the best ways to get better at speech writing, and delivery is practicing it repeatedly. This will help you improve your grammar. It will also bring out your creative side, and also reduce the chances of errors.
Familiarize Yourself With The Selected Topic
You cannot expect to deliver a speech about a topic that you are not prepared for. Often people end up choosing a topic they do not have any idea about. This leads to a poor experience, and you do not appear to be confident in front of the audience.
Even if you have been assigned a topic by someone else, it is essential to do enough research about it. The research will help you gain deep-rooted knowledge on the subject. Make sure to look into reliable sources and learn both the subject's good and bad sides.
Here, you must make the best use of your analytical thinking skills, and indulge yourself completely in the topic. If you are selecting a speech topic by yourself, then go for something you are already familiar with. Keeping these tips in mind ensures remarkable results.
Write Your Speech From The 1st Person's Perspective
While writing your speech always make sure to write it in the "1st" person. Use "I" statements as it shows you own what you are saying. It helps you express your opinions and thoughts in a much better way.
To denote your audience you can use "We", and "You" in your statements.
Choose the Main Points:
List out all the points you want to talk about and see which ones are strong. You should keep only 5- 6 points in your entire speech and cover it nicely rather than talking about too many things at once. Your main points should focus on what you expect your audience to do as a result. For instance, if your speech is to get more people to buy your book then cover what's in the book. Persuade your audience about the convincing plot and how the audience will enjoy it. Talk about the thing you wish to get attention on.
Connect All the Points:
Don't make discrete points and make sure everything is connected. All your points should come together and make an interesting speech. When you are about to finish your first point make sure you make an entrance for the next point to slide in smoothly. It will help your audience to follow and not feel disconnected or lose interest.
Keep it Conversational
Take note of this point because it's most valuable than others. Keep your speech as if you are talking to someone. Make it conversational. Your speech can include personalization or a feeling of intimacy. To make it more memorable include emotions and mention a few personal details about you. This will help save time from researching good content for your speech. All you have to do is pick a relevant incident from your life and adjust it smoothly with the rest of your content.
Make Sure Everything Makes Sense
All the points must speak logic. Make sure all your explanations have ground reality. The audience is smart nowadays so share incidents, stories, or facts that are real. Make sure you check out all the facts, stats, etc before mentioning it in front of your audience in your speech. The most valuable speeches are ones that talk about a subject and are connected to one of the relevant current trends. A bonus can be to leave a space for improvisation in real-time. Like adding space for pauses to let your message sink in while you start again. You can leave spaces to insert questions or prompt your audience. The key is to plan out everything.
Also, read about informative speech.
Conclusion
There you go! These are some of the most important tips to write a speech in minutes. Yes, all you have to do is implement these and see how well you end up writing. You just have a few minutes to impress your audience so make sure you give your best efforts in drafting it.
In case you don't know how to write a speech and it is not one of your strongest suits then you can always seek professional help from writingmyessay.com. We have a great team of academic writers who know the winning formula to nail a good speech. They have humungous experience and have delivered a great number of projects by now. 
You can check out their previous sample and analyze their work. We know speeches are all about making impressions and we don't want you missing out on it at all. Check out our website and place your order today.
Can Someone "Write my speech for me" opt the Writimgmyessay.com is a reliable name when it comes to speech writing.  
Read More: