Which is the most common assignment during school or college time? Indeed, the 500 word essay. Not only it is easy to execute, it still requires plenty of time to think and do research. We're going to cover this further, but you must understand— why do we write an essay in the first place? Since an essay is all about giving deeper and more accurate knowledge on a specific topic.
Here in this article, you will understand what defines a 500 word essay? what steps you must follow to write, and useful tips to make it more compelling.
What is a 500 Word Essay?
A 500 word essay is a typical essay used to write different essays i.e. argumentative essay, persuasive essay, argumentative essay, etc. This essay is usually a page long and it follows syntax and guidelines.
An essay structure must contain at least 5 paragraphs and research methodology for this type and other kinds of topics. Be it an institution or school they must provide the topic and choose it yourself.
Differentiate Between 500 Word & 250 Word Essay
As we can understand, a 250 word essay is far more concise. Hence it does not require much elaboration on the subject. You should have a clear understanding of what you want to achieve with the essay, and adhere to your goals. Keep your sentences short and your topic should be focused on a certain idea.
On the other hand, a 500 word essay is a bit elaborative and covers more ground. Also, you can write three paragraphs that clarify your opinion on that subject. However, it is still a short essay and does not need any footnotes and citations.
500 Word Essay Differ From A 1000 Word Essay
A 1000 word essay is a more detailed form of essay writing. This means you can express your opinions and present your ideas. You can also create it in a storytelling form to showcase your creativity and connect with the readers. Due to the extended word length, it requires good research work. Also, do cite the sources and share reference details while wrapping up your essay paper.
The entire piece has to be divided into multiple sections to maintain readability and a logical flow. There has to be an introduction, the main body, and a conclusion. All these factors allow you to put your thoughts into a written, well-explained format.
Whereas a 500 word essay is a quick view on the subject rather than digging deep. The word length is restricted, which requires completing the entire paper within a certain limit. The structured format is similar to a 1000 word essay. Although there could be a slight difference due to distinctive word limits.
500 Word Essay Writing Format
A 500 word length essay is a short essay in which you need to write 3-5 sentences in each paragraph. So, according to that, each paragraph should include around 80-120 words. So wouldn't you like to share the correct format for writing a 500 word essay?
Introduction: This is the highlight of your essay, where you hook the readers with a strong thesis statement. Moreover, capture the audience's attention by discussing the main point and also providing some background details on the subject.
Main Body: Write around 4-5 paragraphs linked with one another through a central idea expressed with logical transitions. Additionally, you need to include evidence from credible sources to back up your claims.
Draft your essay body using an outline to ensure a meaningful flow of ideas throughout the content. It is essential to make your 500 word essay engaging, or else the readers would lose interest.
Conclusion: The concluding paragraph is the crux of your essay. Thus, you can restate the thesis statement here. Also, write the summary of your essay or share key takeaways for the readers. It is important to give audiences a sense of resolution.
What is The Optimal Length of a 500 Word Essay
Well, to be precise, a 500-word essay is usually 1 to 2 pages long. The length also depends on the type of font you use. Also, what spacing you follow plays a major role in deciding the essay length. A single-spaced essay can be easily concluded within 1 page. Whereas double-spacing usually stretches it around 2 pages.
While writing any type of writing assignment, the word limit may stretch over 50 to 100 words, which is normal. Hence, it may affect the essay length.
Another factor is the number of paragraphs you include in your 500-word essay. This is completely dependent on the topic you are writing for. If you wish to cover various questions within your essay, the length may exceed to separate the sections based on the part you are addressing in the write-up.
If we look at a general rule, a 500 word length essay is further separated into five different paragraphs. These are:
Introductory paragraph
Body paragraph 1
Body paragraph 2
Body paragraph 3
Conclusion
You need to divide the word count evenly throughout the essay. Keep the introduction and concluding paragraph 100 words each. Also, each one of the body paragraphs should be 300 words long.
Impressive 500 Word Essay Topics For 2022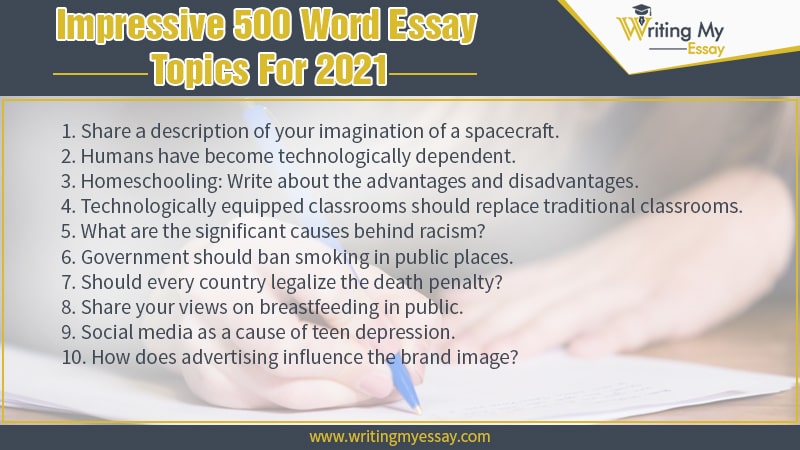 We have curated a list of some interesting 500 word essay topic ideas! You can use them in your essay writing projects.
Share a description of your imagination of a spacecraft.
Humans have become technologically dependent.
Homeschooling: Write about the advantages and disadvantages.
Technologically equipped classrooms should replace traditional classrooms.
What are the significant causes behind racism?
Government should ban smoking in public places.
Should every country legalize the death penalty?
Share your views on breastfeeding in public.
Social media as a cause of teen depression.
How does advertising influence the brand image?
Is there a link between workouts and stress reduction?
How has terrorism impacted world development?
What are your thoughts on the cases of gender discrimination in the workplace?
Does music influence our mindset?
Should foul language usage by the music industry be banned?
Animal testing should be banned.
How do immigrants affect a country's economy?
E-commerce has changed the way of trading.
Dieting v/s workout: which is more effective and why?
Share your views on the legalization of same-sex marriages globally.
How to Write A 500 Word Essay 
Though all the steps are easy and pretty much straightforward, we are stating the basic way of writing a 500 word essay.
Step 1: Select  a Topic
As discussed above, it's always good practice if you are assigned a topic, as you don't need to invest in choosing one. But an assigned topic may bring some limitations, such as you may not be familiar with the topic and have fewer references.
If you get the opportunity to select any of the topics, you can make it easy to write the essay by choosing a topic that you are an expert in or having the advantage of credible sources present in plenty. You need to remember one thing before choosing a topic it should not be directionless. Keep your targets clear and devise a strategy ahead.
Step 2: Compose the Introduction and Main Body
The introduction is the major hook for readers to stay, so you better build an engaging one. An introduction has a thesis statement before it, which clarifies what the essay will be. The introduction will give a brief on the major topic. Then comes the main body, which covers all the essential sub-points related to the main topic. This part describes the whole topic that you have selected before, in detail. But remember in a 5-paragraph format, you will have only 3 paragraphs for the main body so use it wisely. It should cover a good length of words.
Step 3: Write a Conclusion
The conclusion is all about summarizing the topic in an efficient way for the audience. Hence, they should get things in full by reading your conclusion. So keep your paragraphs short and clear.
Step 4: Editing and Proofreading
Editing and proofreading make the writing perfect but give you the option of either doing it manually or using available tools on the Internet. Similarly, the content has to be unique and there should not be any hint of plagiarism. But please make sure that your editing and proofreading are authentic, so they don't have any clue whether they are cheated or otherwise. When presenting the essay in school or college, avoid the unhygienic practice of copying it from the Internet. If you're caught, this may lead to serious consequences
Top 10 Useful Tips To Write a 500 Word Essay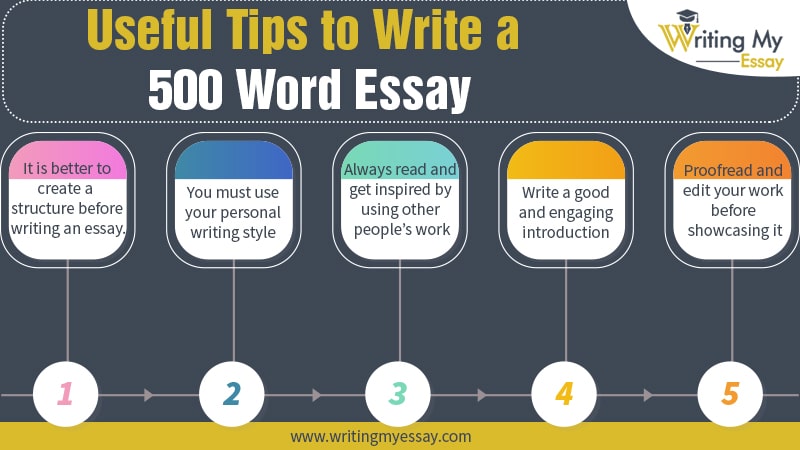 While a 500-word essay may not seem like a huge task, writing it perfectly should be your prime goal. Here are some useful tips to write an informative and well-crafted essay copy.
You can always start with an outline while working on any type of writing assignment. This is especially helpful in short essays where you provide more information within a certain word limit. It helps you stick to the original idea without straying away in the wrong direction.
It is always recommended to develop your style of writing. This means, generating your ideas on a specific subject, and penning them down in your unique way. It helps you work with your understanding
As you work on a writing task it is important to keep a check on the grammar. Whether you are writing a 500-word essay, or any other assignment paper grammatical mistakes are likely to occur. After completing your essay identify the grammar and spelling errors and correct them.
Plagiarism is a serious issue in writing tasks. Even though you may have written the entire essay, it is always better to be certain about your write-ups.In addition, you can use plagiarism detection tools available on the internet to verify that your copy is 100% original.
You need to immerse yourself completely in the subject of your essay to ensure a promising outcome. Allow yourself plenty of time to write on the topic. This will keep the copy fresh, and there will be more scope for creativity.
A 500-word essay might not require a lot of data, but you need to be straightforward. Allow yourself plenty of time to research the subject, and it will create a powerful copy that sparks readers' interest.
You first write a draft of your entire essay. It keeps your ideas in the desired order, which seems logical. This is an excellent approach to achieving incredible results.
Go through samples from other people to understand things better. You don't have to follow their footprints. Just grasp the idea and make a list of crucial elements you come across. Include these points in the paper in this way.
We cannot emphasize the fact that the introduction of your essay needs to be powerful enough to hold the reader's attention. Give them a clear insight into the essay to encourage them to read further.
Hence, this is a less-talked-about point. Consider your audience's viewpoint while writing your essay paper. Make sure to add some takeaways that benefit the readers, or educate them.
Conclusion
So there are the essential tips you must follow before writing a 500-word essay. If you're running out of time, or have insufficient knowledge— you can outsource your work to essay writing services. We are known as professional academic writing service providers.
Be it any kind of essay (persuasive, argumentative, classification, or a classic 500 word) you can deliver it in a quick turnaround time. So, don't delay contacting us and sharing your requirements immediately.
Read More: