Writing essays under a word limit seems a bit challenging. This is because you have to keep various aspects of writing in your mind apart from ideas generation. You need to figure out different elements in order to meet the word count limit such as font, page margin, and more. So, contemplating how many pages is 1000 words is quite obvious. Instead of stressing, let's have a discussion on the word count and how you can calculate it.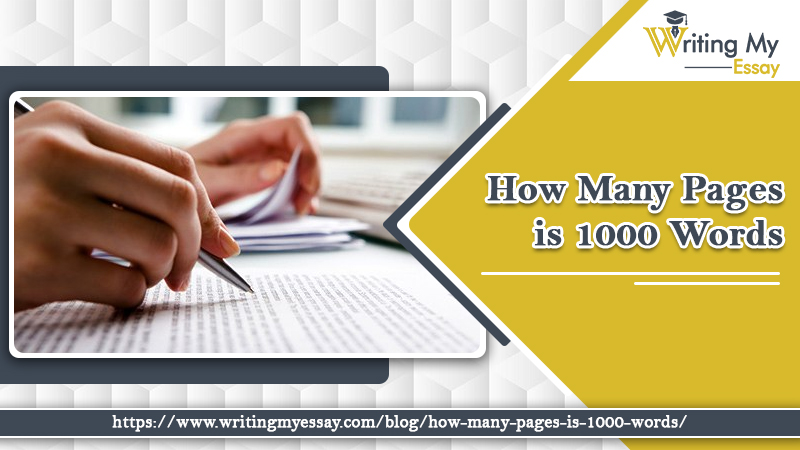 In short, you can write approx. 500 words on a page when you do not follow any specific format. If you use any specific line or paragraph, 1000 words would take four pages. Things would go differently if you focus on spacing. Likewise, if you use double line spacing, you can only cover 250 to 300 words. In the case of 1.5 line spacing, you would have 375 words on a page. So, you can understand how the word count varies according to the page formatting.
Learn How Many Pages is 1000 Words
Are you wondering how many pages is 1000 words double spaced? Have you thought about 1000 words is how many pages? Getting bombardments of questions in your mind for word count is so natural. Students get confused when they have to work under certain limits. They cannot find the right way to work on their assignments with a specific word limit. Here, you need to understand that certain factors can change word counting. Some of them are:
Fonts (Arial, Calibri, Times New Roman, Verdana, and more)
Font size (10, 11, 12, and so on)
Spacing (1.5, single-spaced, and double spaced)
Paragraph setting
Docs (MS Word or Google Doc)
So, 1,000 words take 2 pages with single-spaced and 4 pages with double-spaced. Typically, college essays, articles, and blog posts take 1000 words. You need to keep everything in your consciousness while writing a 1,000-word document. Moreover, readers would take 3 to 4 minutes to read a 1000-word article.
How To Craft 1000 Word Essay?
How to format an essay within 1,000 words? If you are pondering the same concern, you need to analyze everything. Generally, students write essays in Time New Roman or Arial with double-spaced text using the font size of 12pt. It takes four pages of A4 size. If you change the double-spaced to single-spaced but keep the same font size, your essay will cover 2 pages. It indicates that word count depends on paper formatting and other factors.
Another aspect of getting the idea of 1000 word essay pages is to know the formatting of an essay. broadly, we divide an essay into three sections: introduction, body, and conclusion. To get more specific in writing your 1000 word essay, divide it as per required sections. As a suggestion, you can assign a specific word limit to the particular part of the essay. Go through the following key points for more clarification.
Write an introduction within 100 to 200 words
The introduction is the opening gateway of an essay. So, you have to keep extra attention to your introduction. This is because your introduction can change the complete outlook of your essay. Under a certain word limit, you can easily grab your reader's attention smartly.
Compose your essay body in 600 to 800 words
To make your body section more engaging, break it into different sections. It will enhance the readability of the essay and user engagement. Make sure to cover a paragraph within 200 to 300 words. Also, reflect a strong argument or idea in each paragraph.
Complete a conclusion within 100-200 words
Do not bore your readers by writing a lengthy conclusion. Write a short and crisp conclusion as you are going to summarize your arguments. It will allow readers to understand what message you have conveyed in your essay.
Conclusion
We are a leading e-learning company that is highly focused on student learning. Our writers are eager to share their knowledge with seekers to lower the tension of academic writing. They want to build strong communication with scholars in terms of knowledge and literacy.
Through the blog, we have tried to give an idea on the concern "How Many Pages is 1000 Words." As discussed, the page count depends on various factors. While writing a 1000 word essay, you may take 2 or 4 pages according to the selected setting. It depends on your selected font style and size, spacing, and page margin. Keeping everything in mind, we have shared the needed information.
 In case you need more assistance, you can approach our academic writers. You can ask for any doubt to make your writing my essay more productive. If you ask for word count or page requirements for writing an essay, discuss them with our experienced essay writers. So, share your concerns with us without any delay.