The reflection paper is a part of academic projects that follows a slightly different approach than typical assignments. However, it is one of the common types of tasks assigned to the students. Due to its distinctiveness, a reflection assignment is often perceived as a refreshing change from boring tasks. It allows you to share your personal views and convert them into a well-written piece. This is an excellent way for the teachers to assess the student's thinking and writing abilities.
In this blog, we will share how to write a reflection paper that's insightful and communicates your views powerfully.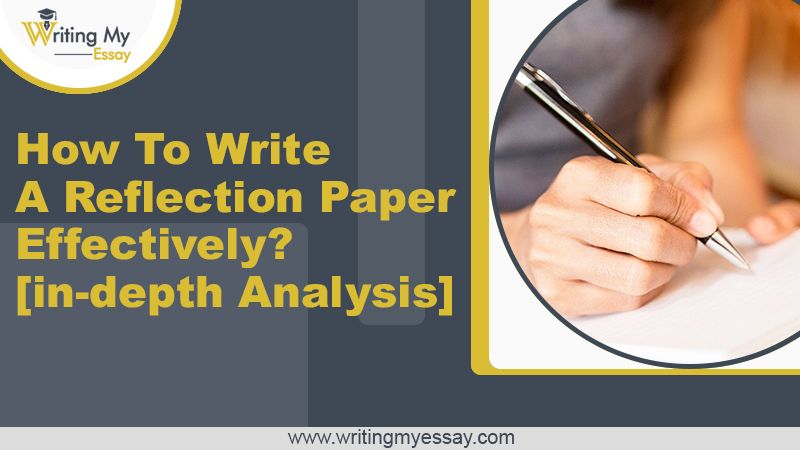 What is a Reflection Paper?: An Overview
A reflection paper is meant to share your opinions and thoughts on a subject by backing them up with real-life personal examples, and observations. The students are required to write about their impressions about a certain place, person, event, etc.
Usually, essay writing involves gathering information and data from different sources and writers to support an argument. However, if you understand what is reflection paper means, you would know that it allows the writer the opportunity to express personal views. Therefore, there are no chances of a right or a wrong answer as it is just to give a brief description as in a descriptive essay.
Here are some important elements of a reflection paper:
A high-quality reflection paper depicts your judgment and analysis about a person you have observed, a book you have read, an event you witnessed, etc.
It represents your perception of a subject, along with explaining how your thoughts changed and evolved to make things better for the future.
Do not shy away from including restorative questions in your restorative paper format. It works effectively in evoking the feelings and views linked with your experience.
What is the Purpose of Writing a Reflection Paper?
Reflection paper writing is a popular assignment form in colleges and schools due to a significant reason. The students are asked to write about their personal experiences which involve reflecting on all kinds of aspects related to the subject. When you think deeply about a certain event, it allows you to critically analyze it and then take conscious actions in the future.
We should look at reflection write-ups as more like a journal where you pen down your thoughts which further lets you assess the consequences. It is an excellent approach to empower yourself for positive results the next time. All you have to do is clearly elaborate on the viewpoint as the paper reflects your ideas. Reflection paper serves an excellent purpose of helping individuals to remain in touch with their emotions and experience their feelings on a deeper level. This method works wonderfully on both, professional and academic fronts.
Different Types of Reflection Paper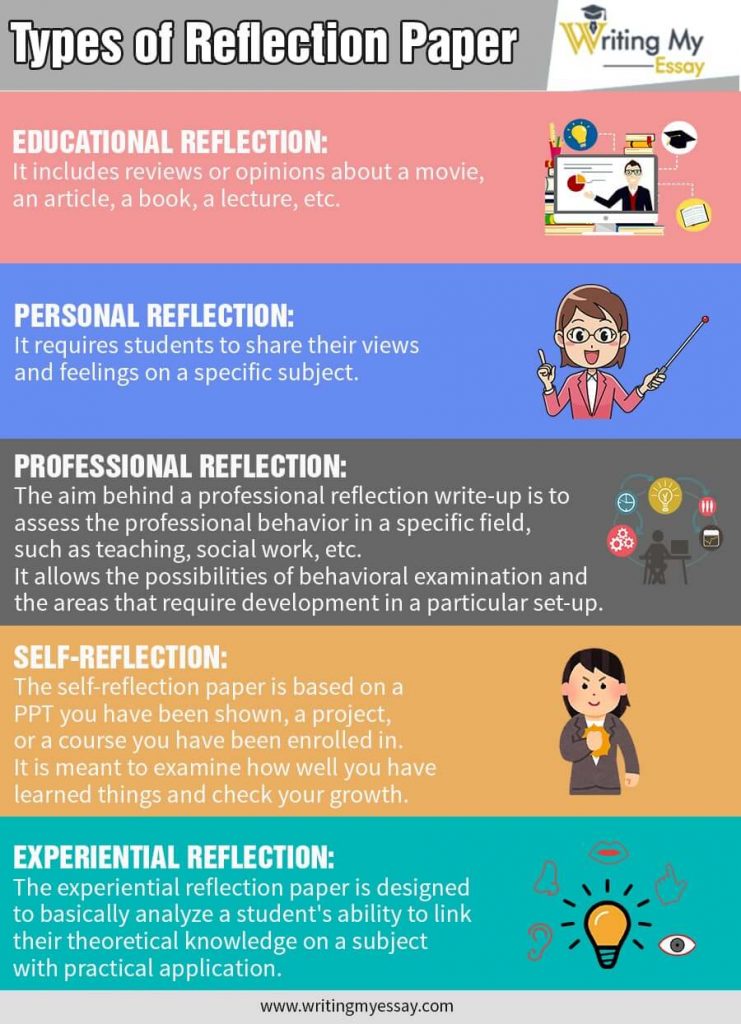 Reflection paper comes in many different types. Thus, before we jump in and discuss how to write a reflection paper it is crucial to understand the type of paper you are writing. The prime aim of a reflection paper is to share opinions and thoughts, however, they may differ based on the type of task of writing a paper.
Let's introduce you to the most common types of reflection paper tasks assigned to students during their academic journey.
EducationalReflection: Students are often asked to submit educational reflection papers as a part of their coursework. It includes reviews or opinions about a movie, an article, a book, a lecture, etc.
Personal Reflection: As the title suggests, it requires students to share their views and feelings on a specific subject.
Professional Reflection: The aim behind a professional reflection write-up is to assess the professional behavior in a specific field, such as teaching, social work, etc. It allows the possibilities of behavioral examination and the areas that require development in a particular set-up.
Self-Reflection: The self-reflection paper is based on a PPT you have been shown, a project, or a course you have been enrolled in. What is the purpose of a reflection paper under this category? It is meant to examine how well you have learned things and check your growth.
Experiential Reflection: The experiential reflection paper is designed to basically analyze a student's ability to link their theoretical knowledge on a subject with practical application.
What's the Difference Between Reflection Paper and Academic Paper?
Since reflection paper is a part of academic life, students sometimes end up getting confused between a reflective paper and an academic paper. Thus, it is essential to understand the key points to gain a better understanding of what differentiates the two.
An academic paper specifically explains a theory. Whereas, a reflection write-up focuses on theory as well as the personal experience of the writer.
The academic paper is written in the third person's voice, unlike a reflective paper that follows the first and third person.
In the academic write-up, the writer has to share the explanation or information in the past tense. On the other hand, the reflection paper allows you to write in past, present, and future tense.
A reflection paper format includes a thesis, but there is no definite structure since it is more of a casual form of writing. Contrarily, academic papers follow a strict, well-defined structure of usually 5 paragraphs, and a thesis statement.
How to Select a Topic for Reflection Paper?
Since we have explained what is reflection paper, it is equally important to understand the right way to choose a reflective topic. To do this, first, analyze the primary purpose of writing a reflection paper. It is to reflect on your experiences, emotions, feelings, opinions, and ideas. Thus, there are a few points to keep in mind while selecting a reflective topic.
The places you have been to.
Your hobbies and daily life.
How you relate to other people.
Your friends, family, and relatives.
The way you think of yourself.
Once you grasp the core of all these factors you would realize there is a huge number of topics to choose from.
Top 10 Interesting Topics for Reflection Paper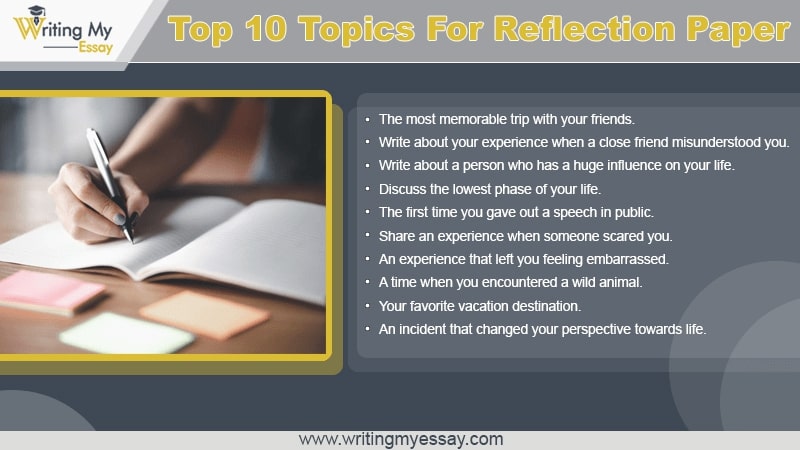 The most memorable trip with your friends.
Write about your experience when a close friend misunderstood you.
Write about a person who has a huge influence on your life.
Discuss the lowest phase of your life.
The first time you gave out a speech in public.
Share an experience when someone scared you.
An experience that left you feeling embarrassed.
A time when you encountered a wild animal.
Your favorite vacation destination.
An incident that changed your perspective towards life.
How to Structure a Reflection Paper with Format?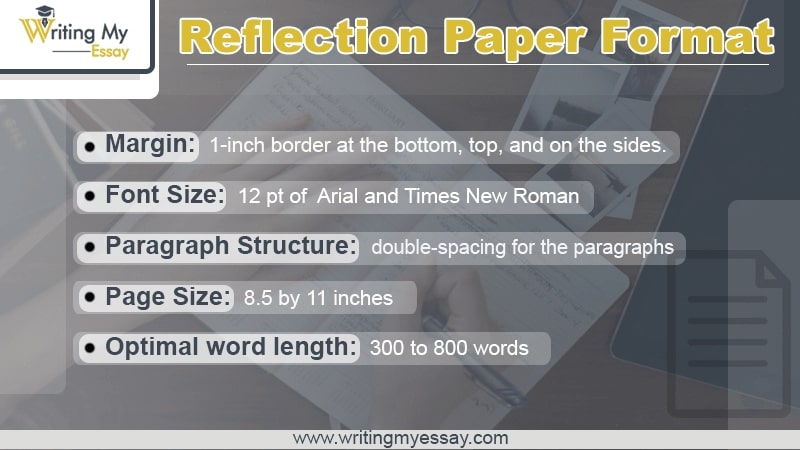 While writing any assignment paper, it is important to be mindful of the proper format. It helps in keeping things organized, and well-structured. There is no hard and fast rule when it comes to formatting a reflection paper. The idea is to keep it informal and allow your thoughts to flow freely.
However, the teachers suggest following the MLA Format, or Modern Language Association format which is a fairly simple type of academic writing format. Here is how you can create an effective reflection paper format using MLA formatting:
Keep a 1-inch border at the bottom, top, and on the sides.
The font size should be 12 points.
Follow double-spacing for the paragraphs.
Arial and Times New Roman are the top font choices.
The page size should be 8.5 by 11 inches.
The word length could be anything from 300 to 800 words depending on the topic.
How to Craft the Perfect Reflection Paper Outline?
The outline is an integral aspect of writing tasks, whether it is an academic essay or a reflection paper. It is essential for aligning your thoughts and ideas. The outline provides your thoughts a specific structure, which ensures a clearly written outcome.
The reflection paper outline serves a crucial role in the process of drafting a powerful copy. So, a reflective paper is divided into three major sections, including introduction, main body paragraphs, and a conclusion.
Let us explain this further.
Introductory paragraph: If you are clueless about how to start a reflection paper, the direct answer is to explain the topic. Share a quick summary for the readers to understand what the subject is all about. Do write a thesis statement and also enlighten the readers about the ways the subject has influenced your thoughts.
The Main Body: This is where you get the opportunity to explain the topic in detail. Express your ideas clearly and utilize your creativity to its full potential. The body could be anywhere from three to five paragraphs.
Conclusion: Wrap up your reflection paper by summarizing your views on the subject and restate the thesis.
How to Write a Reflection Paper?: The Step-By-Step Method
Step 1: Choose A Theme
First thing first, after you have selected a topic make sure to draft a brief summary about your learnings through the experience on the subject. It is important to enlighten the readers about your feelings on the subject. After all, it is the essence of a reflection paper. It enables the readers to relate to your perspective. As a result, they can understand your opinions in a much better light.
Step 2: Brainstorming Of Thoughts and Experiences
Once you have figured out the topic, the theme you are going to follow, it's time to indulge in critical thinking. Why? Think hard to understand what is a reflection paper? It requires you to efficiently pen down your views, ideas, opinions, and thoughts on a certain subject. Henceforth, you need to make notes by brainstorming about the topic. It will further help you in creating the outline.
Step 3: Organize Everything
As we have explained earlier, you need to ensure that everything is presented in an organized manner. Thus, invest time in preparing your notes. Then, organize the ideas meaningfully.
Step 4: Reflective Questions
The reflective question in your paper could be a critical factor in deciding the tone and theme of your write-up.
How To Start A Reflection Paper?
Keep the introduction brief, yet direct and compelling. It must clearly explain the aim behind writing the reflection paper and also share the takeaways readers can expect.
The thesis statement is a significant part of your reflective writing task which has to be included in the introduction. It helps in expressing the thoughts, views, opinions, and expectations about the subject in a much better way. It helps in binding the ideas.
Elaborate On The Body Clearly
As explained in the reflection paper outline the body of your reflective paper has to clearly state the idea. Do not forget to explain your thesis statement in the body. There is no strict rule for writing the body. Just maintain a natural flow.
You need to present the concluding remarks while ending the reflective write-up to give the readers a sense of closure. Try to articulate your opinions in brief.
Final Tips For Writing Amazing Reflection Paper
You should be focusing on achieving a successful outcome while writing a reflective paper. And, to make this happen you must pay close attention to the details. Let us help you with some tips to ensure your reflection paper turns out to be perfect.
KeepThings Short: You need to keep the word limit in mind from the start. The idea word count is 300 to 800. Avoid stretching beyond that. Only include what's necessary and relevant to the topic.
ConciseYet Clear Explanation: Do not complicate the write-up. Your paper should be easily understandable and clear. The thesis needs to be strong which you can follow throughout the copy.
CarefullyChoose The Tone: Although a reflective paper follows a personal touch keep the tone of the content professional. You can keep it casual but take care of the academic perspective. Avoid using slang.
Citation Vital: If there are any authoritative sources to support and magnify the intensity of your personal opinions then mention them.
ProofreadThe Draft: Make sure to go through every aspect of your reflection copy to identify and correct the grammatical as well as spelling errors. Moreover, check if the reflection paper format is in check and the presentation is on point.
Also read about analytical essay to enhance your analytical skills.
Conclusion
Reflection paper requires the writer to share their personal thoughts and experiences while supporting them with practical examples. It involves deep analysis to present the essence of an event you witnessed, a book you read, a picture you observed, etc. We have covered all the important aspects of reflective paper writing, along with the crucial tips to ensure promising results.
Writing my essay has a team of diploma and Ph.D. holders who offer cost-efficient premium academic writing services. It's time you unburden yourself from the complicated tasks and hire an expert to ensure the timely submission of plagiarism-free, accurate, and informative copies.