Students pursuing English courses usually need to write a character analysis essay. In it, they describe the character in the story's context. They do this by analyzing the relationship between their main character and other characters. Sometimes, they can give their personal opinion while analyzing a character. It's a challenging kind of essay. So, students need to have proper knowledge of how to write a character analysis essay. To write it effectively, you must understand its various aspects. In this article, you'll find in detail the whole process of making this essay.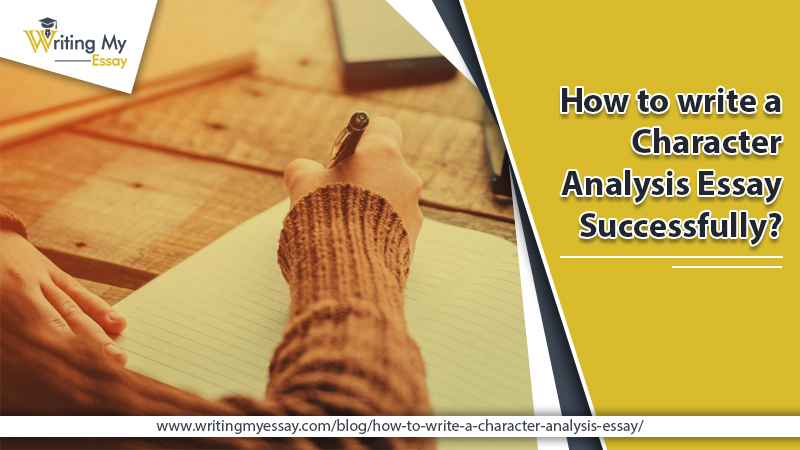 What Is Character Analysis Essay?
Character analysis means the assessment of the personality, actions, and relations of a character. This essay zooms in on a specific character like a protagonist in a movie or book. The main purpose of this essay is to reveal exciting details about the character. It might have a more significant moral meaning about the state of humans. For instance, suppose you were to write a character analysis essay of Atticus Finch in the book To Kill a Mockingbird. You'll find that this character gives you a moral message about the significance of doing the things which are right according to you.
How to Write a Character Analysis Essay?
In this essay, you break down a character to understand them better. Go through these steps to successfully create this kind of essay.
1. Pick a compelling character.
In some cases, your professor will give you a character to analyze. In others, you can choose your own character. If you have the latter option, it's best to pick a compelling character. It's not necessary for you to pick the protagonist. Just ensure that the character you choose has adequate substance. It will enable you to examine them effectively. If you don't select a dynamic personality, you'll find it hard to create a deep analysis.
2. Note essential details about the character as you read.
Suppose you pick your character before reading. In this case, you can jot essential details about the character when you read. But if you select the character after reading, you can reread the book. This time, pay attention to your character and take notes about them.
Some important things to note are as follows:
Important childhood facts – Its essential to note any important childhood facts or any such helpful information. See what areas you can talk about pertaining to their birthplace, family, and any eventful childhood moments. It will enable you to understand where the character comes from.
Character and physical traits – It's another thing to note when you want to know how to write a character analysis essay. You can record any physical quality of the character like 'beautiful,' 'handsome,' 'tall,' etc. Also, note other character traits like how the character communicates with other characters. It will add more depth to your analysis.
Find how your character fits into the plot elements – A plot has five main elements. They include introduction, action, climax, receding action, and resolution. Find how your character enables the plot to attain any of these five elements. Also, note how they navigate challenges. You can also record the change in the character over the story's course.
3. Pick a suitable thesis statement.
You cannot complete a character analysis essay without a good thesis statement. So, you must make a thesis statement about your character. This statement outlines your primary idea and shows what the essay is about. Then support it with the notes that are an outcome of your research.
An example of a thesis statement to examine Lady Macbeth from Macbeth can be as follows: 'Lady Macbeth gives us an invaluable lesson about the consequences of breaking our morality. She begins as a cut-throat killer. But she is slowly consumed by the guilt of her misdoings. While we can escape external punishment, the inner guilt can eat any individual fiercely.
4. Make an outline
It's the most crucial step to know how to write a character analysis essay. An outline has three significant parts. Introduction, body, and conclusion. The beginning part of the essay is critical. It sets the mood and captures the attention of your readers. You can write a character analysis essay introduction in many ways. But the most potent ways are the following:
Use a specific quotation – It is an effective method to make a catchy hook. A quote also allows you to set the tone for analyzing the character. But if you use a quotation from a different source, do not forget to mention it in parenthesis.
Talk about the story – You can also try to talk about the book or the story, whose character you are analyzing. Then briefly summarize all the major episodes that are happening in the story. Also, mention the genre besides these details.
Introduce your character – Another effective way to start a character analysis essay is by introducing the character straightaway. You must write about their role in the story. Describe if they are an antagonist or the protagonist. After that, describe if the figure is static or dynamic. In the end, give a brief description of them. It should not be more than two to three sentences.
5. Write the essay
In this part, you will use your notes and the thesis statement. Also, use your outline to start writing a good character analysis essay. It should have the format, as you can see below.
1. Introduction
Here you should write a brief character description. The introduction should hold the whole of your essay and arouse the audience's interest. Highlight some interesting points about your character.
2. Background information
Childhood incidences and the environment exerts a massive influence on every person. It's possible that your character is also shaped by their environment and childhood incidences. So, it is best to show what you have understood about your character's background. You must devote not more than two paragraphs to it.
Highlight about the place they were born and how they were brought up. Did they come from a wealthy family or a poor one? It's important to mention these points because their upbringing will likely impact their current personality.
3. Distinctive Personality and character traits
Your character must have some distinct character traits. It is good if you can highlight these particular traits in your essay. Common types of qualities that a person can possess are as follows:
Betrayal
Loyalty
Honesty
Passion
Greed
Curiosity
Brutality
Wisdom
Innocence
Passion
It is best to think for a moment and jot down three to five of such traits of your character. You can discuss them throughout your analysis. A character analysis essay example of Lady Macbeth shows her changing personality traits. She started by possessing greed. But later on became ridden with guilt. This intense character change makes her a pretty fascinating figure.
4. Growth of the character
Conflict is an essential part of every story. It does not always have to be literal. It means that it is not necessary for a fight or battle to occur. Conflict can also be internal. Your character may have conflicting thoughts regarding various things. For example, they may wonder whether they should tell what they feel to another person. They may also have conflicting thoughts about whether they should stay at a particular place or not.
5. Body
Subdivide the body para into various ideas about your character. Here it is important to understand your professor's rubric. The essay's body can have multiple paragraphs. Here you introduce and analyze your character. You should always describe the figure and its role in the book or story. The body part should also give your audience a good explanation of your character's motivation. Show the message the writer of the story desires to share with people through the character you are analyzing. Ensure that every para should consist of a topic sentence that captures its significant idea. Ideally, this part should answer the following
What is the appearance and personality of the character?
What are the different conflicts and challenges that your character experiences? How did they overcome them?
Is there something you can learn about the character?
What motivates the character to take action?
Is the character's treatment of others fair or unjust?
What is the choice of words of the character?
How does the figure describe themselves?
What words appear in your mind when you think about the character?
6. Conclusion
The conclusion should shape the ultimate analysis statement. Summarise all that you have written to support your thesis statement. Additionally, you can write how the character could have responded to a specific scenario. Do not introduce any new information while writing the conclusion. It will only confuse your readers. Stay away from phrases like 'as mentioned before.' Apart from that, do not write very long sentences. They only diminish the readability of your text. Here are some points to note when you are writing the conclusion paragraph.
Summarize in brief the major points of your work.
Paraphrase your thesis statement. Do it by combining the topic sentences.
Always write a clear and concise conclusion.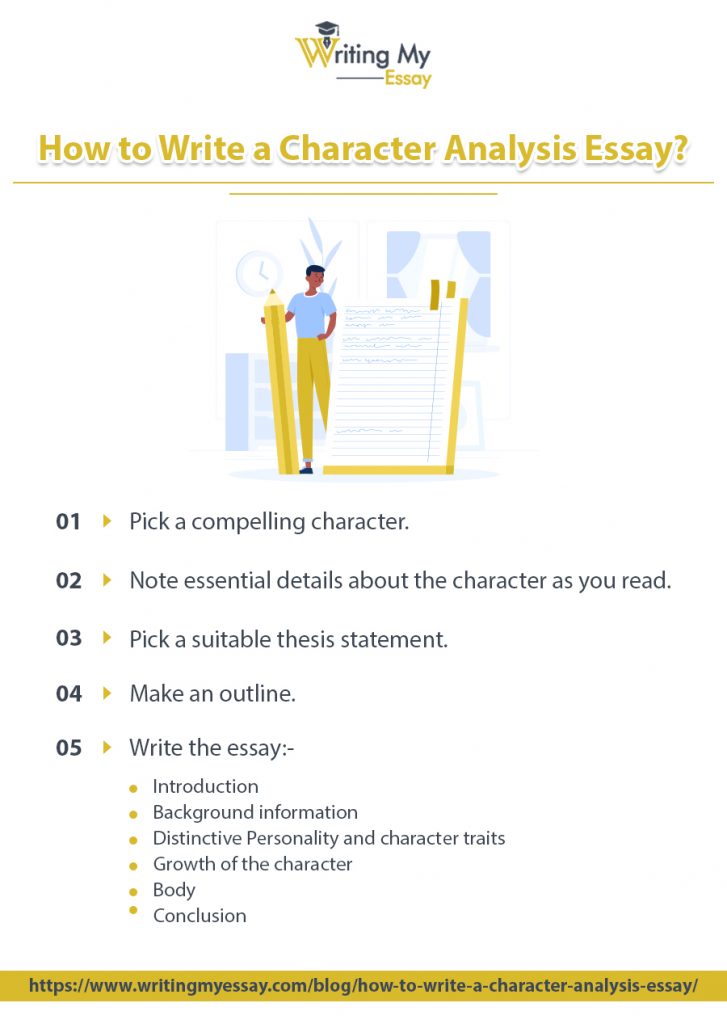 What is the Right Format of a Character Analysis Essay?
University students need to write their essays according to the MLA or APA format. Both these writing styles have identical formatting. They have the following requirements.
A double-spaced paper. It should have 1-inch margins.
A page header. It should have numbers flush right.
A font size of around 11 to 12 points.
When you are writing the essay, be careful with quotations. Follow the points below for APA in-text citations.
Mention the name of the author and date of publication in brackets when you paraphrase or summarise the information. For instance, According to Collins (1954), Add the page number too if you are quoting straight from the source. For example, 'There is a view…' (Collins, 1997, pp 134-135)
If your source has three or more authors, utilize the abbreviation "et al" after you write the name of the first author. For instance, Collins et al., 1997.
If you are writing the essay in an MLA format, follow the tips below.
You can write the name of the author in the sentence. For instance, As Evans mentions in his paper<…>
You can also write the name of the author in parenthesis at the sentence's end. For example (Evans, M.K.)
Lastly, you can use either endnotes or footnotes.
Some Good Character Analysis Essay Ideas
When you are doing character analysis, you are mostly exploring the in-depth moral aspects of mankind. If you find it hard to come up with example topics, don't worry. Here are some ideas that'll inspire you. You can pick a character analysis essay example idea from among the ones below.
Atticus Finch from the story To Kill a Mockingbird – This character teaches the importance of standing up for all that is right.
Huckleberry Finn from the book The Adventures of Huckleberry Finn – Huckleberry Finn showcases the inner desire of humans from those societal elements that bound them.
The Boy who Cried Wolf – The primary character of this story showcases the virtue of honesty and humility. His flaw was his need for attention. The repeated attempts of the character to acquire others' attention cause him severe harm.
Alice from the story Alice in Wonderland – Alice is a symbol of the child within all adult humans. She looks at the world with awe. As she travels with a bunch of flawed characters, she understands with them the significance of finding strength from inside herself.
Final Words
After reading this long article, you won't face any issues writing a character analysis type of essay. You need continuous practice if you want to excel in writing this kind of essay. But don't panic if you find the task of analyzing characters a bit challenging. You can ask a professional write my essay expert to complete your work. The professional will deliver a top-notch essay to you right within your due date
.