A reflection paper is a form of essay writing where the writer shares thoughts on a book, observations, lectures, etc. It is a common and popular type of writing assignment given to students in college. Reflection paper allows students to express their opinion on a specific matter. So, we have decided to bring you a guide on how to write a reflection paper in the easiest way possible and achieve impressive results. Many students find reflection paper writing somewhat strenuous. However, you can easily write a successful reflection paper with the help of a pre-defined outline. Let us move ahead and understand things a bit clearer.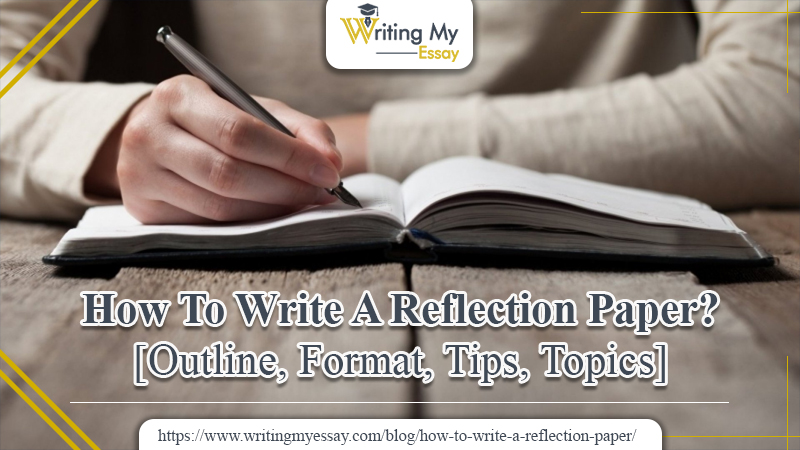 What Is A Reflection Paper? : Definition
The reflection paper is a type of academic paper that requires students to write their opinions backed up by observations, facts, and personal examples. The reflection paper could be based on a movie, a painting, a book, or just anything. It enables students to evaluate their feelings and attitude on a subject. Thus, it serves as an excellent way to put theory into practice.
Reflective paper writing helps in improving analytical skills. Apart from students, reflection papers are also written by psychology and education professionals. There are majorly three types of reflection paper:
Educational reflective paper where students need to write well-thought feedback on a seminar they attended, a book, a movie, etc. It is meant to teach the readers about it.
The next one is a professional reflection paper that focuses on a certain work or study.
The third type is a personal reflective paper that helps analyze the thoughts and feelings on a personal subject.
Reflection Paper Format: Follow These Guidelines While Crafting A Reflection Paper
As you start working on a reflective paper, be careful about its format. Although, there is no specific format you can follow the format and instructions laid by your professor. However, if you are not provided a set of instructions, here is a reflection paper format that you can follow for a 400-800 words long task.
Here is the common format for writing a successful reflective paper:
Make sure to double-space the text in your paper.
Do not forget to intend the first word of every paragraph.
Choose Times New Roman as the font style and keep it in 12 point size.
Keep the margin of approximately 1″ on the top, sides, and bottom.
Do apply white 8.5×11" page.
The Perfect Way To Start Your Reflection Paper
The initial and most crucial step in your reflection paper writing is carefully observing the subject. Then take down the notes based on your observations. It applies to everything including a book, academic essays, newspapers, etc. The idea is to highlight the core concepts and ideas.
Checking out any reflection paper example will provide you with an idea about the right approach to start these assignments. You can include relevant diagrams, charts, and lists to clearly deliver your message to the readers. Once you finish reading the article, do remember to brainstorm.
Here are some questions that you should ask yourself:
Has the article affected you in any way?
Does the article succeed in catching the reader's attention?
Did any questions pop up in your mind after reading the article?
Are there any crucial points that the article failed to touch upon?
Have you read anything similar in the past?
If the article resonates with your past readings, does it agree with them?
Did the article change your perspective about anything? How?
How To Outline A Reflection Paper?
The outline is important for writing academic papers. It provides a structure to any write-up and helps organize the information logically. Let us share the best way to outline a reflection paper.
The introductory paragraph has to clearly mention the ideas you are reflecting upon. Craft a powerful thesis that communicates your opinions and position on the subject.
Mention what your analysis is about.
Quickly provide a summary of your work.
A strong thesis statement of how the subject impacted you.
In the body, you need to assess the experiences, ideas, and opinions that you have on the topic. It is important to start each new paragraph with a topic sentence. As you write the body paragraphs, make sure to:
Start with the reasons that made you choose the topic.
Be logical.
Specify powerful examples and quote the sources used.
Don't forget to show the impact of the subject.
If you're wondering how to write a reflection paper conclusion, just remember to summarize everything. Evaluate how did the entire information transform your perspective or understanding of a subject. What is your takeaway from the reading or experience?
Some of the best ways to wrap up a reflective paper are:
Combine all the key ideas from the body paragraphs and provide an insightful view through your experiences.
Restate the thesis statement. Also, summarize all the information you've mentioned in the paper.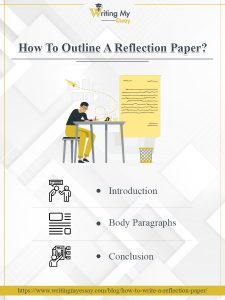 How To Write A Reflection Paper: Step-By-Step Process 
Since we have clearly discussed what is a reflection paper, it's time we dig in and see the right way to approach a reflection paper writing assignment.
Step #1: Identify The Main Theme
So, you have picked a topic for yourself! Start working on a brief summary relating to your past experiences on the subject. It helps in communicating your feelings with the readers. This way, the readers may be able to relate to your thoughts, ideas, and opinions. Besides, it will provide them with a much clear idea about your reflection.
Think about what you learned from the subject or how it affected your life. Make sure to be completely honest.
Step #2: Brainstorm The Experiences And Ideas On The Subject
Take your time to think about all the quotes and predispositions related to the subject. Recall the things or instances that influenced you. Or, is there anything that left a lasting impression on your mind? Consider all these factors while writing your reflection paper. Make it personal and try to explain everything in the simplest way possible.
Step #3: How Did The Experiences Shape Your Interpretation?
It's time to put your critical thinking skills into action. Make sure to select an idea from the previous steps and analyze it further. Further, provide reasoning why you agree or disagree with the ideas.
Here are some things that you must notice in the evaluation:
What is the overall tone of the work you are reflecting upon?
Is the writer or producer of the piece credible?
What are the potential biases?
Analyze the intended purpose of the material.
Step #4: Make Connections Between The Observations & Opinions
You need to build a connection between the ideas and insights. It helps in developing a cohesive and well-defined picture of the chosen theme. Also, try to identify the subject's connection with real-world events and examples.
Further, you should recognize disintegrate the assumption. This way, you can challenge it ahead in the future.
Your reflection paper could be based on any subject. Here are some of the common ones:
Book: As you reflect upon a book, begin with mentioning the author's biography. Also, write a summary of the key concept. Do not the ending right there, it will help in capturing the readers' interest. Besides, you can mention the names of the characters, the core theme, and any critical issue discussed in the book. Last but not the least, convey your thoughts and reflect on the book.
Course: While writing a reflection paper on any course, always start with a course title and description. As you move further, specify the course flow, elaborate on the reasons behind choosing the course. Also, mention your learnings from the course. As this is a reflection paper, do share your thoughts and opinions. Specify useful supporting examples taken from the course itself.
Project: If you assess a project-based reflection paper example, you will realize that its structure is quite similar to that of the course. You can add the advantages and disadvantages of the course. Further, specify if you wish to see any changes. Also, assess whether or not the skills you have developed are relevant to real-life practices.
Interview: While reflecting upon interviews, begin with introducing the person. Next, specify the purpose of the interview. Do touch upon the key points and your opinions on the person in the picture.
Excellent Tips To Write A Winning Reflection Paper
Many students often find reflection paper writing quite tricky. This happens as they struggle to express their experiences and feelings on a certain subject. Therefore, we decided to come up with useful tips to write a solid reflection paper. Let's jump in!
Tip #1: Recognize Where Your Passion Is
If you are given the freedom to pick a topic of your choice, choose something that interests you. This will make it easier for you to work with the outline and you will be done with it quickly. You can look through multiple relevant sources for some interesting topics.
Or, just keep reading as a list of some outstanding reflection paper topics await you!
Tip #2: Prepare An Outline Before Beginning With The First Draft
It is helpful to always work with an outline. The outline shapes up your paper. Although a reflection paper is based on personal experiences, the outline helps you stay organized in a logical manner.
As we have explained earlier, start with an introduction where a strong thesis statement should be included. Then, write a meaningful body and ensure a smooth transition among the ideas. Lastly, finish up everything with a conclusion.
Tip #3: Use First-Person Singular Form
Always write your reflection papers in the first-person singular form. Follow the reflection paper format as instructed by your teacher or assigner. Consequently, the citation style will depend on those guidelines. The ideal word length of a reflection paper is approximately 750 words or lesser.
Tip #4: Don't Describe Too Much
It is best to avoid focusing on describing the events in-depth. We are not here to elaborate on each event, second by second. In fact, this type of academic paper focuses on the reflection of a certain topic and your feelings during those experiences.
Tip #5: Avoid Casual Language Or Slang Usage
The reflection paper is an academic assignment where you need to take care of the language. Hence, it is advisable to avoid colloquial expressions or slang in your write-up. Make sure to meticulously check your paper for grammatical and spelling errors. Edit the paper thoroughly for best results.
Tip #6: Critical Reflection Of The Assignment
In case you are required to provide a critical analysis, it means you need to mention what you have observed or assessed based on your experiences. An extensive and detailed evaluation of the subject is needed here.
Or, you can also summarize the experiences or observations if the assignment is based on a book or an article that you have read.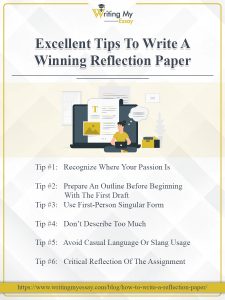 Wonderful Topics For A Good Reflection Paper In 2022
A road trip to my dream destination.
My biggest disappointment in life.
My best friend's birthday celebration.
Challenges that I faced during middle school.
How to accept your faults.
An esteemed personality and their role in history.
Top 5 qualities that you look for in a person.
The first time when you lied and tried to cover it up.
An exciting sports activity that you participated in.
The time that you felt most embarrassed in your life.
Which is your favorite outlet store?
Which is your favorite book recommendation and why?
The last time you defended someone and how it made you feel.
Your dream as a child finally came true.
What inspires you the most?
Wrapping Up
In this detailed post, we discussed several essential aspects of a reflection paper. This academic assignment requires critical thinking abilities as you need to introspect about your observations and experiences on the given subject. Sticking to an outline helps you move in an appropriate direction.
Still, confused about how to write a reflection paper? Hire professional write my paper experts online. The qualified academic specialists are adept at composing top-notch quality reflection papers that truly match your needs. We hope you found this post helpful!