College life is full of assignments and projects. APA format assignments are the typical and crucial ones. Students who are post-graduating or pursuing Ph.D. have to submit their research topic. Each of its tiny details is important to remember as a huge portion of grades depends on it.
That is why we bring you a guide on APA format citation that is helpful for both students and researchers. In this guide, we will answer all your questions like how to do APA style, how to use numbers, or how to do spacing. Everything from scratch is covered and explained in the simplest manner.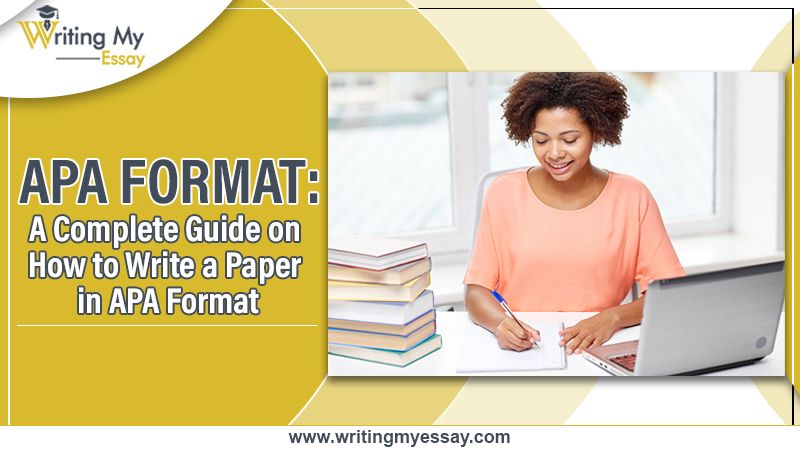 What Is APA Format? 
Let's start by simplifying what is APA format? – APA formatting is a style of professional writing of the American Psychological Association. It is majorly used to cite sources in psychology, education, and social sciences.
Origin: The original style was born in 1929 when an article got published in Psychological Bulletin. These guidelines were later expanded into APA Publication Manual.
Rules For APA Formatting
Whether you are a student or a professional, you can always take a look before starting working on your assignment. Here are the rules for APA formatting mentioned below:
All text should be double-spaced.
Keep at least a one-inch margin on each side.
All paragraphs should be indented.
The title should be placed in the center of the page.
Underneath the title should have your name and school/university.
Times New Roman is preferred with 12-point font.
Mention page number in the top right-hand corner.
use one space after each punctuation.
Detailed View On APA Citation
In this guide, we will discuss how to write in APA format by discussing the paper length, margin, outline method, and others.
General Paper Length
There is a popular line in the field of science, "less is more". Hence, try to stick to the point, in a clear and precise manner.
As you know, the APA format is especially used in science subjects. Hence, avoid including unnecessary details or fluff around a topic. It can degrade the quality of your paper.
Outline In APA Format
In this section, we will discuss how to cite in APA format. Though, there are no fixed parameters for outline in APA, yet, it helps writers:
To stay focused while writing a paper.
To stick to the topic throughout the writing.
In determining the scope and sources of research.
In organizing the format of content like headings and subheadings.
Text Formatting
APA-style papers should include any of these text formats and font sizes. These are used widely and are legible. Here is how to set up APA Format in the word
Times New Roman: 12pt.
Arial : 11pt.
Calibri : 11pt.
Georgia : 11pt
Remember, any font that you chose has to be used in the entire document including the running head, page numbers, and the reference page. Further, you can use small text in footnotes and figure images and use single line spacing.
Running Head In APA Format
This section discusses how to write a paper in APA format. It is important since the 7th edition comes into the picture.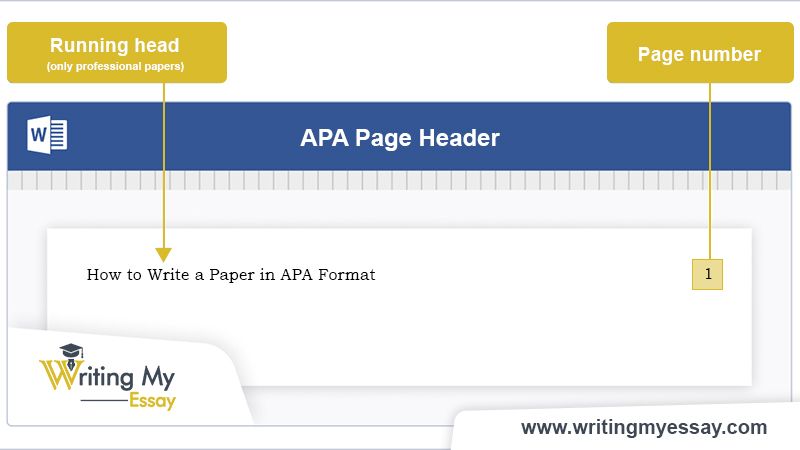 In the latest 7th edition of the American Psychological Association Publication Manual (pg. 37) stated that running heads are not necessary for student papers.
With that, there is another thing that students need to keep a note of is that page number is still necessary. Hence, all the pages should have the number on the top right-hand corner of every page.
However, the previous 6th edition still requires a running heading. So before starting working on papers, always confirm with your professor which edition has to follow.
Here, we will discuss the running heading for the 7th edition.
Let's start by understanding what a running head is.
It's a page header placed on the top of every page in all capital letters. Left-aligned, the title length can go up to 50 characters. If the title exceeds the limit then, it has to be abbreviated.
Margins
In APA format style, the margin is the same for all edges. From top and bottom and left and right, the margin or the space is the same for all sides.
For a professional presentation, at least a one-inch margin around each side is recommended. You can increase the margin as you like but should always be greater than an inch.
Level Of Headings And Sub-Headings
APA has 5 different levels of heading within which also involves sub-heading. The main heading of the paper is in H1. Further, it is also used to show results.
On the other hand, headings H2, H3, H4, And H5 are the subheadings. Here is a table representing how and when to use each level of heading.
[wptb id=764]
Footnotes
While the footnote and endnote serve the same purpose, the position is different. Footnotes are used to clarify a point or add a piece of information and add copyright information.
A footnote is usually placed at the end of the page as a superscript number. While citing information of footnotes, use the format mentioned below:
Double-space from the line that differentiates main content with references.
Intend the first line of footnotes.
Use the same number for footnotes and their expansions.
Add a space between the superscript number and notes.
End-Notes
Aforementioned, the endnote is a bit different. Here, the information is placed either on the last page or the last page of a book. A reference of the page is taken to track the page where it belongs to.
You can follow the same tips mentioned in the footnotes.
Also, read about writing styles in ASA Format
Writing Style Tips 
Despite the fact that the APA formatting is a little complex, you can make it interesting and attractive. Here are the tips on how to write an essay in APA format.
Engaging Tone
If your document does generate interest then it might be put in the pile of wasted papers.
Despite the fact that you have eliminated unnecessary details, you still have to make it engaging. You should keep your reader in mind. In your case, you need to write for the main reader.
Reducing Bias And Labels
First, let's understand what is bias in APA style. The American psychological association is strictly against showing bias towards gender, racial group, ages of individuals or subjects, disabilities, and sexual orientation.
Hence, you should always ensure your writing is free of bias and labels. You can follow the guidelines suggested by APA:
Include individual information like orientation and characteristics only if it is necessary to the topic/study.
If you have to mention an individual orientation or characteristics, then put the person first. For instance, at the place of "Diabetic patients," write "Patients who are diabetic."
Do not narrow down to terms like "adolescents" or "elderly," but try using broader terms like "participants," and "subjects."
Use acceptable terms like the pronoun "they" or "their."
When terms end with a gender depicting words like "man" or "men" while female subjects are also involved, be mindful. For instance, use "chairperson" in place of "chairman."
In case you are referring to someone's ethnic or racial identity, use terms used in the census and capitalize the first letter.
When describing subjects use terms:

Girls and Boys: under 12 years
Young woman/man  or female/male adolescents: between 13-17 years of age
Man and woman: 18+ of age
Older adults as elderly and senior are unacceptable terms unless used as adjectives.
Spelling
American English is different from British English. There are a few differences that you should be aware of while writing in APA style.
You can:
Use Merriam-Webster's Collegiate Dictionary (American English) to cross-check the spellings
In case the spelling is not found in the collegiate dictionary, use an alternative to it Webster's Third New International Dictionary.
For words and spelling related to psychology, you can use the American Psychological Association's Dictionary of Psychology
Spacing
The default line spacing is suggested to be double-spaced throughout the paper. It includes abstract, text, block quotations, numbers, titles, figures, tables, and reference list (as mentioned in footnotes).
Since there is already double space, do not give an extra gap before and after the paragraph.
Punctuation
In any write-up, punctuation can create a huge difference. Therefore, it is important that you use all punctuation mindfully.
Here is an explanation of major punctuations, one should be aware of.
One space after each punctuation mark:
As explained in the manual, there should be one space after each punctuation mark including comma, semicolon, and even at the end of a sentence.
Further, you should always double-check with your processor as in schools and colleges, the rules and guidelines are tweaked to match their preference.
Many writers would debate on using the oxford comma, but in this case, it is crystal clear. Always use the oxford comma that is placing a comma before the words AND and OR. This is also applicable in a series of three items.
Example: The visitors looked dull, drained, and lacking energy.
The apostrophe is used to show possession. Hence, when writing a possession singular noun use the apostrophe before s. On the other hand, in a possession plural noun, use an apostrophe after s.
Example:  Singular noun: Kate Geller's car; Plural noun: The Gellers' party
There are two categories of dashes- Em dash and En dash. Here, the former is a long dash and the latter is a short dash.
While a long dash is used to bring focus to a particular point or an aside, the short dash is used in compound adjectives.
Note: Do not give space before and after the dash.
Example:  one-liner; 16-years-old; pp. 33-100 
Number Rules
In APA format citation use of numbers in scientific papers is witnessed in equations, experimental data, tables, and statistics. The golden rule says:
Use text for numbers between 0-9. Eg: eight cities; sixth grade.
Use the number form for numbers greater than 10. Eg: 344 kilograms; 55 years old.
Further, there are some exceptions to this golden rule also.
Exception 1: Use numerals when- 
Showing numbers in a table or graph
Referring to information in a table or graph
Including a unit of measurement directly after it. Examples APA format:
Displaying a math equation
Showing a time, age, or date
Exception 2:  use number in text form when-
Starting the sentence with a number

Eighty-two percent part of the city is…..

A commonly used word or saying

Kill two birds with one stone

Including a fraction

One-sixth of the citizens

Showing a time, age, or date
Exception 3: other points-
Always use a zero before a decimal point
Do not translate Roman numerals into Arabic numerals.
Including plurals, do not include an apostrophe!

It's the 1980s, not the 1980's!
What Is Abstract In APA Format? 
The general meaning of an abstract is summary. Here, in APA format citation, it refers to a summary of a scholarly article or scientific study. While scientific articles are lengthy, an abstract gives an idea to a reader about the documents.
Do you need to write an abstract for your assignment?
Usually, an abstract is not required for class assignments. However, you may need to create one if your professor asks for an abstract.
Besides that, if you are submitting a paper for publication then abstract is a must-thing to add.
You can follow these suggestions to create a dynamic abstract:
Abstracts are created directly after the title or cover page.
The running head on the top of the page is included only on professional papers (not student papers).
On the first line of the page, mention  "Abstract" in the center without a quotation mark.
 Be concise and use informative language that has a few sentences to share the summary of your entire document.
A summary should be double-spaced and under 250 words.
Indent and type keywords in italics to make them visible to the researchers.
Avoid writing in a passive voice. Write in an active voice.
Do not evaluate your project in summary but try to report what it contains.
Whatever portion of your research belongs to someone else, cite it in the abstract with the last name following the year of its release.
Need Help In Writing An Essay In APA Format?
We understand the complexity and time required for writing an APA format assignment. Further, it is also attached to your grades so you may not want to take any chance. Thereby, we provide assignment writing services for all assignments including APA. We have exceptional writers who also possess doctorate degrees in diverse fields and have been assisting students all around the world. If you also want to outshine in your finals, you can always approach us.