A student portfolio is a window to a student's understanding of the subjects, and what they have learned throughout their course. It is an excellent source for the teachers to track their growth, refinement of their conceptual understanding, and assess their skills. Portfolios allow students to showcase what they've got, authentically. Further, it lets them view their peers' interpretation of the project content, or share their work with other people since it has many benefits.
Student assessments should be done through evaluative measures. Therefore, student portfolios are highly useful as they provide an in-depth view of their intellectual understanding.
In this blog, we will be discussing the student portfolio, and what makes it so important. Moreover, there are many tried and tested tools in the market to build compelling student portfolios.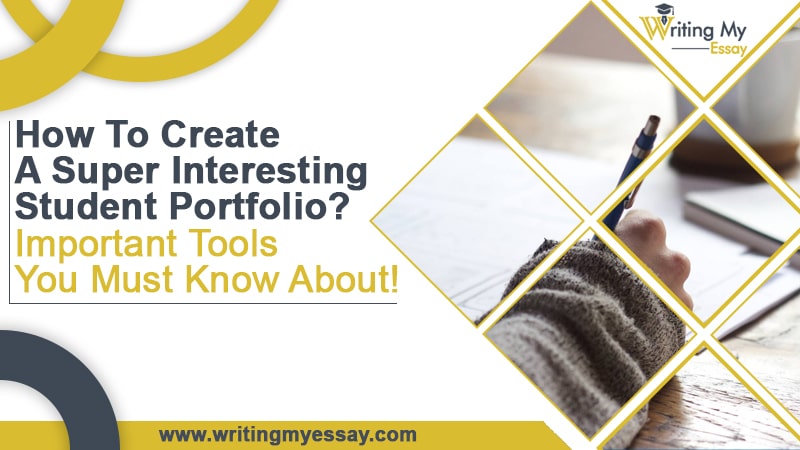 What Is A Student Portfolio? How Important Is It?
A student portfolio is a collection of all the academic work and other educational evidence compiled together.
It allows students to introspect their academic goals as well as track their progress. It helps in assessing the quality of the coursework, and academic achievements. Further, a portfolio could be a determining factor to evaluate whether or not the students meet the educational standards.
Students create a portfolio in order to demonstrate their skills. It is like sharing your journey. A portfolio helps you in sharing how you have acquired knowledge regarding a specific craft. It works wonderfully in professional life as your portfolio gives the prospective employer a clear picture of whether or not you have got what they need in an employee.
Significance Of Student Portfolio
An educational portfolio is the assessment of a student's progress. It effectively displays the efforts and learning curve of a student over a period of time. A portfolio is a fantastic way to get insights into the valuable data of the skills a student has mastered over the years.
In fact, it serves as a great way to reflect an individual's capabilities. A portfolio helps in understanding a student's learning patterns. Furthermore, it lets you evaluate what is something that a student finds important in their academic process.
So, what benefits do portfolios offer?
A portfolio lets you display your creativity by mentioning your knowledge, skills, projects you have worked on, and the experiences you have gained.
You get to organize your achievements, aspirations, aims, and personal viewpoints. This is your chance to display your personality to your teachers and potential employers.
Student portfolios come in handy while applying for scholarships, grants, bonuses, etc.
As a student, you get to build self-confidence and indulge in self-discovery.
Exciting Reasons Why You Need A Digital Portfolio!
The digital era has made it possible for us to collect the data, create something out of it, and then share it with the world. We, as humans, are always trying to achieve better results on the technological front. Hence, new inventions take place regularly.
In fact, you can find several tools and platforms that make it possible for you to create a strong digital portfolio. Usually, a portfolio is used for displaying your skills. However, it is also an excellent way to improve your skills by learning the tools from the scratch.
Let us share some of the top advantages of building a digital portfolio for students!
Working on digital portfolios helps you in enhancing the repository of techniques for demonstrating what they have learned. You can use interesting videos, images, and audio rather than the traditional pen and pencil ones.
A portfolio can be seen as a way to express and demonstrate what you have learned so far. It is a great way to boost self-confidence and achieve greater results.
One of the best things about a student portfolio is its easy accessibility. Both parents and teachers can instantly look into the compilation of a child's work. If you look at student portfolio examples you would find that it is a quick way to understand their caliber. No more chasing after the kids.
When you create a portfolio, it requires complete engagement of your senses. Hence, it helps you build oral and written skills. The overall experience ensures the development of effective communication techniques. Digitally created portfolios are highly helpful for students when it comes to practicing these crucial tactics.
Students get to keep a track of their growth over a time period through the help of digital portfolios. On top of that, they are easily accessible by parents, students, teachers, and possibly just anyone.
Also, read about  how parents can help with homework
What To Include In A Student Portfolio?
The student portfolio represents your academic learning which you can further use to display the evidence of all your academic achievements. Therefore, your goal should be to exemplify your abilities and provide spot-on information.
Here are some of the elements to include in a basic portfolio:
About me: Write a description of yourself, contact details and a picture.
Goals: Here, describe your academic and professional aims.
Academics: In this section mention the necessary information systematically organized. You can also include some evidence of your achievements.
So, a basic portfolio should be two things:
Try to keep it as simplistic as you can. Go easy with the details and attach only a few artifacts.
The goals are quite broad.
How To Create A Student Portfolio?
Wondering how to create an online portfolio as a student? Let us help you with the complete process of building a great portfolio.
Understand Your Purpose
To begin with, identify the purpose of building your portfolio. Majorly, the aim is to showcase the growth a student has achieved over the years. Or, it could be about identifying a certain skill. It could also be about showing the parents what you have attained so far.
Being clear with the purpose allows you to ensure how the portfolio would turn out to be.
Grading The Portfolio
Once you are clear with the purpose, the next thing to do is to grade the portfolio. Teachers can assess it to understand whether or not you can incorporate it in the lesson plan. Grade the portfolio as per the levels of creativity, neatness, how complete they are, etc.
These criteria would help teachers decide how much weightage does each aspect has. They can then grade the portfolio accordingly.
Deciding What To Include
Are you confused about how to make a digital art portfolio as a student? Here are the three major types!
Assessment Portfolios: It includes certain sections that students must know. You can consider the work that relates to the common core learning standards.
Working Portfolios: It comprises everything that a student is managing.
Display Portfolios: It basically includes a students' best work.
Going Digital
Students can make the most of the online portfolio creation tools for achieving dynamic results. The best part about a digital student portfolio is; they are easily accessible, can be transported and anyone can use them.
As per the technological advancements, the trend of digital portfolios has replaced the paper ones. However, you also need to remain aware of the challenges and distractions with the digital tools and medium.
Student Involvement Is Essential
Since a portfolio is a representation of a students' work, creating them must involve the concerned child. However, how much you should involve the child depends entirely on the age of the student.
Older students usually have a better sense of understanding about what would make their portfolio more impactful. Whereas, the younger ones find it quite hard to manage. They often require assistance.
Top 10 Tools & Websites For Portfolio Building
In today's era, the internet and technology are the answer for everything! In fact, there are many portfolio-making tools that you can utilize to achieve promising outcomes. Let us look at some of the top tools for making the best student portfolios!
The exclusive portfolio creation tool is built by teachers to make student life easier. The tool is focused on offering the benefits of technology. It further helps students to get involved in the process of creation, rather than simply sticking to gaining knowledge. It is a highly functional tool preferred for portfolio development. The teachers get to have administrative control over the blogs and accounts of students to make sure projects are completely secured. There is no need to register using your personal details.
Have you ever used WordPress? Edublogs seems exactly like that. However, there are a few differences between the two. Edublogs is a dedicated tool for students. It comes with a clean and simple interface and high levels of functionality. It is a highly secured platform that lets you keep your blogs both, private or accessible to the parents, teachers, and classmates.
Edublogs is free from annoying advertisements, which is an excellent thing! Its student-friendly interface makes it a great pick for students. Edublogs comes with a special instructions guide for the new members. It includes all the major steps necessary for creating an online portfolio.
It is a mobile application that comes with some of the functionalities of the desktop version. This is a fantastic tool that lets students create and upload content using their own devices. Next, they can simply categorize everything using specific tags.
Another great thing about this tool is that it allows you to search for portfolios easily.
Further, you can share the items with other users of the tool. In fact, it lets the teachers create special accounts. Then, they can add students from every class and monitor their account activities. Username and password are provided to each student. They can access their portfolio using these credentials. It is accessible through multiple devices such including Android, iOS, laptops, PC, desktops, etc. Educators are authorized to share the links to student accounts with the parents. This helps in maintaining transparency.
You can create exciting digital student portfolios using this free-of-cost iOS app. The most interesting thing is, it lets the teachers and students come together and add work samples. Next, they are organized in different streams and narratives. In the app, you get support for multiple types of content such as video, audio, images, etc.
In fact, the students and teachers have the option to comment using multiple file inputs. This includes texts, audio, and video.
You can create your educational portfolio using Weebly. It lets the students develop websites using the visual templates available. It efficiently serves as a digital portfolio creator. It has a simple interface, and students can easily navigate through it. This lets them modify or update their portfolio quite easily.
Students can simply perform drag and drop actions to add the content. Hence, younger students can easily use it. Here is an interesting thing! Students can look at the portfolio of others. This is an excellent way to find inspiration and improve their efforts.
Seesaw is a highly functional digital portfolio creation tool quite popular among students. Teachers can use it for setting up their classes. Moreover, students use Seesaw for adding PDFs. Drawings, texts, audios, photos, videos, Google docs, and links to display their work.
Seesaw comes with interesting features such as in-built drawing, caption, and audio tools. They help in reflecting on their progress and justify their learning. Teachers create folders where students can organize their portfolio items. Further, teachers can easily access the student artifacts.
In fact, there is an option to invite family members. It lets them look into the updates the child has made so far. Whenever something new is added to the student's journal, the family is updated instantly. It is also shared with the family members.
The Seesaw journal can be easily shared with classmates. It ensures a positive experience as other students can also provide feedback on the entries.
Did you know that Google Sites is a useful tool for building highly engaging student portfolios? It comes with a simplified interface that lets students access a wide range of multimedia functionalities. They help craft interesting and creative portfolios.
It comes with a dedicated site template. This means students do not have to worry about correcting the site structure. Simply, integrate the website with other applications by Google. Then, create the digital portfolio.
Being a Google product, Google sites are easily integrated with other popular apps such as Blogger, YouTube, or Slides. Eventually, it becomes a part of the Google Apps account. This allows teachers complete administrative authority. They can monitor how the sites are being used. The educators also have control over making the sites accessible to the public.
This is a popular app that enables users to take pictures, make notes, manage audio recordings, and upload content. They can do it all using a specific set of keywords.
Further, it is easy to manage the content into groups and notebooks. They can be shared on social media accounts. The best part is, Evernote easily synchronizes across multiple devices. You can use it on laptops, smartphones, desktops, tablets, etc. Thus, allowing students to manage their content possibly from anywhere!
In fact, Evernote comes with dedicated apps such as Skitch. The tool is quite useful for providing annotations. This is a perfect feature while writing content for Evernote. However, the teachers cannot monitor the content generated by their students on the app.
This is paid app, available for less than $2 for iOS users. It is highly useful for building student portfolios and managing them. Easy Portfolios also allows you to simply record audio, manage classes and take pictures. You can use Dropbox and easily transport the files.
Here is an interesting fact- you can use email and Dropbox upload to share the portfolio with others. Teachers and parents can easily manage everything and make sure all the portfolios remain in a single spot.
This free-of-cost website is a perfect option for classroom set-ups. It can be easily accessed using a single PC. It is more like a blogging platform, but for students.
Teachers can simply create a community including all the class members. Next, allows students their personal space to publish the work. Each one of the students gets a unique username and password. However, there is no need to share your personal details to sign up. You can simply make the community private and save yourself from privacy issues.
How To Make Your Student Portfolio Look Valuable?
Are you wondering how you can make your student portfolio worth it? Here are some interesting tips!
Clearly define your goals and targets.
Add your certifications and awards.
Do not forget to add writing samples of your plans and drafts.
Add work samples from every subject.
Include pictures that make portray your learning experience as positive.
Final Words
A portfolio could be quite difficult to manage. Yet, it serves as a possible way to display everything that a student has achieved. Hence, the educational portfolio has to be informative and well-structured. You can now create digital portfolios since they come with easy accessibility. A portfolio is a reflection of what a student has achieved so far, so make sure it turns out to be perfect. We hope you found this blog helpful!