Have you finally made up your mind to take up a graduate program? There comes the next step of drafting an impressive statement of purpose in your application process. Many students feel baffled and overwhelmed at the thought of writing an SOP. However, like any other writing task, a format and proper structure are what you need. Having a plan keeps you focused in the right direction and ensures a seamless flow of ideas. Isn't it the recipe for a fantastic outcome?
So, instead of killing your time trying to figure out how to kick start your statement of purpose, why not go through our detailed guide? We have drafted a well-assessed actionable plan to compose a winning SOP that will surely impress the admission committee. Keep reading to boost your chances of getting enrolled in the institution of your dreams!
What Is A Statement Of Purpose?
A statement of purpose or SOP is a personal statement that is extremely important while applying for universities or graduate schools. It is a part of the school application that informs the admission committee about the applicant, their academic and professional interests. Further, it also provides crucial details, such as how you as an individual would benefit from the graduate program, your professional goals, etc.
This information needs to be organized properly in the correct statement of purpose format. Since every school follows a distinctive set of guidelines, it is important to first check and verify the instructions by the institution you are writing to. Regardless of the school, you are applying to, a thesis is highly important to achieve outstanding results.
Also, read about personal essays to learn about non-fictional writing.
Why Is A Statement Of Purpose Important?
The powerful SOP represents your educational achievements, background, and aspirations. Hence, it allows students to stand apart from the crowd and brings them one step closer to their desired school. It is an excellent way to be recognized by the admission committee and convince them into selecting your application. Further, it demonstrates your communication skills. This way, it provides a gist about your personality, enthusiasm levels, and drive to take up the subject you have applied for. You must understand it that many top-rated universities, like MIT, Stanford, or Berkley take essays as a deciding factor. 
How Long Is A Statement Of Purpose?
The ideal length of a statement of purpose is from 500 to 1000 words. There is no need to fill up 10 pages for your SOP. It can be covered within a single page. Your entire focus should be on ensuring a quality write-up that covers all the major points required to persuade the committee members. Make sure that the content is easily understood.
Let us share a few quick tips to help you understand how to write a statement of purpose.
Focus on maintaining clarity, strength, and precision in your writing.

Avoid using formal language.

Maintain a positive tone and write confidently.

Make sure your write-up is grammatically correct and free from typing or spelling mistakes.

Do not use clichés or repeat your ideas.
Major Components Of A Statement Of Purpose For Graduate School
Before we share how to write a statement of purpose, let us first look at the important components in it. There is a specific template that you must stick with while writing the SOP.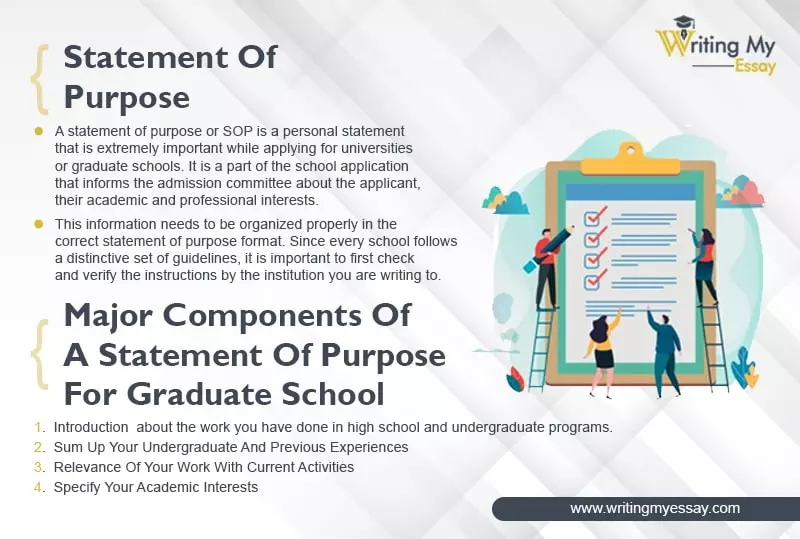 Introduction
It all starts with an introduction. Write about the work you have done in high school and undergraduate programs. Moreover, discuss your interests and the factors that drive you to enroll in graduate school. You need to keep the information brief and direct.
Sum Up Your Undergraduate And Previous Experiences
Write down the work you have done during your high school and undergraduate years. What your role was in the project, your responsibilities, project title, and the output. Also mention, how you conducted the research and other important aspects.
Relevance Of Your Work With Current Activities 
Many students take a year gap before taking up a graduate course. If you have experience working with non-profit organizations, freelancing, internship, or any other company, then do mention it.  It will show that you are a responsible individual.
Specify Your Academic Interests
Your statement of purpose grad school should elaborate on the details related to your academic interests. After all, it is meant to persuade the authorities that you understand the subject well and can carry out the research. Further, it shows your disciplinary values towards the nature of work.
How To Format A Statement Of Purpose?
Like any other writing project, the statement of purpose also has a definite set of format guidelines. It is important to stick to the rules to ensure a winning outcome.
Let us now look at the specifications for the statement of purpose grad school format.
Maintain a 1-inch margin on all sides.

Keep the font in size 12.

Choose Times New Roman or Serif, or Garamond as font style.

Make sure to separate your paragraphs.

There should be a header that must include your first name, last name, university name, and other important details.
Here is a bonus tip! While writing your SOP, follow a professional tone, and keep it conversational.
The SOP is generally divided into different paragraphs where each paragraph focuses on unique features that explain distinctive scenarios and traits about you. The ideal structure is:
Introduction

A paragraph describing the educational background.

Mention everything that you have achieved during the academic course such as industrial exposure, projects you have handled, etc.

What makes you choose the specific course?

Conclusion
How To Write A Statement Of Purpose?
Drafting a statement of purpose is, by no means, easy. You need to make sure all the information is accurate and appropriately organized. We have planned a step-by-step process to write an impressive statement of purpose.
Brainstorm
As you start writing your SOP, the first step is to indulge in some brainstorming. You need to think about multiple characteristics that make you an ideal candidate.
Some of the information, such as prior work experience, academic victories, or volunteering projects should be added. You need to introspect and ask yourself a few questions.
What values can you bring to the program through your past experiences?

How will this degree help in your career?

What do you expect of this degree?

What is your purpose for enrolling in this degree program?

In which field of study does your interest lie?

How would this degree add to your life, both professionally or personally?
Once you figure out the correct answer to these questions, it will help you develop an approach for the SOP.
Create An Outline
Creating an outline is a vital part of your SOP writing. It helps plug all the ideas together. In fact, outlining is crucial for all forms of writing tasks.
Here is an effective way to outline your statement of purpose.
Introduction

Introduce a hook to grab the readers' attention.

Provide some background details about yourself and the reason behind opting for that specific program.
Main Body

In the body, mention all your achievements relevant to the field.
1st example.
2ndexample.
3rdexample.
Identify and write about your professional objectives related to the course you are applying to.

Reason to choose the educational institution and how you are valuable for them.

Conclusion

Wrap up your SOP by summarizing the information in the paper. Why are you're the most compatible candidate for the school?
Formulate The Draft Of Your SOP
Since you are done with the ideation, now let us discuss how to write a statement of purpose. Let us share a few tips that will help you easily form an SOP.
The key reason behind composing the SOP is to enable the admission committee to view it as a potential applicant for their institution. Hence, your focus should be on making them understand what makes you a perfect choice. Instead of lying on your SOP, share your genuine career goals. Moreover, write down how choosing you would benefit the institution.

It is crucial to lay down your professional and personal interests. Is there something that excites you? Make sure what you mention is relevant to the program you are trying for.

Do not forget to write about what drives you to get into the particular course. Mention its features and also write down your purpose of opting for the course. Follow an accurate and distinctive approach.
Proofread And Edit Your SOP
Now that you have drafted your statement of purpose, the next step is revising all the information. It is always best to proofread your papers before the final delivery. Doing this helps in ensuring all the details are correctly placed in a meaningful way.
You should recheck your list to ascertain that you have covered all the necessary details. In case there are issues, spot and edit them right away.
Keep The SOP Unique
Always try to maintain uniqueness in your statement of purpose. The best way to ensure originality is by writing relevant details that clearly define something distinctive in your field.
Whatever subject you choose represents your mindset. Thus, make sure you are inclined towards it.
Take Feedback   
If you are writing an SOP, it is best to get some of your trustworthy people to read it. Then, ask for feedback. It will help you identify the loopholes in your paper. Besides, take care of the grammar, spelling, sentence structuring, etc.
Expert Tips To Create A Powerful Statement Of Purpose 
Here are some additional tips and tricks to help you draft a brilliant statement of purpose.
Write A Beautiful Story
While writing your SOP, you must add a human touch to it, which is only possible with a story. Hence, instead of barely drafting a few statements informing about your achievements and interests, try to build a storyline. It helps leave a lasting impression on the readers' minds.
Measure Your Stories
It is important to make sure that your stories should be a source of information about yourself. Do not try to make it into a thesis. Quantify your achievements in the story form. Doing this provides a fair idea about your past experiences and helps in presenting them realistically.
Be Specific
You have to be very specific with the details in your SOP. All the details must be realistic. Maintain a nice tone throughout the write-up. The committee wants to know about you and what makes you the perfect choice. Hence, try to answer that and be precise.
Add A Personal Touch
Many students apply for multiple institutions at a time. Therefore, they only edit the major details and keep the rest of the body the same. And, that's the biggest mistake you could possibly commit!
Aim at drafting a custom SOP that clearly defines your motto, strength, weakness, methods, vision, value, culture, etc.
Follow A Formal But Conversational Tone 
Avoid following a strict approach to writing your SOP. Instead, you need to adhere to taking a professional approach while also maintaining a conversational tone. Hence, you must write as if you are delivering your thoughts to someone. However, refrain from keeping a casual tone.
Wrapping Up
A statement of purpose should be potentially powerful enough to leave a lasting impression. This is your chance to prove your knowledge, capabilities, and zeal to get enrolled in your dream institution for your desired program. Therefore, it is important to follow the right strategy and craft an outstanding SOP. So, you must recall all the vital academic accomplishments and projects you have participated in. Establish yourself as the most desirable candidate by enticing the authorities with an interesting storyline. We hope you found this guide helpful!