Case studies can be your ultimate marketing arsenal if you know how to use them the right way! The cut-throat competition already makes it difficult for businesses to achieve success. It makes it even more difficult to lure the customers to try out products and services. Therefore, it's high time you learn how to write a case study professionally that lures your prospective customers. Even if you're a sociology, medicine, psychology, or anthropology student; this guide on case study writing will come in handy for you!

What Is A Case Study?
A case study is an extensive study that focuses on a specific group of people, a unit, or a person. The idea is to prepare a research design that looks into the problems and provides solutions. There's a wide range of fields where case studies are used, such as medicine, political science, psychology, social work, education, and anthropology.
Today, even businesses use case studies to demonstrate some challenges faced by them and the solutions they opted to troubleshoot. This way, it serves as an excellent tool to show the real-life advantages of a product and service by showing how it solved a customer's problems. It helps gain credibility in the market by showing the benefits of your services to future customers. Thus, it is an excellent way to attract new business and boost sales.
What Are The Benefits Of A Case Study?
Case studies are detailed reports that are not easy to write. You need to perform your research, keep an eye on the changes happening and put all the information in a case study format precisely.
So, are case studies really worth your time and efforts? Let us list down some major advantages of case study writing.
It helps in gathering an enormous amount of information.
An excellent way for hypotheses formulation.
Develops the case for future research.
A great way for a brand to build loyalty and trust.
It serves as a fantastic way to discover new insights on a situation and subject.
If you're a business, it could be a fantastic way to engage customers with storytelling.
The Limitations Of Case Studies In Businesses
Although case studies could be highly beneficial for case analysis, there are certain limitations. When it comes to businesses, these are the drawbacks of case studies:
The responses could be subjective.
There are many industries where conducting the analysis could be expensive and time taking.
There's a high risk of generalization of results among a large population.
The subject may likely tailor their responses to the researcher.
What Are The Different Types Of Case Studies?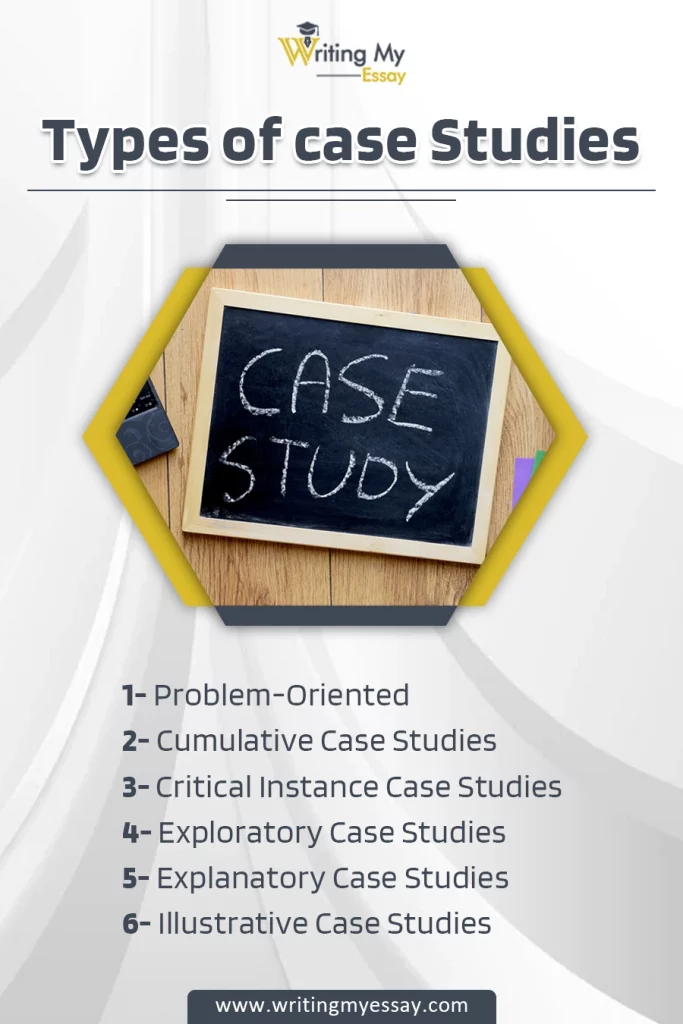 Before we show you how to write a case study, let's look at the popular domains which require case studies. The primary goal of a case study is to give in-depth reports on any given place, person, institution, event, etc.
Here are the major types of case studies you will find:
Problem-Oriented: As the name suggests, these are based on solving problems. The problem-oriented case studies are usually theory-based situations. You are required to open the doors of imagination, get yourself absorbed into the particular situation, and assess it.
If you're working on a product and there's a visible issue in the design or functioning, it's best to take the charge. Rather than raising the issue to our seniors, look into the problem, assess it, and enlist the solutions.
Cumulative Case Studies: It involves gathering the information from multiple resources in varying periods and summarizing it. What makes it different from other types is, cumulative case studies focus on evaluating the details in hand to generalize the previous assessments. This way, it helps prevent the expenditure of time and money on investigations in the future.
Critical Instance Case Studies: The case study focuses on discovering the reasons and consequences of an event. The purpose of conducting a critical instance case study is to examine one or more resources with unique interest and sometimes with no interest at all in general. Hence, it could be a great option to question a universal postulation.
Exploratory Case Studies: Another one of the major types of case studies is the exploratory case study. It helps in preparing the information before the main investigation starts. As a result, researchers can collect more information before they build upon the research queries and come up with a hypothesis.
Explanatory Case Studies: We often see people using an explanatory case study for casual investigation purposes. Hence, the researchers majorly focus on the factors that might have led to certain situations.
Illustrative Case Studies: The illustrative case studies assess a certain case. The motive is to make it easier for others to understand a case. It is descriptive in nature and widely used in the research methodology. To put it simply, it is used for providing enough information on a specific topic.
What's The Ideal Length Of A Case Study?
There's no specific word length for case study writing. It all depends on the type of industry you are writing for. Moreover, what your story is about?
Mostly, the ideal length of a case study is around 500 to 1500 words. However, you can extend the word limit as per your requirements. If you have some more details on the subject, the word limit can be increased.
Including a snapshot section of approximately 100 words or less is a great idea. Remember to stick to a case study format. Besides, it's best to use compelling images, customer quotes, and data to convey your message.
Qualities Of An Excellent Case Study: The Major Elements
Do you know what makes a case study successful? Most people find case studies to be quite boring. Research and details are the only parts where we focus while case study writing. However, we forget that a cohesive and digestible story is equally important.
Most of the time, we follow a case study outline only to fill it up with numbers and data. Such information seems irrelevant to the readers. It doesn't help with their problems. Case studies should be powerful documents that facilitate the decision-making of your customers, rather than confusing them.
So, how do you make sure your case study comes out to be impressive? These are the three critical elements for successful case study writing.
What do we mean by that? Instead of building your case study with unnecessary information, keep it simple. Being direct with your message eliminates the chances of ambiguity. As a result, it is easier to communicate with your audience effectively.
It's extremely important to be thorough in your case studies. Your job doesn't end at simply mentioning the claims about how a certain product helped a person achieve specific results. It requires you to also explain how they achieve these results.
One of the most significant qualities of a good case study is the details. It should clearly explain the progress of a customer from point A to point B while using the product or service. Follow a certain case study format, and include useful images or videos to illustrate the process.
The best way to keep the readers engrossed in your case study is an interesting storyline. Organize all the information in a predefined case study outline to write a meaningful story. It should have a beginning, a middle body, and an end. Besides, link all the ideas together and maintain a curiosity factor.
Don't forget to layout a concerning issue that demands a solution. Also, the story should be written from the customer's perspective.
Follow This Case Study Outline For Impressive Results!
Confused about how your case study outline should be? Let us help.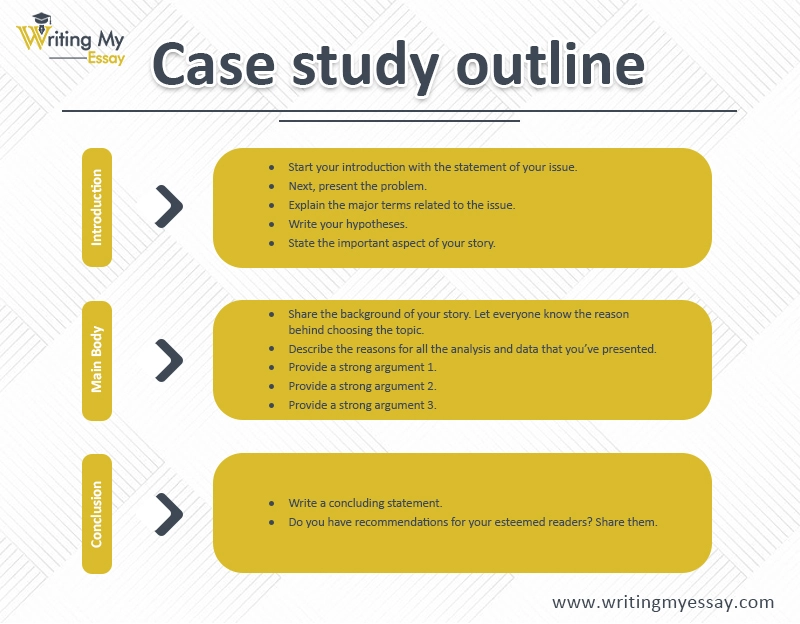 1. Introduction
Start your introduction with the statement of your issue.
Next, present the problem.
Explain the major terms related to the issue.
Write your hypotheses.
State the important aspect of your story.
2. Main Body
Share the background of your story. Let everyone know the reason behind choosing the topic.
Describe the reasons for all the analysis and data that you've presented.
Provide a strong argument 1.
Provide a strong argument 2.
Provide a strong argument 3.
3. Conclusion
Write a concluding statement.
Do you have recommendations for your esteemed readers? Share them.
The Perfect Case Study Format
The case study format consists of eight major parts:
Executive summary: Here, start by explaining what you will assess in the case study. Present an overview of the field or industry on which your research is based. Write a thesis and summarize the outcomes of your examination within 2 sentences.
Background details: Next you need to provide the background details on the subject. Besides, include all the relevant facts. Avoid talking about the issues in this section.
Case Assessment: What are the most crucial parts of your study where you want to center all your focus? Identify them and give a detailed explanation for what works and what doesn't.
Present The Solutions: Propose realistic solutions for the enlisted problems. Also, mention how the situations can be improved. Some provable evidence would be fantastic to explain what makes these solutions work.
Conclusion: Recognize all the vital points from case evaluations and your proposed solutions then summarize them.
Recommendations: Discuss the strategy that you must choose. Further, what makes the strategy the best fit?
References: Don't forget to enlist all the references and citations.
How To Write A Case Study That Sells?
Now it's time to learn how to write a case study and leave a lasting impression among your audience.
1. What's Your Goal?
The first step to preparing a successful case study is to have a clear idea of the purpose. Hence, recognize the end goal before evaluating the subject. Is there something you wish your readers to take away from your report? What are all the issues and solutions you wish to highlight?
2. Build A Case
It's highly important to understand the subject. Without it, you can never prepare an in-depth study. Research and familiarize yourself with the subject or organization on which your case study is based. Prepare your notes about all the background details a layman would require. Besides, write about the problem you are elaborating on in your study.
Don't forget to highlight all the key points that back up your end purpose. Brainstorm and look for all the unique perspectives that you can include in your study.
3. Review All The Known Facts
So, by now you've done your research and have familiarized yourself with the subject. Next up, you need to determine all the available facts and information on your specific case. This approach establishes the foundations of understanding your specific case. Further, it is the best way to develop solutions.
Here are certain research methods that you can apply:
Watching videos from media, speeches, discussions, and debates.
Look for literature on the subject and review it.
Taking interviews of the subject, individuals that are closely related to the project, and experts on the topic would be an excellent approach.
Read reports from your specific subject.
4. Gather The Necessary Data
Since you have collected the information and relevant evidence for your subject, it's important to deduce meaningful interpretations. While the data in hand can be used as it is, you can go a step further and come up with new points. Use your researched data to build meaningful explanations.
5. Draft Your Case Study
It's finally time to prepare the draft of your case study. Since you're done with the analysis, put all your information into a structured format. The rule applies to all types of case studies.
Introduction: Share an overview of all your work. The introduction starts with a strong thesis. Also, some context of the subject will make it easier for the audience to understand it.
Background Information: Separate the entire body into two different parts. Here, the first part should consist of an outline of the background details, major facts, issues, and the previous research from other sources.
Observations: This is the second part of the body which includes your findings and recorded data. Did you notice something unique? Do these new findings align with the prior research or challenge it?
You need to specify whatever you observed before, during, and post taking a certain action. Break down the information into multiple sections and headings. This way, the readers will be able to figure out the topic being addressed much more easily.
6. Conclusion
Last and the most significant part of a case study is its conclusion. Here, you should smartly summarize what you've dissected, observed, or found out. A call to action would be really helpful.
If the case study is merely for academic purposes, a rhetorical question would work. However, if it's for professional use then a call-to-action would help serve the goal.
Top Tips For Writing Winning Case Studies That Work!
Jargons may seem exciting, but they might ruin your case study! Not everyone understands jargon and they are highly likely to confuse the readers. Thus, avoid them at all costs.
You can use popular online software and tools, such as Hemmingway App, to spot problematic terms or language in your writing. Simplify it to make your write-up appropriate for a layman's level of understanding.
Craft An Interesting Title
By interesting, we do not mean that your title should reveal all the secrets. The title should be enticing enough to captivate the reader's interest without giving out the information too soon. Hence, pen down a list of all the workable titles and pick the best out of them.
Proofread, Edit, And Re-Edit
Never submit your case study without editing. Proofreading and editing is the key to achieving flawless outcomes.
After you're done with eliminating all the jargon from your write-up, it's time to rectify other errors.
Make sure everything is in the active voice.
Identify and remove irrelevant adjectives.
Eliminate unnecessary details from the story.
Once you're done, go through your copy again and scan it for mistakes. Make sure you correct it but the essence and storyline of your case study remain intact.
Sometimes it may seem complicated or difficult to communicate the information through words. And, that is when pictures work the best! You can use charts, infographics, images, and graphs to convey your message. It is also a great way to avoid being wordy and share the details effectively.
While data and stats are great are important, nothing can beat the value of customer quotes. They are proof of credibility and also provide a human touch to the case study. After all, what is a case study worth if it cannot influence the prospective customers?
It's not just testimonials where customer quotes work. You can use them on the landing pages, website, welcome emails, and email marketing, too. They work the best to lure more people into checking out your services, products and make a purchase.
Recorded Interview Work The Best
Make the most of the latest technological advancements by recording customer interviews. This is a quick, time-saving, and effective way to boost your marketing efforts. Besides, recorded interviews seem more credible than pen and paper ones.
You have demonstrated to your prospects how a certain product or service helps drive excellent results for the customers. But, what steps should the interested customers take to know more about your products?
So, do include a call-to-action such as your website's link, email address, or contact number for the customers. After all, that's how you'd be able to track the real-time results of your case study.
Wrapping Up
It would be ideal to say that a case study is the most effective tool for research. It provides an overview of what happened to a group, a person, or a situation. Hence, offering an in-depth idea of all the problems that practically exist in healthcare, businesses, and other set-ups. Moreover, they provide a new insight that transforms our perspective and let us see everything in a different light. Professional writing my essay experts can help you develop meticulous case studies and outperform your competitors. We hope you found this post helpful!